Until the outbreak of the Sino-Japanese War of 1937, China had armored vehicles of exclusively foreign production. About fifty Renault FT-17s with machine gun and cannon armament were purchased from France, about 20 more
tanks
Vickers Mk. E were shipped from the UK. At the same time, the first factories for the repair and maintenance of military equipment appeared in China. At that time they did not think about their own production, there was not even a full-fledged provision of spare parts. That is why in the late 1920s and early 1930s, China could have French tanks with American engines or British combat vehicles with German guns.
By the beginning of the Sino-Japanese war, the country's leadership increased the volume of purchases. The USSR and Germany appeared in the list of equipment suppliers. The lion's share of the sold Soviet vehicles were light T-26 tanks. Germany helped with a one-time supply of Pz.Kpfw. I.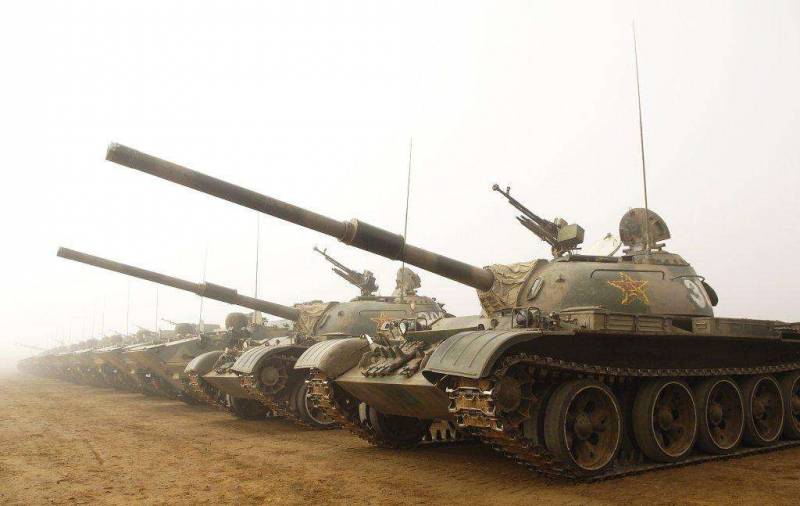 After the end of World War II, Chinese leaders decided to renew their tank fleet and turned to the USSR for help. The country immediately began to receive medium tanks T-34-85, self-propelled guns SU-100, as well as heavy IS and IS-2. In addition, captured Chi-Ha medium tanks from Mitsubishi began to appear in the army. In fact, these were light 16-ton vehicles armed with 57mm cannons.
For several years, the country's industry has developed enough to start designing its own combat vehicles. In the early 1950s, several interesting projects appeared at once, among which was the T-34-2. It had nothing to do with the Soviet thirty-four and was more like the T-44. The tank was already supposed to go into production, but in 1956, China bought technical documentation and a license for the production of the Soviet T-54. For the sake of this, they even re-equipped the enterprise, which was originally supposed to produce T-34-2 tanks.
Subsequently, on the basis of the T-54, the WZ-120 tank was developed, which became one of the main combat vehicles of the People's Liberation Army of China. Of the interesting experiments of the designers, the WZ-111 model 1-4 tank can also be noted. It was developed as a replacement for the Soviet IS-2, which were in service with the Chinese army, but were already outdated. They planned to equip the tank with a 122-mm cannon, but things did not go beyond the prototype.
Although China launched the tank building industry quite late, the state has always bought some of the best vehicles of its time. Later, when creating their own equipment, the Chinese were engaged not only in copying other people's projects, but also maximizing the potential of their tanks. As a result, modifications were often superior to prototypes.
More details about
stories
tank building in China, see the video from the creators of the famous game World of Tanks.