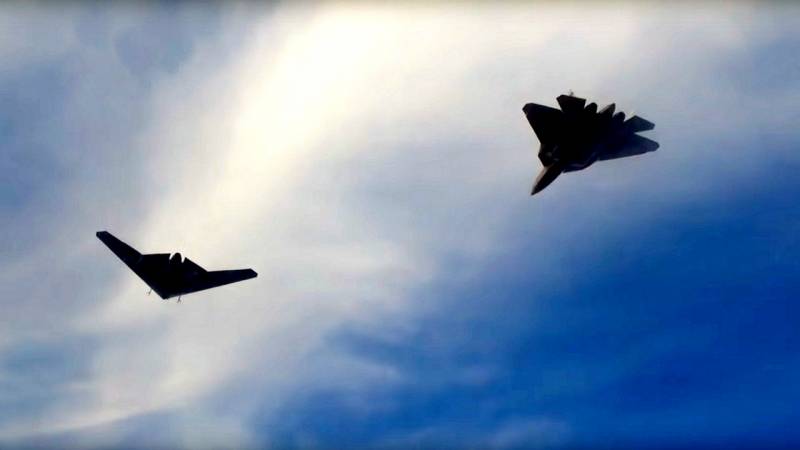 Having carried out in the second half of 2020 a unique full-scale test of "digital" interception of heat-contrast and radio-contrast air targets of a simulated enemy with the use of flight training modifications (UZR-73/74 and RVV-SD) of air-to-air missiles of small and medium / large range R-73RMD-2 and RVV-SD, the armament control system (SUV) of the experimental prototype of the S-70 Okhotnik-B strike-reconnaissance UAV finally dispelled any doubts of experts and informed observers of VO regarding the possibility of aggregation and functioning in a single network-centric networks with on-board radars, OLS and means of open source / electronic reconnaissance of low-signature Su-57 fighters.
This conclusion is not surprising at all.
Indeed, starting from the information about the architecture of the avionics of both vehicles, partially (albeit superficially) published by domestic military-technical portals, it is quite easy to assume that this "digital" (conditional) interception was carried out thanks to the formation of the so-called " tracking file "(with the corresponding coordinates of the targets of the simulated enemy, tracked either by the N57 Belka radar or the OLS-036M), and then its further issuance to the S-50-N multi-band on-board communication system and transmission to the Okhotnik-B SUV by means of a protected a radio channel for the exchange of tactical information of the K-DlI type (in the frequency range from 111 to 960 MHz).
Thus, the pre-production copies of the promising shock-reconnaissance drones of the C-70 line have confirmed the ability to conduct air battles at medium distances of 20-80 km, as well as long-range air battles (80-100 km or more) with tactical
aviation
NATO air forces in the "unmanned slave" mode for targeting the Su-57 and other radar / optical-electronic reconnaissance means, minimizing the likelihood of the latter entering the range of the long-range air combat missiles AIM-120C-7 / D and MBDA "Meteor".
What "trump cards" will the promising stealth UAV "Thunder" provide to the Aerospace Forces of Russia?
Meanwhile, familiarization with the layout and design features of another promising strike UAV, announced as part of the exposition of the group of military-industrial companies "Kronshtadt" within the framework of the International military-technical forum "Army-2020", gave us reason to believe that in a number of parameters a new the multifunctional unmanned platform will not only match, but also significantly surpass the S-70 Okhotnik-B strike-reconnaissance UAVs.
We are talking about the advanced multipurpose attack drone "Thunder", which embodied the layout of the similar American and British "unmanned slaves" XQ-58A "Valkyrie" and LANCA ("Lightweight Afordable Novel Combat Aircraft"), as well as the most modern element base of avionics presented by the promising a multi-mode PFAR / AFAR radar with a high level of noise immunity, sensors of the irradiation warning system / executive electronic intelligence (SPO / RTR), as well as a radio station of a network-centric network for exchanging information about tactical air and surface situations.
By means of the latter, "Thunders" can be aggregated into a single network-centric network with "outfits" of multipurpose breakthrough drones of air defense / electronic warfare "Molniya" and C-108 / C-111-N radio stations of Su-35S and Su-57 fighters.
Having a more compact airframe with a fuselage length of 13,8 m and a wingspan of 10 m (versus 14 and 19 m, respectively, for the S-70 Okhotnik-B), approximately 2 times smaller midsection area, as well as an angular triangular lower fuselage generatrix (in conjunction with the widespread use of composite radio-absorbing materials and coatings in the design), the Thunder UAV will be able to boast of a noticeably smaller effective reflecting surface (0,07–0,1 sq. m versus 0,2–0,3 sq. m at C -70 "Okhotnik-B", respectively) in the front hemisphere, at irradiation angles of ± 30 degrees in the elevation and azimuth planes.
It is also worth noting that with these irradiation angles, a similar image intensifier tube for drones of the Thunder family will be observed in the rear hemisphere, which will be facilitated by the presence of a hexagonal flat nozzle block and an inclined two-fin tail vertical tail with a camber angle of about 80 degrees.
Targets with such an EPR are detected: by means of the AN / APG-77 airborne AFAR-radars of F-22A fighters at a distance of no more than 112-120 km, AN / APG-79 AFAR radars of the F / A-18E / F carrier-based fighters - of order 55– 65 km, multifunctional PFAR-radar target designation / illumination AN / MPQ-53/65 of Patriot PAC-2 / 3MSE anti-aircraft missile / anti-missile systems - about 60-65 km.
This distance will be quite sufficient both for the advance launch of the RVV-SD / "Product 180" air combat missiles from the in-fuselage weapon compartments for target designation either from passive RTR means, or from the N035 Irbis-E and N036 Belka radars, and for covert access to 120-kilometer launch lines of tactical missiles with gliding "equipment" 9-А-7759 "Thunder-1", which are a modification of multipurpose tactical missiles of the Kh-38MTE / MAE family.
They will be able to boast promising "Thunders" and a small infrared signature, which is due to the presence of flat nozzle "cuffs" of the "beaver tail" type with additional cooling circuits, in which hot products of aviation kerosene combustion will be mixed with the incoming stream of atmospheric air entering through additional air ducts, built-in into the internal circuits of the air intakes of the "Thunder" UAV.
Thus, the probability of Gromov's direction finding (in the medium-long-wave infrared ranges) at distances of more than 50-70 km by means of DAS distributed aperture optoelectronic systems (F-35A / B / C fighters) and Pirate IRST (fighters of the "Typhoon" family) will be minimized.