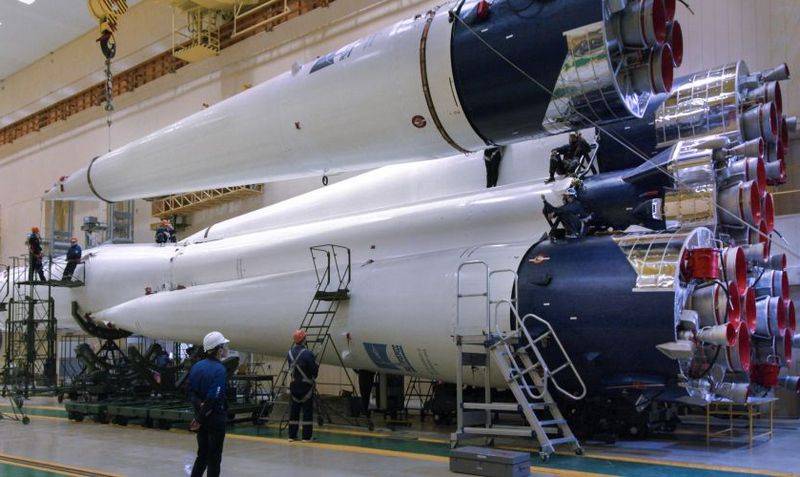 Roskosmos has changed the design of the Soyuz-2 launch vehicle, removing the gray-orange color combination and replacing it with a white and blue color scheme. This is stated on the website of the state corporation.
Reportedly, the decision to change the color scheme was influenced by the prototype of the Vostok launch vehicle, on which Yuri Gagarin made the first flight into space. The rocket, located at VDNKh in Moscow, is painted white.
For the first time in several decades, the Soyuz-2 launch vehicle, which is scheduled to launch on March 20, 2021, will be presented in a new, unusual design for it.
- stated in the state corporation.
Thus, the booster was painted white with blue edging instead of the standard orange with gray edging.
The fairing covering the spacecraft will retain the "standard" white color. Otherwise, orange on the media will replace blue, and gray will be replaced with white. The color of the transition compartment will also change - instead of the traditional gray, it will also turn blue
- says on the website of "Roskosmos".
It is assumed that the rest of the Soyuz-2 launch vehicles will also be carried out in a new color scheme.
The Soyuz-2.1a launch vehicle in a new color scheme will be launched from launcher No. 6 of site No. 31 (Vostok) of the Baikonur cosmodrome on March 20, 2021. With the help of the Fregat upper stage, the rocket will launch into space the South Korean satellite CAS500-1 as the main load and a cluster of associated payloads from 18 countries of the world.