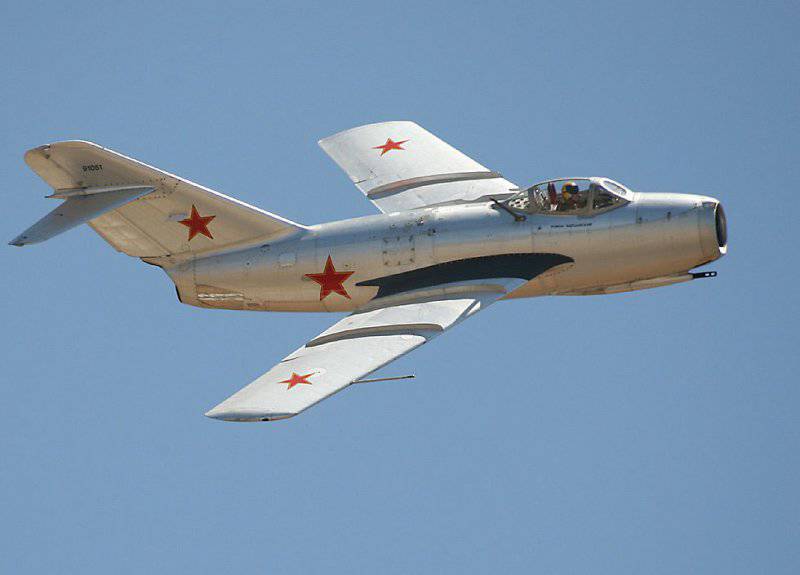 In the Soviet Union, more than 11 100 MiG-15 aircraft were built. They were widely exported to the countries of the Warsaw Pact, China, North Korea, to the Middle East (Egypt, Syria).
Production of various variants of the MiG-15 under license was organized in Czechoslovakia and Poland. As a result, more than 17 000 MiG-15 aircraft, which had more than 20 modifications, were built in all producing countries.
Designing the MiG-15 began in the 1946 year, its prototype and the 310 made its first flight in December 1947.
And on August 23, 1948, the aircraft was adopted by the USSR Air Force. First
aviation
units were formed in 1949. The release of the aircraft was carried out by 8 Russian plants.
The aircraft reached a speed of up to 1044 km / h and climbed to a height of 15500 meters. The MiG-15 was armed with 3 guns and was able to carry 2 bombs on underwing pylons.
The aircraft received baptism of fire in the skies over Korea in 1950.
Soviet data on the results of the war in Korea became available only in recent years. They testify that during the fighting the pilots performed more 63 000 sorties, conducted 1683 air battles by day and 107 at night. More than 1100 enemy aircraft were shot down. Their losses accounted for 335 aircraft.
The pilots of the United Air Army (PRC and DPRK) conducted 366 air battles, in which an enemy aircraft was shot down by 271. Their losses - 231 aircraft.
During the Cold War, the legendary MiG-15 could be seen in the sky over half the world - the Sea of ​​Japan, the Commander Islands, Africa, India, Albania, Bulgaria, Hungary, Yugoslavia, the GDR, China, Egypt, Syria, Algeria, Morocco, Cuba , Afghanistan.