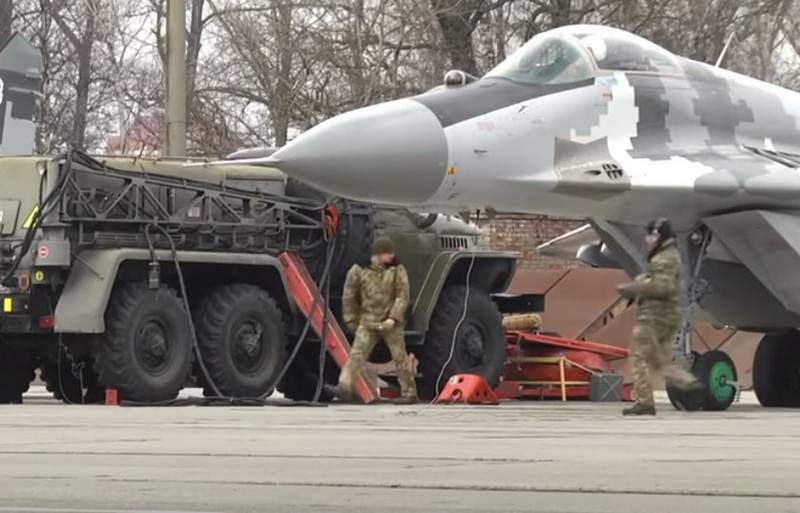 An unusual incident took place at one of the military airfields of the Ukrainian armed forces. According to Ukrainian media, the Air Force of the Armed Forces of Ukraine lost a MiG-29 combat fighter due to a collision with a passenger car.
The incident occurred on Wednesday, March 10, 2021 at the Vasilkov military airfield near Kiev at the location of the 40th tactical brigade.
aviation
... According to the publications of the Ukrainian press, an officer of the Armed Forces of Ukraine, being drunk, driving a personal car Volkswagen Touran, drove to the steering track of the airfield, where he rammed a MiG-29 fighter of the Air Force of the Armed Forces of Ukraine.
It is specified that the fighter was being towed to the parking lot at this time. As a result of the collision, a fire broke out, which was extinguished by the forces of the airfield services. The aircraft received thermal and mechanical damage to the engine and other units, most likely, it will be decommissioned.
The culprit of the incident himself is the acting engineer of the second squadron of the military unit A1789, captain Sh. 1974. received a bruise of the chest and soft tissues of the face. It is not specified whether he was injured during a collision with the plane or after. A pre-trial check has begun against the officer.
Note that the loss of even one fighter for the Air Force of the Armed Forces of Ukraine is quite sensitive, given their small number and technical condition. There are very few opportunities to restore the aircraft, since there are no original components, and the fighter itself has almost exhausted its resource.