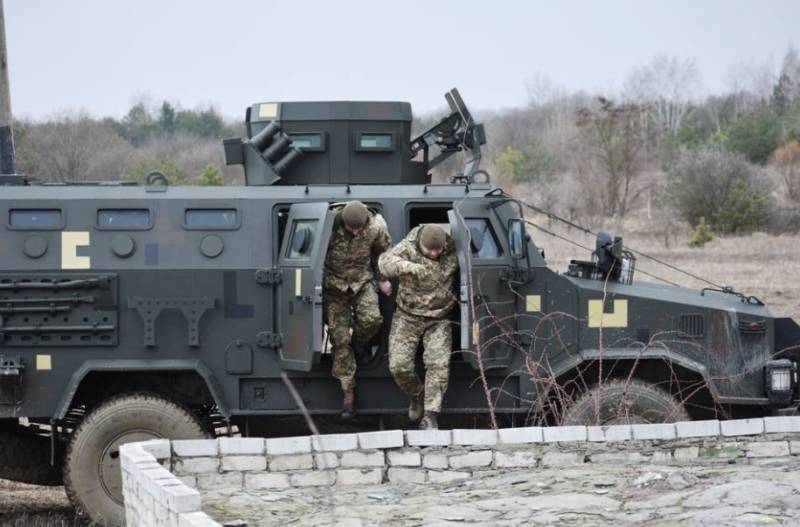 The combined forces of the Armed Forces of Ukraine conducted the so-called counter-sabotage exercises. As part of the maneuvers, units of the Ukrainian army honed their skills in protecting strategic infrastructure facilities.
This was reported by the press service of the Joint Forces Operation (JF) of the Armed Forces of Ukraine.
Units subordinate to the command of the OOS conducted exercises to counter the sabotage and reconnaissance groups of the imaginary enemy. Personnel training took place near the border with the Russian Crimea.
As noted in the JFO press service, for the sake of successfully fulfilling the tasks of protecting the Ukrainian state, the servicemen who "hold positions" in the south of the country improve their skills every day during combat training sessions, trainings and exercises.
The main goal of these measures is to increase the level of interaction of the Armed Forces with all components of the security and defense forces of Ukraine. First of all, this concerns the organization of measures to counter sabotage at potentially dangerous infrastructure facilities.
- said the commander of the Joint Forces of the Armed Forces of Ukraine, Lieutenant General Sergei Naev.
It is worth noting that Ukraine brought its own armored vehicles "Kazak-2" and "Dozor-B" to the border with Crimea "for conducting exercises". The vehicles were used for the operational redeployment of units and their fire support. But after the completion of the exercises, there is no talk of their return transfer to the places of deployment. In other words, Ukraine left these armored vehicles near the borders of the Russian Federation in the Crimean direction.
Recall that in Ukraine this technique is called domestic (Ukrainian), in fact, this is not entirely true. In particular, armored vehicles "Kazak-2" were created on the basis of the Italian truck Iveco Eurocargo 150 E28 and approximately 80 percent consist of foreign components.