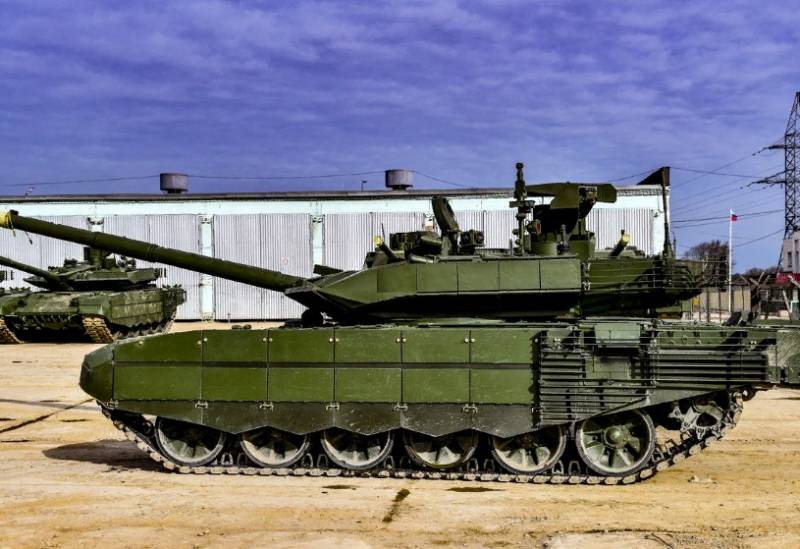 Eight
tanks
T-90AM "Proryv" entered service with a motorized rifle brigade in Moscow, belonging to the Western Military District. The new tank was equipped with an improved tower module and armed with a 125-mm cannon, which allows the use of a new type of ammunition, which has a higher efficiency in comparison with its predecessors.
A message about this and a video showing the tanks delivered to the military unit appeared on the official VKontakte page of the Russian Ministry of Defense.
The Polish edition of Defense 24 drew attention to this information, the readers of which began to vigorously discuss it in the comments. Many of them were interested in what exactly the new Russian armored vehicles were equipped with, skeptically assessing the capabilities of the Russian military industry.
I wonder what radio stations these T90AMs have, is it really "Made in China"?
- asks one of the readers.
Does anyone know what this cylindrical turret on the tower is? This is equipment for overcoming water obstacles or a manifestation of sympathy for Tolkien, the author of the novel "The Two Towers."
- another sneers.
There are also fantastic suggestions from readers of the Polish press:
What is it on the tower? It looks like a laser machine.
And one of the readers, who signed as "Richard 56", comparing the T-90 with the Leopard tank in service with the Polish army, concluded in favor of Russian armored vehicles.
They are better than the Leopards in our army.
- he said.
In terms of their characteristics, they clearly surpass what our military has.
Discussion unfolded about the purpose of the tanks that appeared in the Russian Armed Forces.
Poland is not going to attack Russia, so it does not need such a difficult
weapons
... It turns out that Russia has such plans for its neighbors?
- suggested a user registered under the name rED.
Poland does not have the right to vote. The Pentagon decides everything for us.
- another reader answered him.