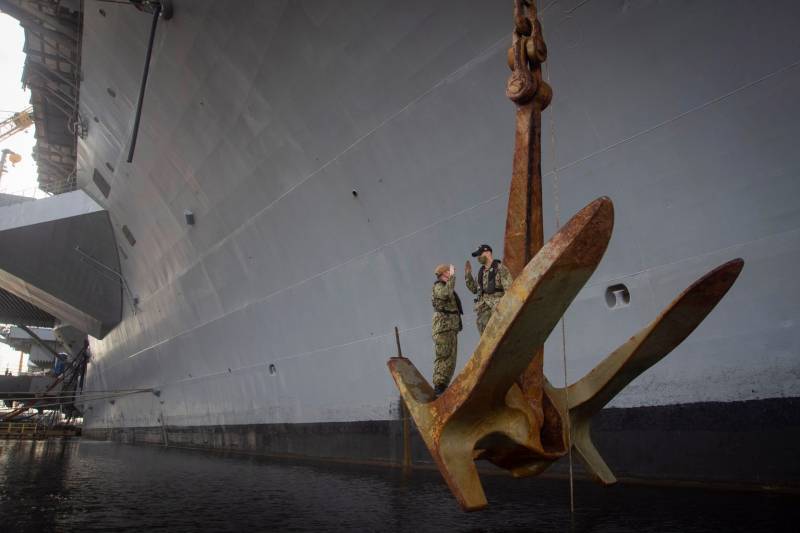 Joe Biden's administration is considering cutting the country's military budget by $ 14 billion. It is noted that the administration of the 46th President of the United States decided to cut military spending in this way. If such a reduction takes place, then the US budget for 2022 (and for 2021 it was adopted under Donald Trump) will be approximately $ 708 billion.
The main controversy over which items of expenditure need to be cut or completely abandoned are in Congress. At the same time, the administration of Joseph Biden made a proposal to revise two programs: this is the US aircraft carrier fleet, as well as programs for the creation and maintenance of F-35 fighters.
Applicable to aircraft carrier
the fleet
The United States is invited to consider the feasibility of further operation of the aircraft carrier USS Harry S. Truman. It is noteworthy that this issue was raised even under Trump. The specified warship was commissioned in 1998. He is 23 years old. In this regard, it is difficult to call it old.
In connection with this kind of situation, Congressmen decided to clarify the issue with the commander of the Indo-Pacific Command of the US Navy, Admiral Phil Davidson:
Do you consider the withdrawal from the fleet of this aircraft carrier in fact in the middle of its "life cycle" a reasonable decision?
The American admiral stated the following:
In my opinion, we have no way of replacing this aircraft carrier. It is important for us to maintain the existing potential at sea in the future. I support the law that sets the minimum number of aircraft carriers in the US Navy.
Earlier, US Secretary of Defense Lloyd Austin said that "the number of aircraft carriers in the US Navy should be such that it would be able to respond to any challenge in various" hot spots "of the world." At the same time, the minister had certain disagreements with the admiral.
The military department believes that when putting into service nuclear aircraft carriers of the Gerald Ford type (3 units), one could talk about the removal from service of one or two aircraft carriers of previous generations. According to the American media, citing the US administration, this would save $ 1,5 billion by 2023. It is pointed out that aircraft carriers of previous generations "are becoming more and more expensive to maintain, while their efficiency is decreasing every year." That is why it is proposed to withdraw "Harry Truman" from the naval forces.