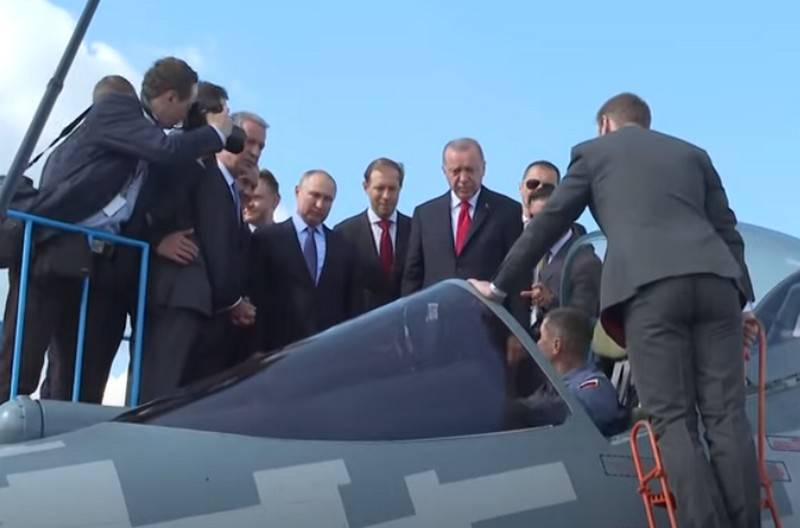 Turkey may acquire Russian Su-35 and Su-57 fighters, but the priority is to develop its own fifth-generation aircraft. This was stated by the Minister of Industry and Technologies of the Republic Mustafa Varank.
Answering the question about the possibility of purchasing Russian fighters, the minister explained that Ankara does not exclude the purchase of the fourth generation Su-35 and the fifth generation Su-57, this option is being considered. Turkey is also considering options for purchasing aircraft from other countries. However, the priority remains the creation of its own fifth generation fighter.
If Russia has an aircraft that meets our current needs, if there are no difficulties with its introduction into our system and its launch, then, of course, we can purchase it from Russia or from another country in Europe. In this sense, we do not have any categorical antagonistic position.
- leads
RIA News
the words of Varanka.
According to the minister, the issue of buying Russian aircraft was repeatedly raised at the meetings of the leaders of Russia and Turkey, the parties have already discussed this issue. If Turkey is unable to implement its own program for the creation of a fifth generation fighter, it will consider Russian fighters.
Of course, our priority is primarily the development of Turkey's own capabilities in the development of fifth generation fighters. But if Russia has an aircraft that meets our needs and objectives, Turkey will acquire it.
- he added.
At the end of last summer, Ankara announced the acceleration of work on its own fifth generation fighter. The promising Turkish fighter TF-X (MMU) is being developed jointly by the Turkish aircraft corporation Turkish Aerospace Industries (TAI) in cooperation with BAE Systems. The first flight of the first TF-X prototype is scheduled for 2023. The TF-X is similar in design to fifth-generation American fighters, smaller than the F-22 but slightly larger than the F-35.