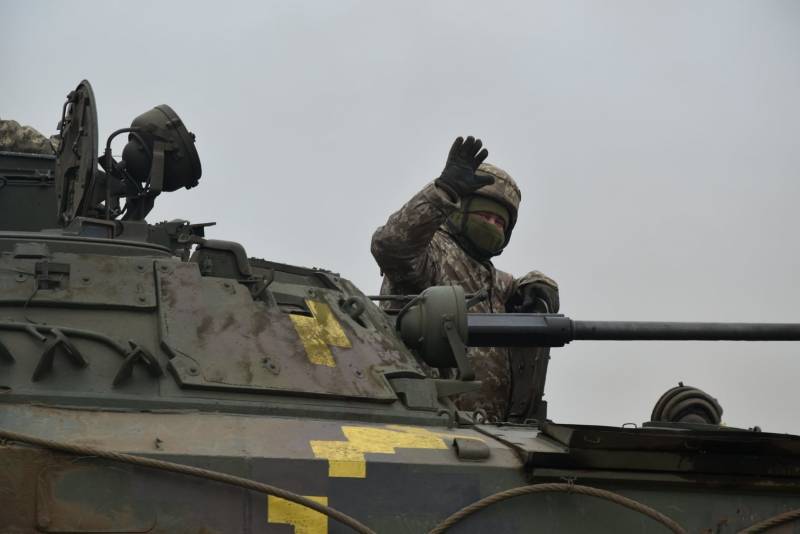 Reports continue to come from Donbass regarding the complication of the situation. The Armed Forces of Ukraine have approached the line of demarcation even in those areas that were previously declared "fully demilitarized" in Kiev. This "demilitarization" was credited to himself personally by the President of Ukraine Volodymyr Zelensky.
It is noteworthy that a new exacerbation in Donbass manifests itself against the background of statements by the head of the Ukrainian state about his intention to "meet with each of the colleagues in the Normandy Four, including the president of Russia."
Meanwhile, reports are coming from the DPR that in Staromikhaylovka, located on the western outskirts of Donetsk, several transformer substations have been damaged by fire from the Ukrainian side. The enemy purposefully inflicts mortar strikes, carries out shelling of the vital infrastructure of the region from the standard armament of the BMP. As a result, the shelling led to the fact that about 1 thousand Donetsk residents were without electricity. And this despite the fact that many electricity is used, among other things, to heat their homes. It should be emphasized that night temperatures in Donetsk drop to 15 degrees below zero.
It is also reported that as a result of shelling from the positions of the Armed Forces of Ukraine, the gas pipeline of the settlement of the Trudovskaya mine was damaged - also on the western outskirts of Donetsk.
To monitor the situation, representatives of the OSCE special mission raised a drone into the sky in the Luhansk direction, where it is also restless. At the time of the appearance of the OSCE drone in the air in the Troitsky area from the positions of the 59th brigade of the Armed Forces of Ukraine, whose servicemen, according to agreements, should not be in this territory at all, fire was opened from an automatic rifle
weapons
... As a result, the OSCE observers were forced to leave the dangerous area.