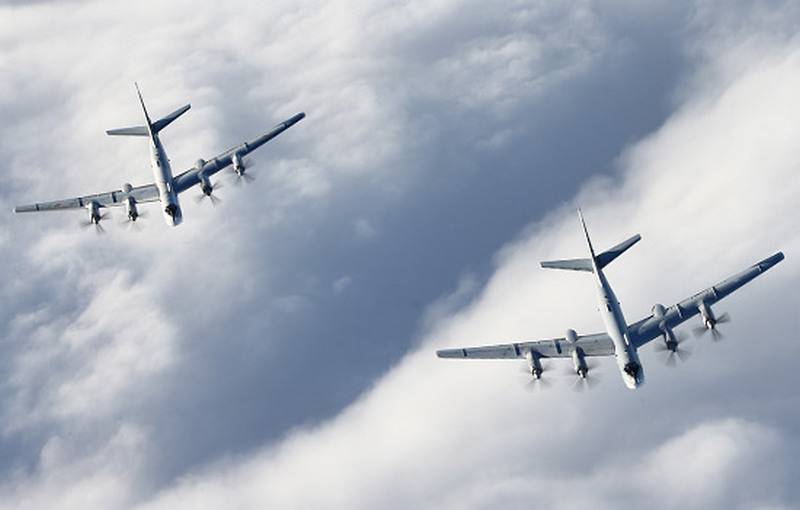 A pair of Russian strategic missile carriers Tu-95MS flew over the northwestern Pacific Ocean and the Sea of ​​Japan, approaching Japan in some areas. This was reported by the press service of the Ministry of Defense.
According to the report, the Russian missile carriers performed a planned flight, which took place accompanied by the Su-35S fighters of the Russian Aerospace Forces. In some areas, Japanese Air Force F-15 fighters rose to "intercept" Russian missile carriers. In total, the flight duration was over 9 hours.
Two strategic missile carriers Tu-95MS distant
aviation
performed a planned flight in airspace over the neutral waters of the Sea of ​​Japan and the northwestern part of the Pacific Ocean. Fighter escort was provided by the crews of the Su-35s of the Russian Aerospace Forces
- said in a statement.
Although the Ministry of Defense said that the flight was planned and took place exclusively over neutral waters, one can note the coincidence of the appearance of Russian missile carriers near Japan after the Japanese ex-diplomat made a statement about the need to block the Kuril Straits.
With their planned flight, the Russian missile carriers reminded that Russia has the means and methods to defend its territories.
Earlier, ex-employee of the Japanese diplomatic service Akio Kawato proposed to demonstrate to Russia the "strength and decisiveness" of Japan on the territorial "problem" by blocking the Soya and Tsugaru straits (La Perouse and Sangarsky). In this regard, the flight of the Tu-95MS is perceived as a response to this kind of proposal from the Japanese ex-diplomat.