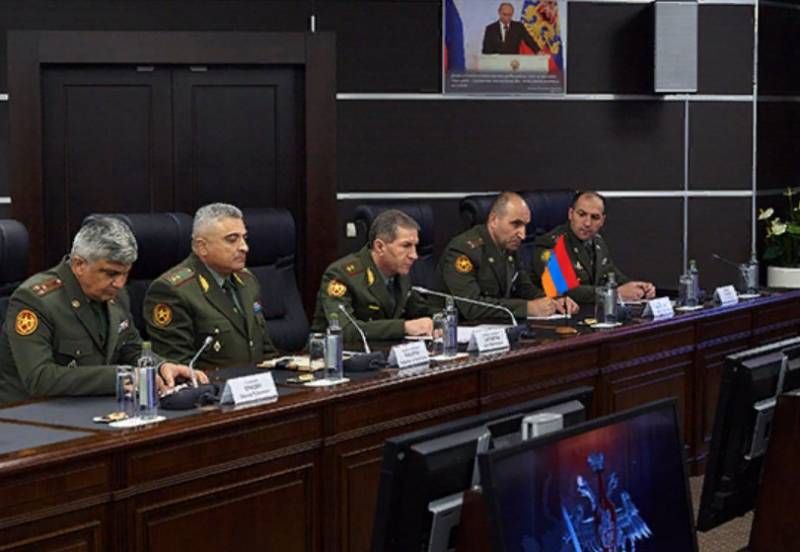 Photo of the Armenian delegation in the Russian Federation
The Armenian government announced the dismissal of Onik Gasparyan from the post of Chief of the General Staff of the Armed Forces. The head of the General Staff of Armenia called his resignation illegal and is ready to serve the country in a new status.
In his statement, which he made a few hours after his dismissal, the Chief of the General Staff stressed that the decision of the Prime Minister of Armenia contradicts the Constitution of the country. In his opinion, this indicates the need for the resignation of Prime Minister Nikol Pashinyan.
A favorable solution to the current crisis for the Motherland can only be ensured as a result of the resignation of the Prime Minister of the republic and early parliamentary elections.
- Gasparyan thinks.
He also said that he challenged the government's decision in the Administrative Court of Armenia, which will consider his claim.
The Chief of the General Staff appealed to the military with an appeal not to forget about their direct responsibilities to ensure the country's security.
Dear generals, officers and soldiers, the exclusive mission of the Armed Forces is to ensure the security of the Motherland, therefore I urge you to continue your selfless and patriotic service exclusively to the Motherland and the people in the name of the development of the Armed Forces and the strengthening of Armenia and Artsakh.
- said in his address.
Today, Deputy Foreign Minister of the Russian Federation Andrei Rudenko expressed hope for a speedy settlement of the political crisis in Armenia and that this process will not lead to an escalation of the conflict in Nagorno-Karabakh.