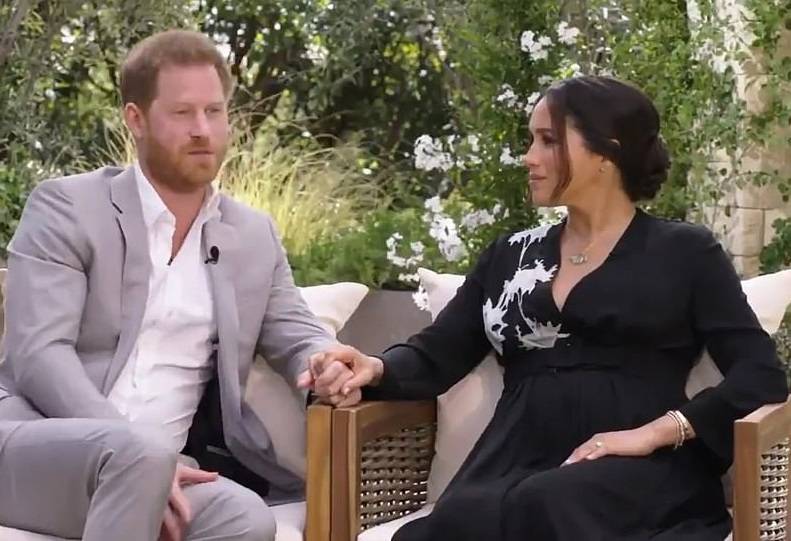 Meghan Markle and Harry interview Oprah Winfrey
In May 2018, the wedding of the grandson of British Queen Elizabeth II Harry and Rachel Markle, better known under the pseudonym Megan, took place.
The marriage initially looked very scandalous. The bride was an American actress whose fame was brought about by the Canadian television series. Stepbrother Megan in his letter to Harry, a copy of which he was not too lazy to send to the editorial office of one of the British newspapers, tried to warn the prince, calling his marriage to her
"The biggest mistake in
stories
royal weddings ".
In addition, Megan was three years older than the groom (she was already over 36 years old) and had previously been married.
Prince Harry's reputation is also not brilliant. In his youth, he was truly the Enfant terrible of the royal family. Even his mother, the famous Princess Diana, called him
"Spoiled boy."
And his uncle, Prince Andrew, once said that Harry
"Will never be normal."
The elder brother of this prince, William, in his youth, was also not a good boy and did not deny himself entertainment.
Some journalists even said that Harry plays the role of a "lightning rod", diverting attention from the future king. But William, of course, was smarter and more responsible than his brother. He got into an unpleasant story only once, having contrived in October 2006, during a shooting practice in Wales, to lose the L86 LSW (Light Support Weapon) machine gun. This situation was resolved quite well: the machine gun was found two hours later.
But Harry found himself in some kind of unpleasant situations with unenviable regularity. At the age of 17, he was convicted of smoking marijuana and sent on an "excursion" to a rehabilitation center for drug addicts. The prince had to admit this, after in one of the bars he, demanding alcohol, called the French waiter "frog" (according to another version - "frog").
Then Eaton College teacher Sara Forsyth provided journalists with an audio recording, from which it followed that it was she who wrote a job for 20-year-old Harry that allowed him to enter the Sandhurst Military Academy.
Prince Harry has always had problems with his studies.
Colin Campbell, in Meghan and Harry: The Real Story, quotes his classmates from Eton College:
"He just lacked the intelligence to adequately cope with the workload in such an academic institution."
"There are still stories of how the school made exams simpler so that Harry could pass them, but he still failed."
At 20, the prince smashed the lip of a London Evening Standard reporter who tried to photograph him as he left a nightclub.
At the time, he had a reputation
"Sexually disinhibited"
young man. Journalists talked about
Harry's Secret Girlfriends Club
which supposedly included girls from the most aristocratic English families. And in the royal palace, he received a rather indecent nickname from the staff, which I probably will not quote.
At the age of 21, Harry showed up for a costume party in the form of the Wehrmacht Afrika Korps (older brother William preferred a lion costume).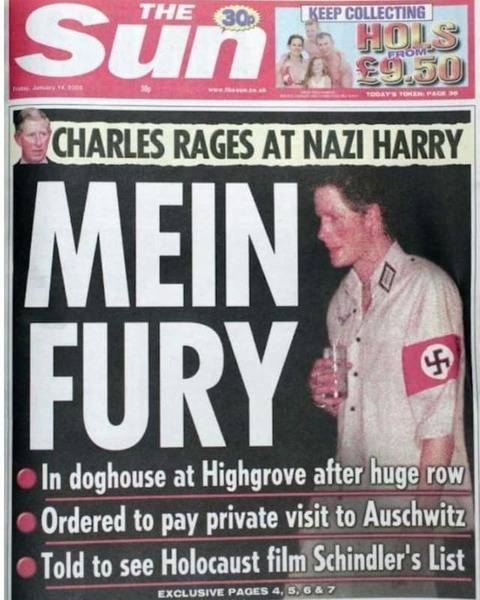 At the age of 28, Harry decided to play strip billiards in Las Vegas. And his photographs in the style of "nude", if desired, anyone can find on the Internet. It was alleged that the porn studio Vivid Entertainment even offered him a $ 10 million contract for the film at the time. It seems that its owners simply decided to make an advertisement in the name of the prince: it is unlikely that they seriously counted on his consent.
Finally, one day Harry swallowed a live goldfish on a bet.
But Meghan Markle quickly took control of the infantile prince. To call a spade a spade, she made him the most pitiful henpecked, and then forced him to betray her family.
The future duchess could not boast of a good education. And once on television, out of 15 questions asked to her about the history of England, she correctly answered only four. It turned out, for example, that she does not know what is depicted on the coat of arms of Great Britain.
The daughter of a white-skinned light specialist and African-American who worked in Hollywood, she began her career in a television show, where she played the role of a girl carrying a suitcase full of money.
In her portfolio, among other things, Markle pointed out the ability to perform striptease as an acting skill.
In the television series CSI: Crime Scene Investigation, she played the role of the maid Veronica, dressed in a uniform very similar to underwear.
Fame brought Markle filming in the Canadian TV series - Suits (in Russian translation - "Force Majeure"). All her other roles can be called episodic.
She also took part in a charity project in support of professional prostitutes. Megan expressed her support for them with the help of inscriptions on ... bananas.
One of the staff at Windsor Palace, who took part in the preparation of the wedding of Harry and Markle, told the already mentioned Colin Campbell:
"We were overwhelmed when we found this second-rate TV actress from California to be so demanding."
Markle's arrogance and arrogance is remembered by all the servants who encountered her.
But the scandals began even before the wedding.
At the first dinner with the royal family, Markle was outraged that one of the women (the princess of Kent) came with a brooch with a picture of a man in a turban whom she mistook for a negro. Here she got into a mess, because the picture was a Venetian Moor, but who in the tolerant United States of America is interested in such trifles?
Then she made a scandal due to the fact that Elizabeth II did not allow her to wear the tiara she liked to the wedding: the fact is that it was decorated with colored stones, and the ancient tradition requires that the bride's tiara of a member of the royal family should have colorless stones.
Harry, who perfectly knows the order of his family, sided with the bride, saying:
"What Megan wants, Megan gets."
But he failed to convince his grandmother.
Markle invited David and Victoria Beckham, Serena Williams, Oprah Winfrey, George Clooney, Tom Hardy to her wedding ceremony. But his own father, half-brother and sister Markle did not wait for the invitation: the future Duchess of Sussex quarreled with them. Her half-brother, as we remember, even tried to warn Harry.
Before the wedding ceremony, Markle demanded that Kate Middleton ... remove tights from her daughter, little Princess Charlotte. Meanwhile, according to the protocol, women of the royal family, regardless of age, are not allowed to appear in society with bare legs. But during a recent interview, which will be discussed a little later, Megan said that it was Kate Middleton who brought her to tears then.
While taking the oath during the wedding, Megan left out the word "obey." However, her husband's mother Diana and her brother's wife Kate Middleton did the same.
I must say that initially the wife of Prince William, Kate Middleton, was very coldly received in the royal palace. And the journalists, too, at first often mocked her. However, Kate, as they say, endured and is now the favorite of British citizens. Megan literally declared war on the royal family and forced her husband to participate in it.
After the wedding, Megan fired all of her assigned servants, and her firstborn's two nannies fled from her themselves.
She threw a tantrum after learning that her children, unlike Kate Middleton's children, would not be princes and princesses: boys would receive the title of count, girls would become ladies. Although it was clear to everyone that neither her origin nor her skin color had anything to do with this - these are the rules.
On September 20, 2019, already being the Duchess of Sussex, Megan came to the wedding of her friend, designer Misha Non, in a black dress for 11 thousand dollars, through the fabric of which underwear was visible. However, Harry also distinguished himself then, putting on holey shoes.
After the birth of Arthur's son, Megan at first categorically refused to show the first-born to British journalists, but allowed him to be photographed by the correspondents of American publications.
Finally, on January 8, 2020, Markle decided to abandon her duties as a member of the royal family and forced her husband to join her.
In March, Elizabeth II, reluctantly, agreed to give them a year of "leave", retaining both the ducal title, albeit removing the appeal from it
"Royal highness".
Thus, from April 1, 2020, "Sussex" became free from all obligations.
To many, this decision of Megan and Harry seems bold and admirable: they say, they gave up lifelong maintenance, privileges and decided to live by their own labor.
However, Harry at that time had in his accounts, according to various estimates, from 25 to 40 million pounds sterling. And Markle has from 5 to 7 million dollars "lying around". Taking advantage of the increased interest in her person and the title, she hoped to earn much more.
The Prime Minister of Canada, where Meghan and Harry first went, greeted them very warmly, but changed his attitude after voters were outraged to learn that the country's budget would have to pay $ 10 million a year to protect the intruders.
After that, Markle and Harry moved to Los Angeles. If they put on a different attitude here, then they miscalculated: US President Donald Trump immediately announced that he would not spend a cent on their protection.
On February 15, 2021, it became known that the notorious daughter-in-law of the ruling Queen of Great Britain, Meghan Markle, agreed to give a long interview to Oprah Winfrey.
The Royal Court made one last attempt to prevent a complete rupture of relations with her, and especially with Harry.
When Prince Philip of Edinburgh, the husband of Elizabeth II, was admitted to the hospital on February 17, it was stated that the royal family is now paramount to concern for his health. Harry and Meghan made clear hints that their interviews were untimely and undesirable.
In essence, it was a proposal for peace and a call to refrain from "burning bridges." The runaway couple paid no attention to the warning. And on February 19, Markle confirmed her desire to tell the whole world about her "suffering".
After that, it was announced that Harry and Meghan are no longer eligible to cooperate with charities as members of the royal family. And Harry was stripped of his military ranks and titles.
On March 3, the royal court's human resources department announced an investigation into allegations of bullying that Kensington Palace officials had leveled against Meghan Markle.
One of the women, whose name was not named, stated in this regard:
"We can finally tell the truth."
Royal expert Richard Fitz-Williams commented on these messages in an interview with Mail Online:
"Undoubtedly, the palace should have investigated the initial complaints back in the fall of 2018."
The Daily Mail reported that
news
about the investigations worried many of the palace staff, both former and current, and
"A lot of unpleasant memories."
On March 4, Prince Philip of Edinburgh underwent heart surgery.
On March 7, the long-awaited interview was released on CBS in the United States, which was watched live by 17 million TV viewers. And which Oprah declared her best work.
On the morning of March 8, the TV show was also seen by residents of the UK (audience - 12 million people).
Meghan Markle accused the British royal family of racism, cruelty to herself, refusing to provide security, and also stated that she was forced to do what she did not want. And they almost drove to suicide. "With a blue eye," she announced that when she got married, she did not understand that the wife of a member of the royal family had some responsibilities that turned out to be extremely difficult for her.
This revelation also caused great bewilderment: the wedding ceremony, which cost the British taxpayers £ 30 million, turned out to be a staging. The real wedding took place three days before her. And Megan modestly compared herself to the Little Mermaid: they say, she fell in love with the prince and lost her voice, and now she brought it back.
Harry wasn't silent during this interview either.
Father and brother he announced
"Trapped in the existing system."
He complained that after moving to the United States, he lost financial support from the royal family. (Many commentators later wrote: what salary can an employee rely on when he refuses to fulfill his duties?)
Harry also said that as if the reason for his family's move to Los Angeles was the fear that Megan would repeat the story of his mother, Princess Diana.
The Daily Mail noted on this occasion that Megan and Harry
"Introduced the queen as a mafia boss like Don Corleone from The Godfather.
Robert Johnson, biographer of Prince Charles and Duke of Edinburgh stated:
"The Queen and the Royal Family are not the Corleone clan of Windsor.

They don't have hired assassins and gangsters who shut up people.

Megan, as an active member of the royal family, has always been under the protection of Scotland Yard employees. Thank God she was never in physical danger, and Harry knows it.

Talking that she was forced to remain silent is absurd. "
But what is the first reaction of society to this
"Awkward airing of clothes"
(expression of a New York Times journalist) from Meghan Markle's side?
In the US, the attitude towards the "Sussex" is still rather sympathetic.
And, of course, they were in the forefront
"Fighters against racial discrimination".
For example, Martin Luther King's daughter Bernice thanked Markle and stated that
"Even being royalty does not protect against racism"
... Serena Williams, Meghan's friend, said that
"Knows firsthand how the media can participate in the vilification of women and non-white people."
Hillary Clinton named interview
"Heartbreaking".
And the notorious Jen Psaki, spokesman for the current president, commented on this interview as follows:
"Meghan Markle is a private person, just like Harry is now.

It takes courage for everyone to tell about their problems, including psychological ones, to tell their own story, and this is what the president believes in ".
Unexpectedly, the official representative of the Ministry of Foreign Affairs of the Russian Federation M. Zakharova, who called the interview with Megan and Harry
"Collapse of scenery"
and stated that
"Even the most protected members of the British elite do not feel safe if they are not pleasing to the royal family."
However, perhaps this is a kind of "response" to the British for the notorious highly likely?
But many conservative Britons are outraged.
Harry, who is called
"Poodle Markle",
her henpecked and a traitor to her family, they call on the queen to deprive this couple of all titles, to stop communicating with them.
Pierce Morgan, host of Good Morning Britain, talks about this interview as
"The queen's utterly shameful betrayal."
He also stated that he would not have believed Markle, even if she was only talking about the weather.
Sandy Times journalist Camilla Long named Harry
"The so-called prince."
The Sun came up with a word
"Megsit",
hinting that Markle will now never be able to return to Britain.
Tom Bauer writes:
"Harry rebelled against his family.

Appearing on US television, he sold his soul. "
Royal family biographer Robert Hardman:
"If the goal (of the interview) was not to undermine the monarchy and settle scores, I cannot understand what the point is."
A similar opinion was expressed by the correspondent of the BBC Johnny Diamond, who called this interview
"Stabbing the monarchy."
As for Meghan Markle, when speaking about her, journalists and commentators do not hesitate in expressions. Even the dress in which she was interviewed is called
"Dressed up with birds."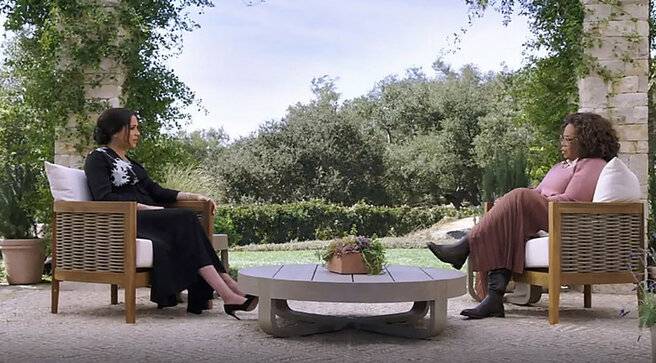 Meghan Markle. and Oprah Winfrey
Commenting on her accusations of the royal family of racism, the British ask the question: why did she leave for
"The most racist country in the world"
(in Britain, it turns out, the United States considers such) and why did it lighten its skin so much that it ceased to look like a mulatto?
So, dreamed of the laurels of Princess Diana, Meghan Markle may have been wrong with this interview. And ruined her reputation in Britain.
Harry definitely did the most stupid thing in his life.
The British company YouGov, specializing in sociological and marketing research, promptly conducted a survey of citizens of the United Kingdom, which showed that 47% of correspondents consider Meghan and Harry's statements unacceptable, and 31% have no sympathy for them.
However, there were also those in Great Britain who began to curse and stigmatize the royal family, accusing it of
"Callousness".
Some, hinting at the difficult relationship between Elizabeth II and Princess Diana, recall Talleyrand's words about the Bourbons, who
"They didn't understand anything and didn't learn anything".
And they consider Markle the second Diana.
This comparison is not new.
Back in 2018, on the eve of Meghan and Harry's wedding, the Daily Mail could read the following:
"If Princess Diana were alive, she would be delighted with such a daughter-in-law.

Because Megan is the woman that Diana always wanted to be: independent and accomplished everything herself. "
Let's remember Diana, who was affectionately called "the people's princess" and "Cinderella".
She even ranked third on the list of the 2002 Greatest Britons in history, according to a XNUMX BBC poll.
Her paternal ancestors were descended from the illegitimate sons of King Charles II and the illegitimate daughter of his brother and successor, King James II.
Diana's father became the eighth Earl Spencer. And she received the title of "lady" for the daughters of the highest peers.
Not a very typical Cinderella, is it?
Now about the "nationality" of this princess.
It
"She was superbly able to sneak up to the door and eavesdrop on what the servants were gossiping about."
By the way, she did not speak with these servants for weeks, leaving orders in the form of notes.
Personally, I have a question: if Diana is a "people's princess", then what kind of "anti-people" do they have there in the UK?
Unhappy Diana is very
"I suffered from loneliness and misunderstanding."
And here she proved her
"Love for common people":
I was looking for "consolation" in a society far from aristocratic.
Over the years, she was the mistress of her riding instructor Captain James Hewitt, antiquarian Oliver Hoare, rugby player Will Carling, Dr. Hasnat Khan.
And Diana's youngest son Harry turned out to be very unlike her lawful husband Charles. Even a genetic examination was carried out, the results of which were never reported to British citizens.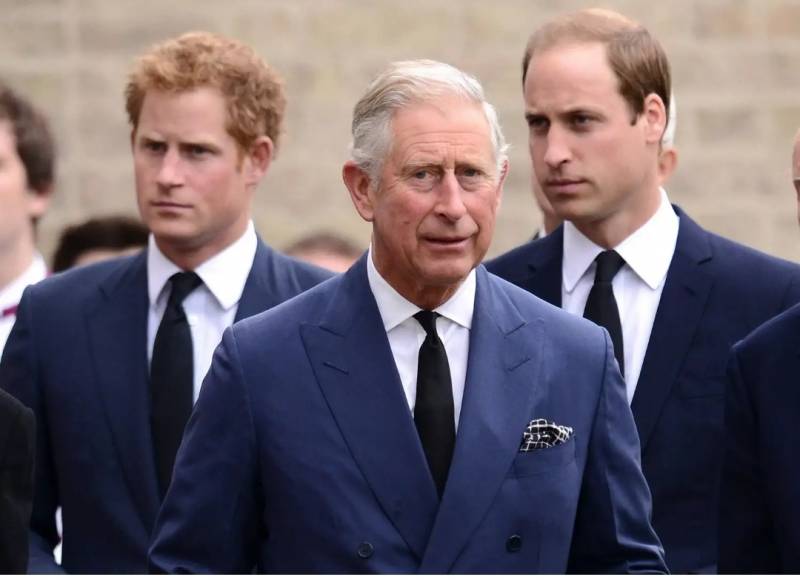 Charles, William and Harry, not too much like them
It has been suggested that Harry's father is the gallant cavalryman Hewitt.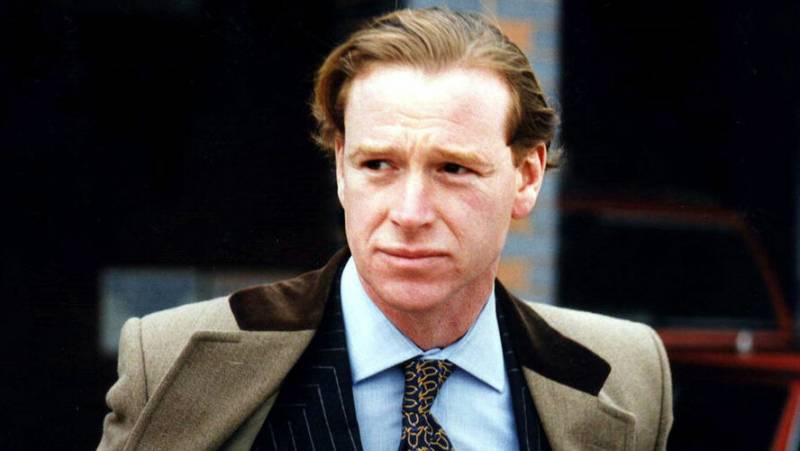 James Hewitt, photo 1995
In an affair with him (which lasted 5 years), Diana herself confessed.
However, the most likely candidate is the officer of the Welsh Guards regiment, Mark Dyer, who took an active part in the upbringing of Prince Harry. And unlike many official relatives, he was invited to his wedding with Meghan Markle.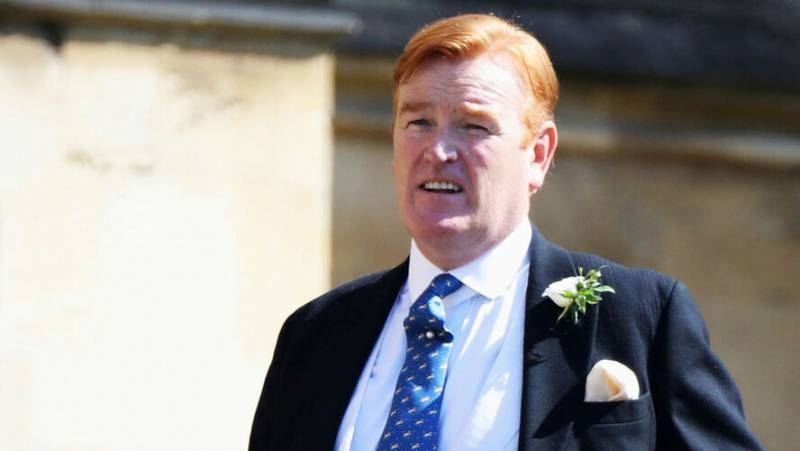 Mark Dyer at Harry and Meghan's wedding
In general, quite a few Britons question Harry's royal lineage.
Well, what can I say?
Actually, this is not so rare in royal families.
Having a crown on his head does not make a monarch a model male. And the heir to the throne, unlike breeding bulls and stallions, often does not show outstanding results in intercourse. But, if you are not yet Louis XV (with his "Deer Park") and not Catherine II, who has established an almost official position of her favorite, then you are still engaged in such matters
"Quietly and under the covers."
This is exactly what Prince Philip of Edinburgh, the husband of Elizabeth II, who had numerous connections "on the side" did (his sisters, by the way, were the wives of Wehrmacht officers, and therefore they were not invited to the royal wedding).
And in the modern world, where the expediency of keeping at the state expense of the Swedish king or queen of Denmark is quite difficult to explain from a logical point of view, members of the royal houses need to be doubly careful - in all respects.
But under Diana, the British royal family was rocked by constant scandals in which her husband and the reigning queen looked like real despots and moral freaks.
They, it turns out, did nothing but tyrannize the unfortunate Diana with all their might, who declared:
"I want to travel, do what I like, and not what others expect of me.

I am willing to do what I want. "
I wonder if she understood that the wife of the heir to the throne is
"Public office",
which is hard to get a job. But is it even harder to quit?
And that any woman in this "position" will have not only rights, but also responsibilities?
It looks like she just didn't want to understand this.
And therefore, she sincerely despised her well-mannered boring husband, who, during the drought of 1976, following a government order, took a shower instead of a bath, and not every day. And, having urinated, did not flush the water in the toilet. Diana considered herself above this. And she was not going to get up on the same level with the commoners. However, she also did not want to observe the traditions of the British royal court.
Diana wanted to use her position and only take, without giving anything in return.
She performed her duties as the wife of the heir to the throne extremely reluctantly. And under any pretext she tried to evade them. And at the same time she was called
"People's Princess"
and Prince Charles -
"Mister Tampon"
(he received this nickname after using this word in a telephone conversation with his girlfriend Camilla, recorded by one of the journalists).
In the end, Diana gave a damn about all decency. She left her husband-prince. She left her children and went to live with a wealthy Alexandria-born playboy named Dodi Al-Fayed (Imad ad-Din Muhammad Abd al-Mun'im al-Fayed).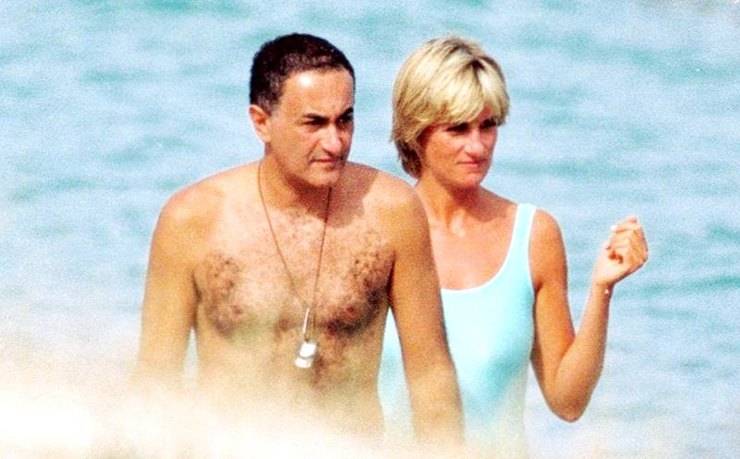 Diana and Dodi Al-Fayed
Since he was a Muslim, Diana was also going to convert to Islam - in order to officially marry him.
After that, she planned to take her sons from England. Recall that William is the second in line to the royal throne of Great Britain, and Harry was then still the third.
In general, I would not be surprised if the British special services were really involved in the accident in which this couple died on August 31, 1997.