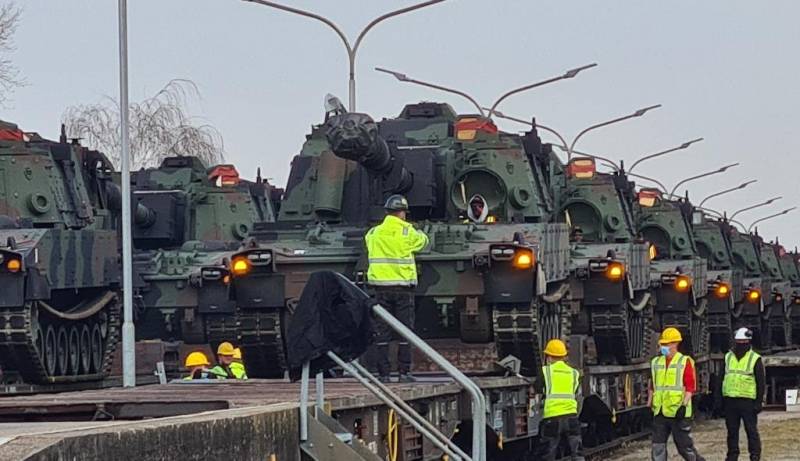 American troops are strengthening the artillery component in Europe. As it became known, more than 30 pieces of artillery equipment were delivered from the United States to Germany, including the latest modifications of the M109A7 Paladin self-propelled artillery mounts. Also, the means of field artillery and several tons of ammunition for artillery installations were transferred to the territory of the FRG by sea.
After unloading at the port, military equipment and ammunition were sent to the so-called Coleman barracks - to the territory of a military base near Mannheim. The 405th Field Support Brigade of the US Army is stationed there.
It is expected that in the near future the US military will bring the M109A7 Paladin ACS to live-fire exercises.
Let's remind that "Paladin" - self-propelled howitzers of 155 mm caliber. The mass of the A7 version is about 36 tons. Ammunition - 28 ammunition. At the same time, the howitzer can use high-precision ammunition, including the active-reactive M982 Excalibur. According to some reports, a consignment of such ammunition, which is distinguished by a high price, was also delivered to Germany from the United States.
It turned out that the "Paladins" are expected in Poland as well. Materials appeared in the Polish press stating that part of the equipment of the US Army brigade from Mannheim could be sent to the Powidz military base under construction in Poland. The infrastructure of the airbase was located there for a long time, but then it was decided to expand the military facility with the placement of armored vehicles on it (among other things). The Pentagon does not comment on the possibility of transferring the Paladin ACS to Polish Powidz. Although there is such a possibility, especially after Trump's decisions to transfer part of the American contingent from Germany to Polish territory. His replacement, Joe Biden, has not yet canceled this decision of the 45th President of the United States.