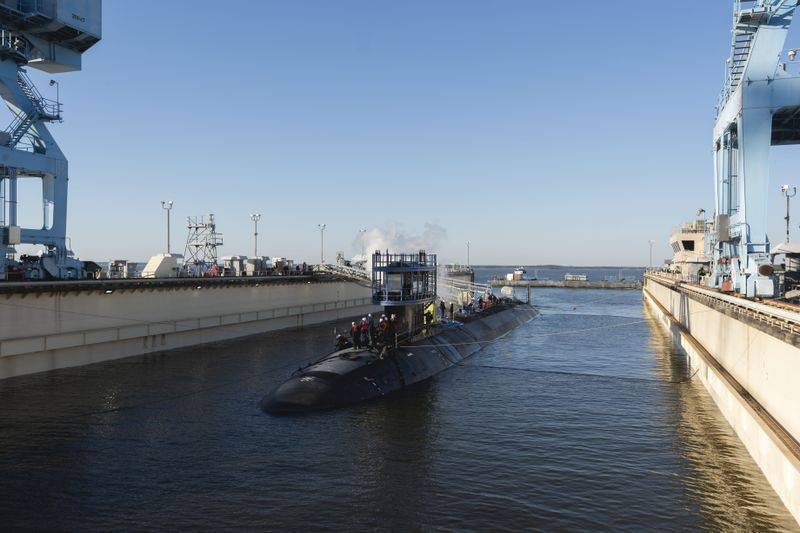 The United States launched a new Virginia-class multipurpose nuclear submarine Montana. The ceremony took place on March 4 at the Huntington Ingalls Industries shipyard in Newport News.
According to the shipyard's plans, further equipping of the submarine will take place at the outfitting berth. Transfer to the US Navy is scheduled for late 2021 after a test cycle. At the moment, Montana, which was laid in 2015, is 92% complete.
The submarine will become the 21st Virginia-class submarine and the third in a series of ten Block IV submarines of the fourth generation, differing from Block III in reduced radar signature and increased service cycles.
Previously in the command of the American
fleet
announced that Virginia-class nuclear submarines will be the first in the US Navy to receive hypersonic missiles.
The Virginia-type submarine has a length of 114,2 m (377 ft), a width of 10,4 m (34 ft) and a displacement of 7835 tons. The speed is more than 25 knots in the underwater position, the immersion depth is more than 240 m. The submarine is equipped with a reactor, which does not require refueling during the entire period of operation. The crew is 134 people. The armament of the submarine includes Tomahawk cruise missiles, four 533-mm torpedo tubes with torpedoes Mk48 ADCAP Mod.6, sea mines and unmanned underwater vehicles.
According to the Pentagon's plans, over the next 20 years, the American fleet will receive 30 Virginia-class submarines, which will replace the Los Angeles-class nuclear submarines built from 1976 to 1996 as part of the fleet.