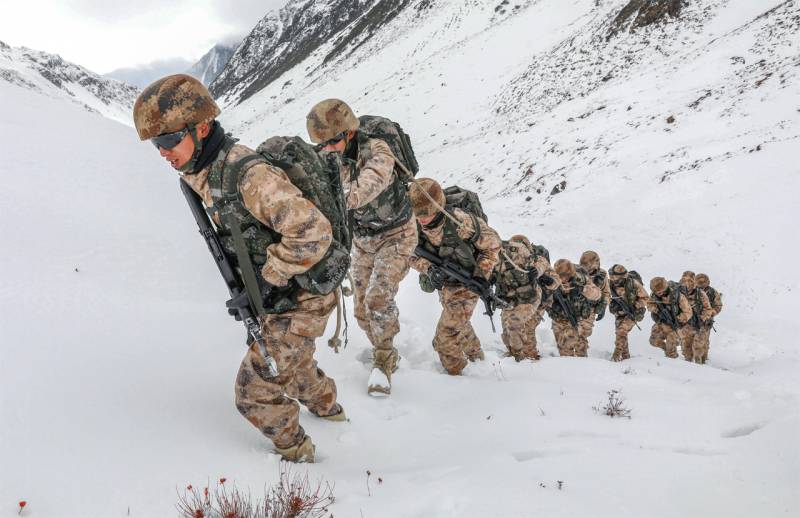 The Indian press is analyzing the situation in which China decided to withdraw its main forces and assets from the border with India in the highland region of Ladakh. First of all, the withdrawal of troops took place from Lake Pangong. Recall that Chinese troops were deployed to the area after a clash between the border guards of India and China, as a result of which it came to the use of stones and sticks. Each side accused its neighbor of provocation and sent its impressive forces to the region. A few days ago, the Chinese army became the first to withdraw its forces and resources from Lake Pangong after 10-round negotiations with the Indian military and representatives of the Foreign Ministry. India has taken the same steps.
Now in the press of India materials began to appear in which rather strange conclusions are drawn. For example, the Indian observer Yogesh Gupta believes that the withdrawal of PLA troops from the shores of Lake Pangong in Ladakh is associated with "increased pressure on him from the United States and its allies, which include India." According to the Indian observer, "China is under pressure in different directions and because of the alliance between India and the United States, and then it was forced to withdraw its troops so that the confrontation with India would not become critical for it."
From material in the Indian press:
Indian Foreign Minister Jaishankar has made it clear to China that India will not allow appropriation to occupy the area and is not ready to accept Beijing's military gain in Ladakh. The official noted that the withdrawal of Chinese troops from the shores of Lake Pangong is an important first step towards resolving the remaining problems with China in Ladakh.
In other words, in this case, India is trying to present itself almost as the winners, moreover, mentioning the "alliance with the United States", which allegedly became the reason that China withdrew its troops from the disputed area. The fact that painstaking joint work of a diplomatic nature was carried out, as a result of which the troops were withdrawn by India itself, this time it was decided not to mention in the press of this country.