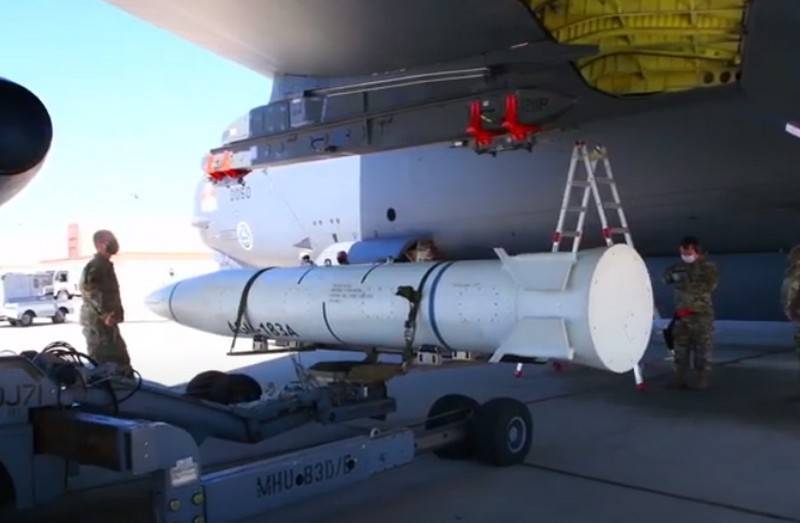 The first prototype of the American promising hypersonic aeroballistic missile ARRW (Air-launched Rapid Response Weapon) is prepared for independent flight. According to Flightglobal, the first flight of the rocket should take place before March 7, 2021.
According to the publication, the prototype AGM-183A ARRW is completely ready, during the first flight the operation of the accelerator will be checked. Previously, a rocket mockup took part in the tests. In June 2019, the first flight tests of hypersonic warheads with the AGM-183A ARRW air launch system took place.
The AGM-183A ARRW rocket is being created in response to similar developments in Russia and China. The first to be armed with a hypersonic missile will be the B-52H Stratofortress strategic bombers (four missiles for one strategist).
Details of the development have not been disclosed, it is known that the rocket will be able to reach speeds of up to Mach 6,5 - 8, will receive a solid-fuel engine and a detachable hypersonic gliding warhead with a nuclear or high-explosive part.
Work on a new rocket started in 2018 as part of a contract between the US Air Force and Lockheed Martin to create an ARRW hypersonic missile (
Weapon
rapid response airborne). The agreement includes a critical review of the ARRW project, support for testing and preparation of the complex for production.
At the end of 2020, it was reported that work was progressing on schedule, the rocket should be ready in 2021, and the initial operational readiness by 2022.