Germany is trying to decide on the issue of its further military presence in Afghanistan. Against the background of the activities on the withdrawal of the contingent, which was carried out by the 45th US President Donald Trump, Berlin faced a dilemma: follow the American example or leave everything as it is with respect to the Bundeswehr contingent.
The situation for Germany became even more confusing after Joseph Biden came to the presidency of the United States, who, on the one hand, promised to "continue the mission to support democracy," on the other, until recently, had taken an indistinct position on the same Afghanistan. And now it happened. At the end of March, the leadership of NATO (de facto - the United States) decided to extend the mission of "resolute support for Afghanistan."
It became known that immediately after this news from the NATO headquarters in Brussels, Annegret Kramp-Karrenbauer, the Minister of Defense of Germany, was sent to Afghanistan to clarify the situation on the spot. She reportedly made an "unannounced" visit to Mazar-i-Sharif, where a German military base is located.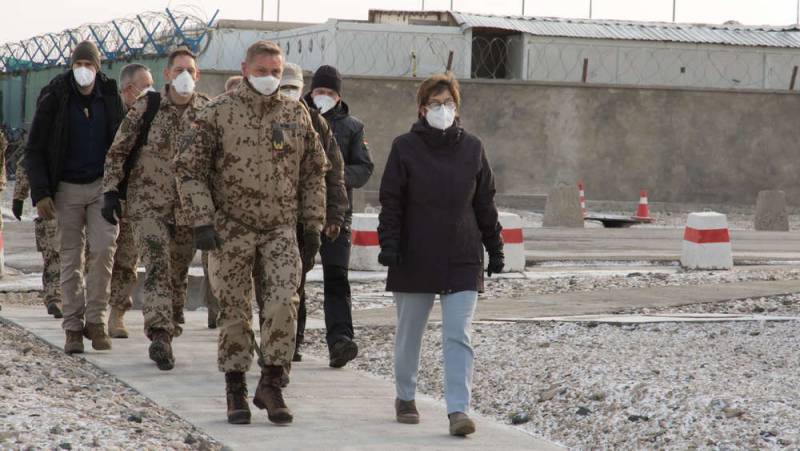 German Defense Ministry:
The Minister would like to receive full information on the current state of affairs from the Bundeswehr military personnel in Afghanistan in the format of direct communication with soldiers and officers.
Annegret Kramp-Karrenbauer:
Afghanistan urgently needs perspectives and social balance between warring groups. Our soldiers cannot resolve all these processes. Our military, together with our allies, are already making an important contribution, especially in the north of the country. Through our military involvement in the past nearly 20 years, we have created important preconditions: the number of educational opportunities, especially for girls and women, has increased significantly. Most of the population has access to clean drinking water.
It is noteworthy that these words of the German Defense Minister sounded against the background of the news that the Afghan army urgently left its last base in the very north of the country, about which Kramp-Karrenbauer spoke.
As Voennoe Obozreniye has already reported, the Afghan military abandoned their place of deployment, which was actually blocked by armed representatives of the Taliban (* the terrorist group is banned in the Russian Federation).
According to Kramp-Karrenbauer, the German army is ready to continue to support the peace process in Afghanistan. At the same time, the German Ministry of Defense does not say what is the real role of the same German troops in northern Afghanistan, if government forces are forced to leave territories of control and actually run away, freeing up territories for the Taliban * with whom the Americans reached their agreements.