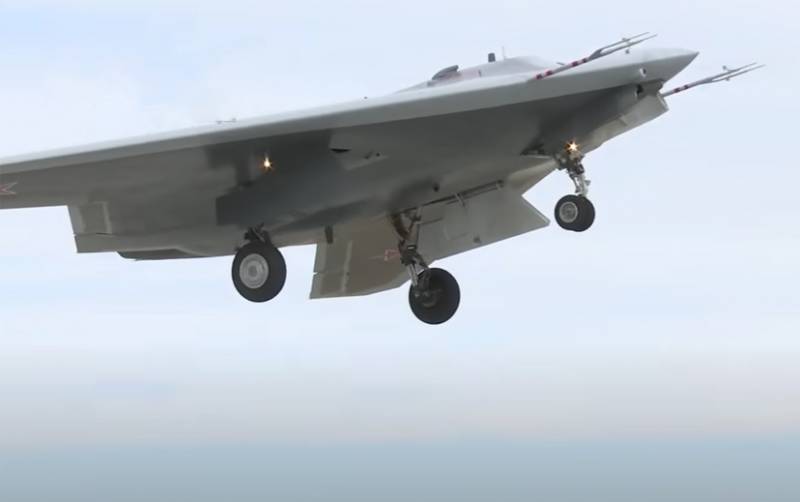 In the competition between manufacturers of unmanned aerial vehicles, the Russian Federation lags far behind. And the only hope to reduce this gap is its unique development - the S-70 "Okhotnik" UAV.
This is the opinion of the author, who publishes material on the Chinese information portal Sina.
At the same time, the author suggested that Russia, which is lagging behind in the field of unmanned aerial vehicles, can hardly "recoup" at the expense of the "Okhotnik" UAV. After all, in his opinion, she has not yet gained enough experience in order to create the most perfect drone in the world, although it looks beautiful. An important question: Russia should recoup with whom and in front of whom?
The Chinese media note that at the moment there are very few countries in the world capable of producing unmanned vehicles of the level of the American MQ-9 Reaper. And there are no Russian enterprises among such manufacturers.
From the article:
Russia does not have effective attack drones, and Russian-made reconnaissance UAVs have not yet proven themselves very well.
The Chinese author, apparently, has not heard anything about successful strikes with the help of shock drones of the Russian Aerospace Forces in Syria.
In particular, the author believes that the Turkish Bayraktar TB2 in its characteristics is significantly superior to the "Orlan-10" made in the Russian Federation.
According to the published data, the heavy, inconspicuous attack UAV S-70 "Okhotnik", created by the Sukhoi Design Bureau, has a take-off weight of 25 tons and is capable of speeds up to one thousand kilometers per hour. The vehicle is 14 meters long and has a wingspan of 19 meters. It is planned to equip it with intra-fuselage missiles, including air-to-air missiles. Previously, this option was described in the press as a combat drone with an interceptor function.