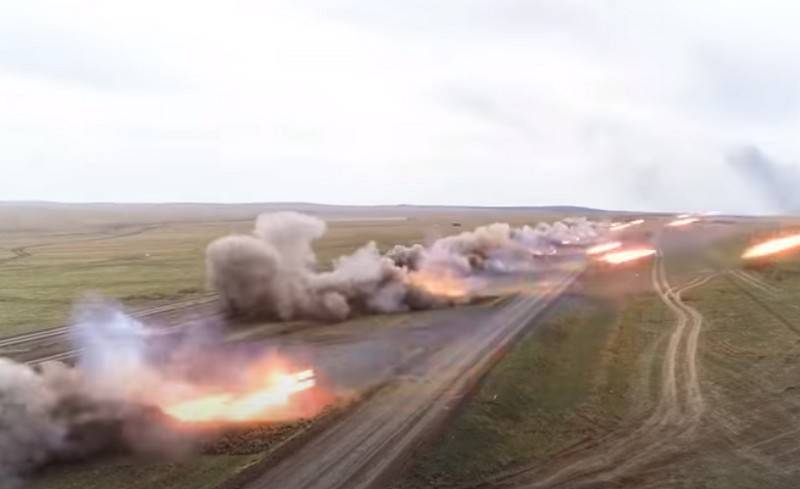 The newest rockets for the new TOS-2 Tosochka heavy flamethrower system will enter the state testing stage this year. This was announced by the executive director of JSC "NPK" Tekhmash "Alexander Kochkin.
The new shells for TOS-2, in contrast to those used earlier, have an increased range and increased power. Currently, a batch of new ammunition is being purchased for conducting experimental military tests.
Ammunition (...) has increased accuracy and firing range, enemy armored vehicles, as well as various structures are affected by a high-temperature field and overpressure, which are created on the target area with the massive use of shells in thermobaric and smoke-incendiary equipment
- leads
TASS
Kochkin's words.
Earlier, the Ministry of Defense reported that the use of new ammunition developed for TOS-2 makes it possible to increase the firing range up to 15 km, in contrast to 6 km for the TOS-1 "Buratino" and TOS-1A "Solntsepek" systems.
The new TOS-2 flamethrower system is preparing to undergo state tests, which will begin this month. Currently, TOS-2 is undergoing trial operation in the RKhBZ troops. At the end of 2020, a batch of new vehicles entered service with the mobile units of the RHBZ Central Military District, stationed in the Saratov region.
The TOS-2 heavy flame-throwing system was created on the basis of the TOS-1 "Buratino" and TOS-1A "Solntsepek", but in contrast to them it has a wheelbase and improved tactical and technical characteristics. Earlier it was reported about the creation of new ammunition for TOS-2. The machine was created taking into account the experience of using such weapons during the hostilities in the Middle East.