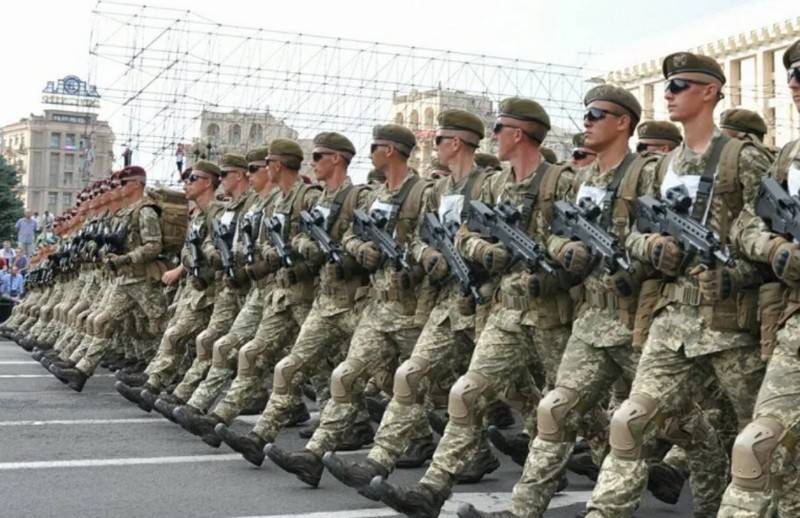 The Ukrainian army seeks to get away from everything Soviet and come to NATO standards as soon as possible. In light of the ongoing reform, the Armed Forces of Ukraine took another step towards the West - they got rid of the "Prussian step".
According to the public relations service of the Land Forces Command of the Armed Forces of Ukraine, as part of the reform, Ukrainian servicemen were allowed to raise their legs by only 10-15 cm during a combat step, and not 15-20, as it was earlier according to the charter of the Soviet army.
It is noted that the new combat step will be demonstrated already during the military parade on the occasion of the 30th anniversary of Ukraine's independence, which will be held on August 24, 2021 in Kiev. In this regard, the servicemen of the Armed Forces of Ukraine began training in a new combat step, and in a separate presidential regiment named after Hetman Bogdan Khmelnitsky, they conducted a demonstration lesson on the methodology of training personnel for this event, taking into account innovations.
Those present were shown the movement of the old and the new combat step individually and as part of the ranks, the ceremonial crew. The servicemen moved at a speed of 110 steps per minute, and the stride length was 70-80 cm.The main difference was that now the servicemen, who are moving in a combat step, raise their legs 10-15 cm from the ground, instead of the previously determined 15-20 cm
- said in a statement by the Ukrainian military.
Recall that the marching step, called in the West the "Prussian step", came to the Soviet army as a legacy of the tsarist army. As you know, the Prussian step was led by the imperial decree of Paul I, who was an ardent admirer of everything Prussian and considered the Prussian army a model worthy of imitation.
To date, the Estonian and Kazakh armies have abandoned the Prussian step, and now Ukraine has joined them. However, in many post-Soviet republics, the pace of the marching stride remained the same - 110-120 steps per minute, while the leg rises by 15-20 cm, and the stride length is 70-80 cm.