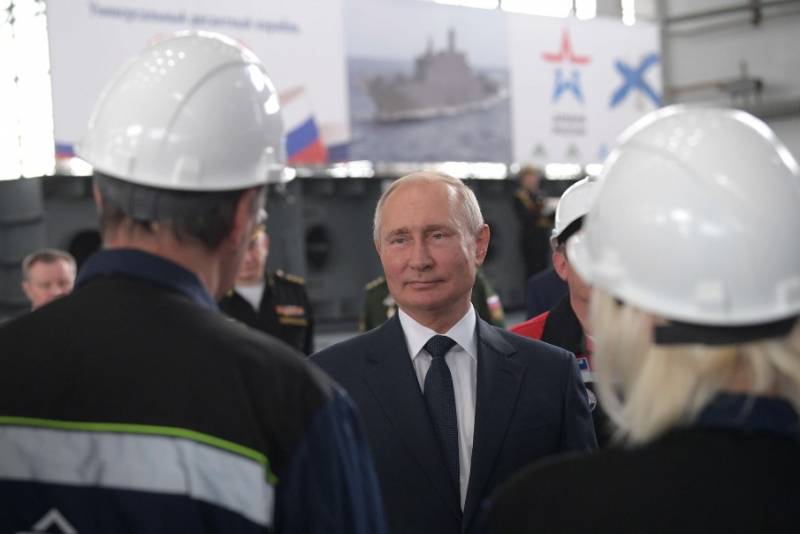 Russian shipbuilders in Kerch began manufacturing the hulls of two future helicopter carriers. In the course of work on these universal amphibious assault ships (UDC) at the Zaliv plant in Kerch, the experience of creating the French Mistrals is taken into account.
About this news agency
TASS
said an employee of the military-industrial complex.
The source said that the new landing ships will have a displacement of 30 thousand tons. Each helicopter carrier is capable of carrying 16 helicopters and about a thousand marines on board. In addition, the ship's dock chambers can hold up to four boats for landing marines.
Also, another source in the defense industry, with whom the agency representatives spoke at the international forum "Army-2020", suggested that the UDC would be able to carry not only up to 16 helicopters, but also four S-70 Okhotnik unmanned aerial vehicles. He said that the UAVs will perform strike functions, as well as engage in target designation when striking with Zircon hypersonic missiles launched from other ships.
The ceremony of laying the ground for two universal landing ships, in which Russian President Vladimir Putin took part, took place on July 20 last year. The new ships will be named Ivan Rogov and Mitrofan Moskalenko.
Let us remind you that earlier Russia contracted the construction of two Mistral-class helicopter carriers from France. But as a result, France sold the ships to Egypt, paying compensation to Russia. The decision not to transfer the ships to Russia was made by François Hollande, who decided to support the sanctions.