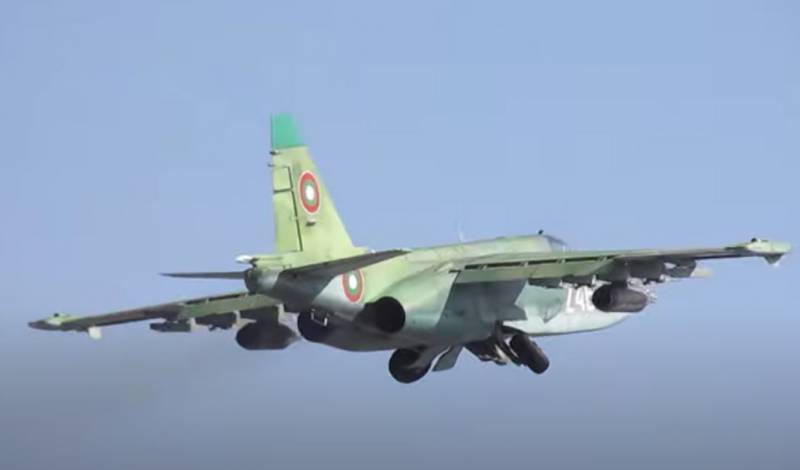 To test the combat effectiveness of Soviet military aircraft repaired in Belarus, which are in service with the Bulgarian Air Force, Bulgarian Defense Minister Krasimir Karakachanov personally sat as a co-pilot at the helm of the Su-25 attack aircraft. He carried out testing, taking off from Bezmer airbase.
The head of the defense department recalled that the Su-25K attack aircraft performs the function of the main combat aircraft designed to support the actions of the Land Forces and the Bulgarian Navy.
Karakachanov expressed his satisfaction with the work of the Belarusian JSC "558th
Aviation
repair plant ", which is considered one of the leading aircraft repair enterprises in the CIS. It was he who was entrusted with the repair and modernization of eight Su-25 attack aircraft of the Bulgarian Air Force. He noted that after the work carried out, the aircraft began to comply with NATO standards. What this means is not understood even in Bulgaria itself.
The minister also responded to criticism of those who said that Bulgaria does not need Russian planes:
These are not Russian planes, because they were paid for by Bulgarian citizens. These are Bulgarian aircraft, and they carry out a mission to protect the territorial integrity and sovereignty of Bulgaria.
After repair and modernization, the Bulgarian Su-25K received a new navigation, communications system and expanded capabilities for the use of missile weapons, in particular, air-to-air missiles. The service life of the fuselages of these aircraft was increased by 800 flight hours, and the resource of the R-95Sh turbojet engines by 500 hours. This will allow the Bulgarian Air Force to operate the Su-25 until 2027 or 2028.