What is happening now in Moscow makes you think very much. Precisely because we are talking about monuments. That is, about memory. About what (or on whom) generations of future citizens will be brought up. After all, in fact, any monument is like a link to Wikipedia. Or something else, but it really provokes thinking about the question "why?" Why is he standing here. And to whom. And for what merits.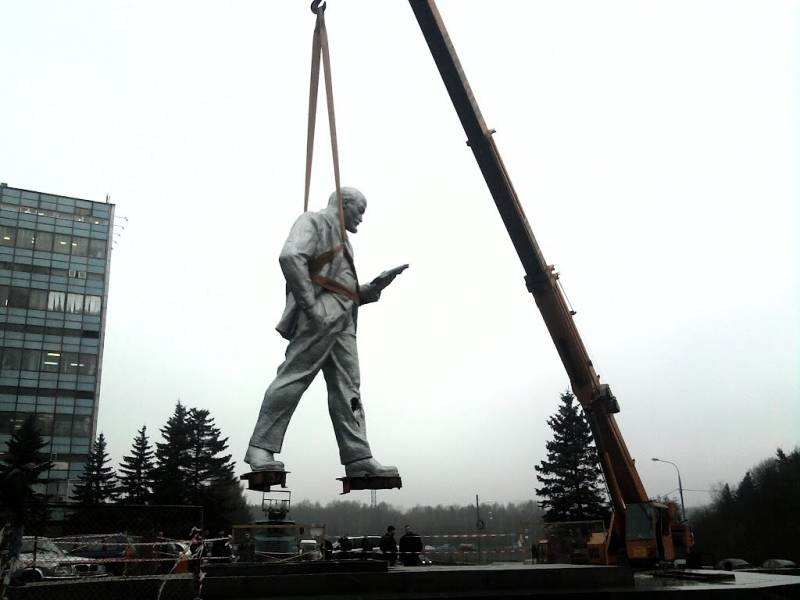 In general, it is a very useful load on the monument, as an element of the historical past.
And here we have Moscow, Lubyanskaya Square. And the trace that remained from the monument to F.E.Dzerzhinsky. And dancing with tambourines around him.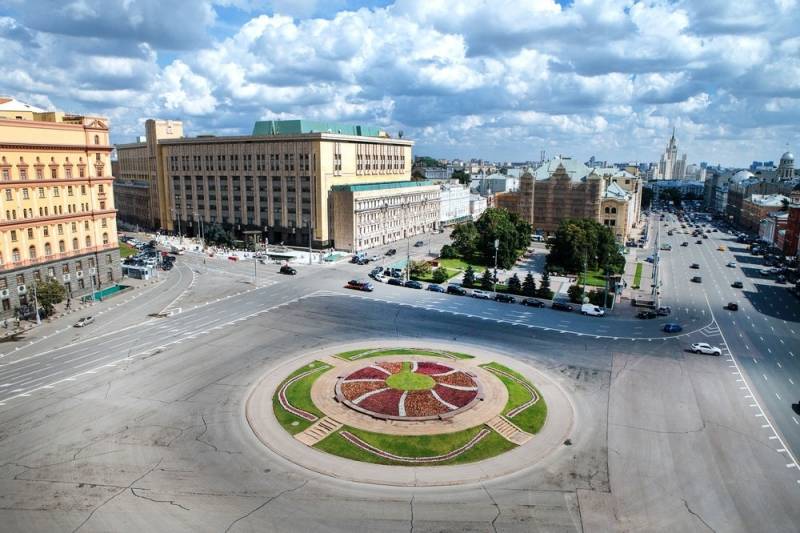 In general, of course, we, unlike the Ukrainians and other "Central Europeans", are not at war with monuments and we condemn this vandalism. True, the monuments themselves began to be brought down much earlier than the same Ukrainians. I am already silent about Europe, they have just begun.
One of the first "messengers of democracy" was the monument to Dzerzhinsky, who tried to overthrow exactly on August 22, 1991. Thank God, they didn't dump (although they could), the deputies dissuaded. When the monument fell, it could really damage the metro structure. So the frightened Moscow government quickly took the monument to Muzeon. Well, at least so ...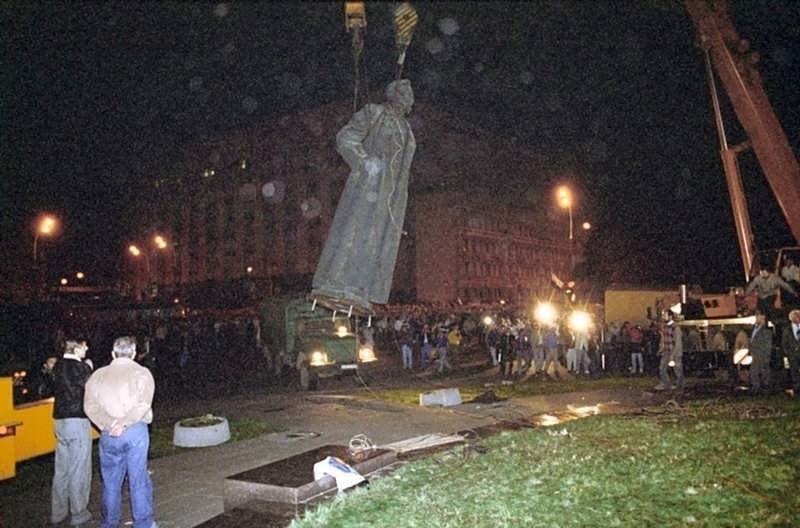 And you can still remember with what dashing passion they were piling up monuments to Stalin all over the country. Long before the "dashing nineties". The communists from that very "well-behaved USSR" were firing.
In general, we taught everyone how to handle monuments. Now, however, we are indignant when another falls in Europe-Ukraine, but alas. Lessons learned excellently.
But back to Dzerzhinsky.
In general, I will probably express the opinion of many, not only former KGB officers and the current FSB, that on the whole Felix Edmundovich was removed for nothing. What a liberal howls is not even from the devil, it is from a jackal. Ah, Dzerzhinsky stood at the origins of the VChK ... Ah, the VChK did a bloody deed, shot everyone in a row ... And stuff like that.
Yes, you show me at least one such education, which gave flowers. "Siguranza"? "Shabak"? NSA? Maybe the Abwehr? Or the Gestapo?
And excuse me, but the Cheka officers were shooting at the opponents of the existing government. Which, by the way, in the conditions of those years responded with complete reciprocity from the same "Mauser" and "Nagans".
So to talk about whether the "poor and unfortunate" intelligence agents of the whole world, hanging out in the RSFSR of that time, as well as all sorts of former soldiers of Kolchak, Wrangel, Krasnov, Shkuro, Yudenich, who could not calm down in time and stand on peaceful rails, you can. But absolutely unnecessary.
So Dzerzhinsky quite naturally stood in the form of a monument near the institution he created. Moreover, he created it not for some personal ambition, but in accordance with the decision of the highest authority at that time.
By the way, they wanted to return the monument to its place for a long time. Since 2002, the first initiator was Luzhkov. The last - in 2021, a group of comrades represented by Dmitry Puchkov, Alexander Prokhanov, Dmitry Lekukh, Sergey Aksyonov and other worthy personalities.
However, it does not work.
And here's an interesting situation.
If you need to erect a monument to some dubious personality such as Solzhenitsyn, Kolchak, Mannerheim, White Czechs and Italian fascists - no problem here. That is, quietly, without asking anyone, a "monument" is taken and erected. And then it opens with the participation of high-ranking officials.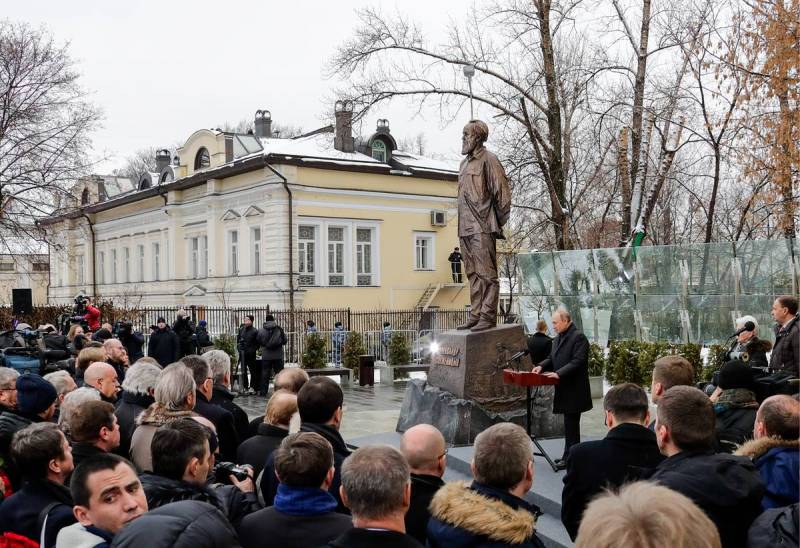 True, then for some reason from the people arrives. How Mannerheim arrived. But this, of course, is due to the lack of education among the current fake patriots. Because real patriots will just carry flowers to the executioner Mannerheim or to the Italian fascists in the Voronezh and Belgorod regions.
And the fake ones will smash their foreheads in an attempt to remove this obscenity from the face of the Russian earth.
And they will not succeed at it by 146%. Simply because everything is not so simple. And you can't just remove the "monument".
But if you want to restore justice, then problems begin. You can't just take it and restore it. Wrong country.
That is, it turns out strange: the Italian fascists can be bet. Mannerheim can. Belochekham can. That is, to those who killed our people at different times, monuments can be easily erected. But to bring back Dzerzhinsky, who just fought with those who did not come to us with goodness - he cannot be.
And again such an ugly comparison. Who insisted on removing the monument to the founder of the Cheka? Here is a photo for you, please rate how much Moscow of 1991 is different from Kiev of 2014? Yes, the twins!
Exactly the same maydanutye in Moscow jumped around the monument to Dzerzhinsky. In the same way, but having degraded to their level, monuments were demolished in Kiev by their descendants of spiritual and spiritual impoverishment.
What unites is the utter lawlessness in terms of the destruction of monuments.
That is why the monument to Dzerzhinsky had every right to be installed back on its pedestal. And this would be quite fair to itself both historically and legally.
Moreover, the entire Lubyanskaya Square, which bore the name of Dzerzhinsky, was designed around the monument. From which there is now a flowerbed object.
Yes, and what is bad about the monument itself, exactly as a work of art? The ceretelization of Moscow brought to the streets many, so to speak, monuments of controversial and dubious content. In the provinces it is even worse, one "horse with ..." and the mutant Alenka in the Voronezh region are worth something. And in others, too, I think, there will be their "alenki".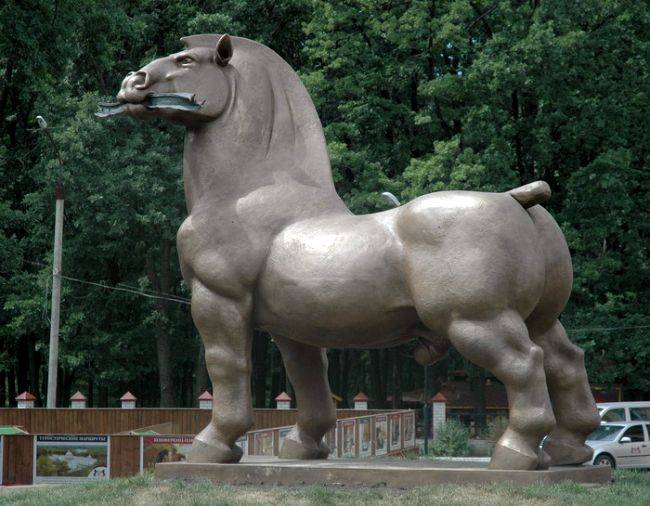 And here, excuse me, Vuchetich. And who is Vuchetich? And this is "Motherland". This is the "Soldier-Liberator" in Treptower Park. This is "Motherland" in Kiev. There are many other monuments, but this is Vuchetich!
Any work of Evgeny Viktorovich is a masterpiece. These are not modern freaks from sculpture, this is work with a capital letter.
But you can't. It's Iron Felix. Therefore, it is impossible to simply take and restore the monument. Yes, and somehow scary. Dzerzhinsky is not only the Cheka, by the way. This includes the Supreme Council of the National Economy, the People's Commissariat of Railways, the army, and the fight against street children. That is, work. And also with a capital letter. And death at work. From nervous and physical exhaustion.
Well, how can such a person in modern Russia be on a pedestal?
And so the Moscow authorities came up with a smart move: let's hold a vote for Muscovites! We honored Mannerheim and Solzhenitsyn with monuments without asking, but as for Dzerzhinsky, we must definitely ask the people's opinion. What if someone is against it?
True, this vote had no legal value, and was intended solely for informational purposes. That is, how Muscovites would vote, nobody worried at all.
But even here modern Russian city governors have managed to do it ... As usual. Because the voting was not conducted on the monument to Dzerzhinsky, whether to restore it or not, but on the topic "to whom to erect the monument." And suddenly another one appeared
historical
character - Prince Alexander Nevsky.
Logic zero. Lubyanka and Nevsky - where are they? It's the same as always. What relation Alexander Nevsky had to the complex of buildings on the Lubyanka, what he had to do with Moscow - well, it is completely unclear.
It is only clear that it was necessary to urgently plug the hole and not let Dzerzhinsky back.
And in the end, having played enough with democracy, Sobyanin spoke out and said: enough! The erection of monuments is a business of the city, and there is nothing to do with disgrace with voting. Not according to the Constitution - that's why there is no point in sticking your voices wherever you get!
And the games of democracy seem to be over. Sobyanin decided that the Lubyanka would remain the same. The monument, it turns out, should not split the people ...
However, I am personally familiar with many, and I myself am one of those to whom the monument to Boris Yeltsin splits the brain. Again, the Yeltsin Center - it only unites. And the monuments to the Italian fascists in Rossosh and Livenki - they unite. The only question is who and with whom.
But the monument to Felix Edmundovich Dzerzhinsky - yes, he splits. The boat rocks. It makes you think, because Dzerzhinsky only worked for the good of the country to which he swore allegiance. In contrast to those who today "decorate" our lives with monuments to such uniting personalities as Yeltsin and Solzhenitsyn.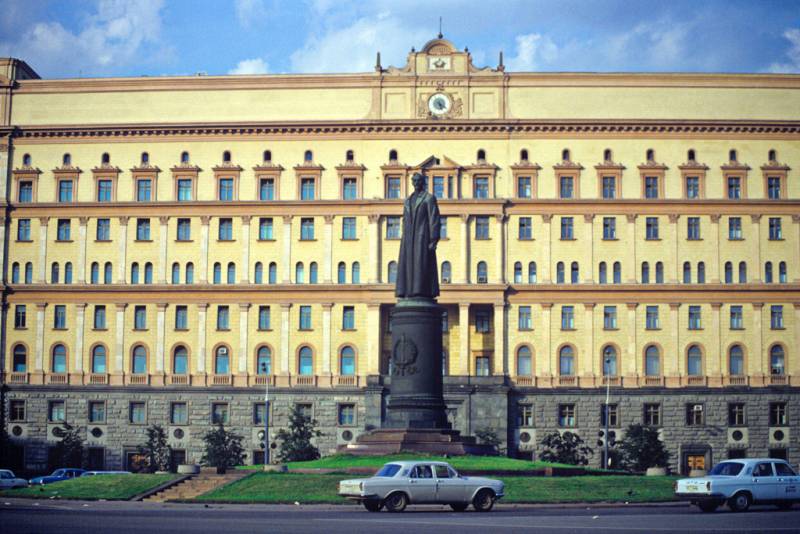 Very sorry. And it is very happy that there are people in the country who are initiators of the return. Huge human gratitude to Dmitry Puchkov, Igor Molotov, Alexander Prokhanov, Sergei Aksenov, Sergei Lipovy and all the "Officers of Russia".
It is a pity that the monument to "Iron Felix" will not return to Lubyanka. It is clear that officials will never agree to this. After all, this is a symbol. A man who actually fought all his life against such pests. And now they are taking revenge on him.
A logical result. Like many things in our country.