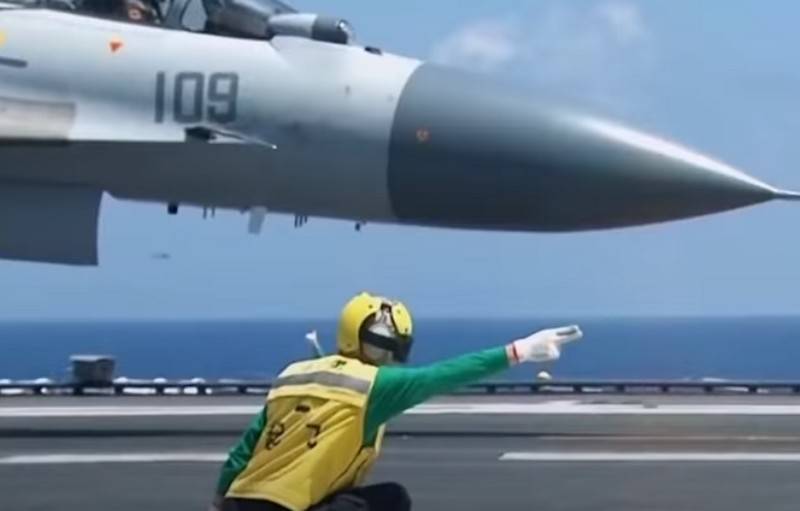 The newest Chinese carrier-based early warning radar (AWACS) aircraft KJ-600, developed for the PLA Navy, is not adapted for takeoff from the Chinese
fleet
aircraft carriers. It is reported by Defense World with reference to China Central Television (CCTV).
The publication draws attention to the statements of Chinese military experts following the next successful flight test of the KJ-600, conducted on February 21. According to experts, the aircraft carriers Liaoning and Shandong, which are part of the PLA Navy, are equipped with a springboard for aircraft take-off, which excludes the basing of an AWACS aircraft on board these ships.
It is noted that the "flying radar" KJ-600 is "too heavy" to make an independent takeoff using the aircraft carrier's springboard, and there are no catapults on this type of ships. As an example, similar American carrier-based AWACS aircraft of the E-2 Hawkeye type based on the US Navy aircraft carriers are cited.
The deck of an aircraft carrier is too short for such a heavy aircraft to take off only with the help of a springboard and the thrust of its own engines
- said the military expert Song Jian.
According to the conclusions of experts, the new carrier-based aircraft KJ-600 can only be based on the next generation aircraft carrier, which is already under construction. According to reports, the new ship will be equipped with an electromagnetic catapult.
The program for creating a special AWACS KJ-600 aircraft was launched in the early 2000s along with the development program for the aircraft carrier fleet of China, but the aircraft made its first flight only in August 2020. According to the Chinese military, the KJ-600's "flying radar" is capable of detecting American stealth aircraft.