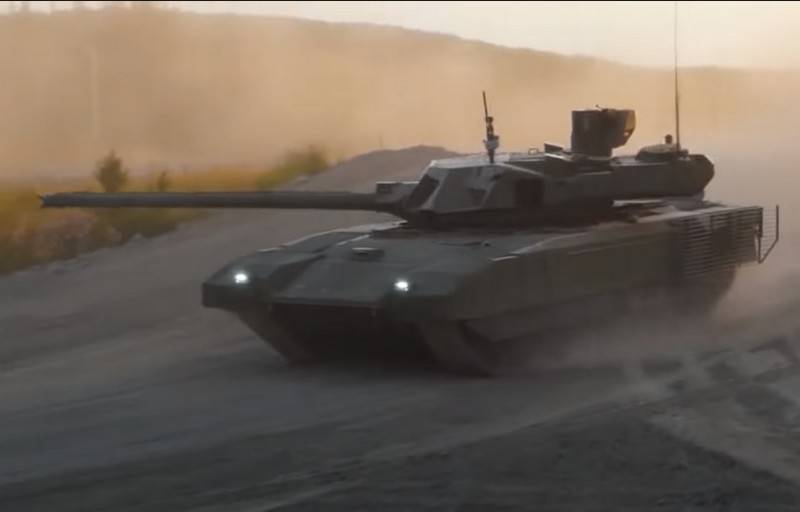 Fire Control System
tank
T-14 "Armata" with elements of artificial intelligence is capable of independently finding, recognizing and taking on target tracking on the battlefield. It is reported by
RIA News
with reference to a source in the military-industrial complex.
According to a news agency source, the T-14 Armata tank for the first time in
stories
tank building showed the ability to independently find targets. In this case, the command to open fire is still accepted by a person. On modern models of foreign tanks, there is only a target tracking machine, and finding and choosing a target remains with the crew.
The "Armata" fire control system has a digital catalog with signatures of typical battlefield targets, including tanks, APMs, helicopters, etc. The elements of artificial intelligence allow the on-board computing facilities of the machine to independently search for targets against the background of a complex underlying surface, recognize them, including by the part of the object visible from behind the shelter, carry out selection by priority and take them for escort
- said the source.
He stressed that the tests of the "Armata" control system were carried out not only at the stand with the help of modeling and models, but also at the test site, where Russian armored vehicles acted as the enemy. Based on the test results, the tank confirmed compliance with all the declared characteristics.
The UVZ press service confirmed the tests of the "Armata" in automatic mode, but declined to specify the details.
Recall that the T-14 "Armata" tank will be serially sent to the troops in 2022, the pilot batch will go to the troops by the end of this year. It is specified that the tanks will be supplied with new ammunition developed by Rosatom enterprises specifically for the Armata.