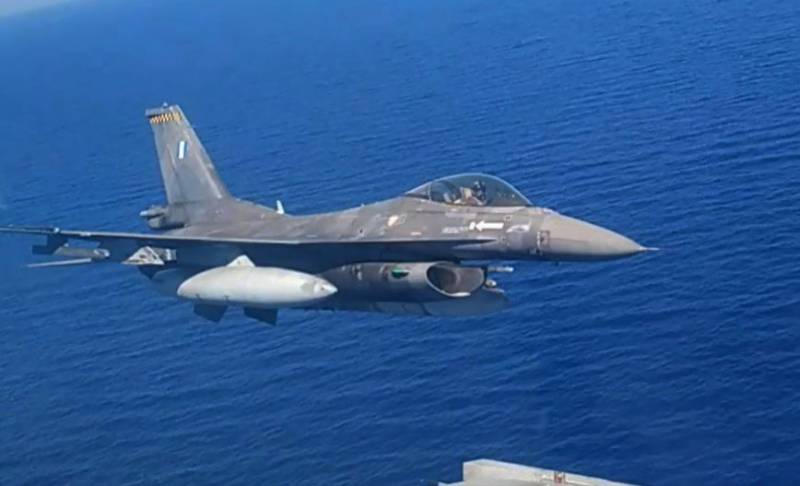 Some details of the "imitation attack" of the Greek Air Force on the Turkish ship have emerged. These details are announced by the Turkish side.
Turkey has recently accused the Greek Air Force of "provocation against a research vessel in the Aegean Sea." Turkish media reports that four Greek air force fighters appeared over the TCG eşme (Cesme) vessel, which Ankara claims was engaged in hydrographic research west of the Greek island of Lemnos.
According to the Turkish press, combat aircraft of the Greek Air Force carried out the shooting of a radar countermeasures about two nautical miles from the Turkish vessel. It is noted that Turkey perceives such a step as provocative and calls on the Greek side to abandon "dangerous behavior in the air."
Meanwhile, the Greek Ministry of Defense says that none of the aircraft of the Greek Air Force was in the square where the Turkish ship Cesme was working at that time.
A spokesman for the Greek Ministry of Defense is quoted by the Greek Reporter:
The Greek Air Force was conducting military exercises, but this was in the northern part of the Aegean Sea, far from Lemnos. The aircraft performed combat training missions near the island of Agios Efstratios.
However, the Turkish side did not abandon its accusations against Athens after that, noting that there was "an imitation of an attack". It got to the point that Turkish Defense Minister Hulusi Akar called the "incident" "another example of military persecution by Greece."
And the official representative of the ruling party in Turkey Omer Celik, in turn, accused the Greeks of "military provocation" and added that "the incident does not contribute to creating a positive atmosphere and strengthening the partnership in NATO." Celik noted that the incident could affect the barely resumed talks after a 5-year break on the settlement of the Turkish-Greek disputes in the Aegean Sea. Such negotiations resumed in January.
Meanwhile, the Turkish Defense Ministry announced the start of large-scale military exercises in the Aegean Sea. They will last until March 7, and they plan to use 82 ships of the Turkish Navy, several units of the Marine Corps, as well as
Aviation
including the unmanned one.