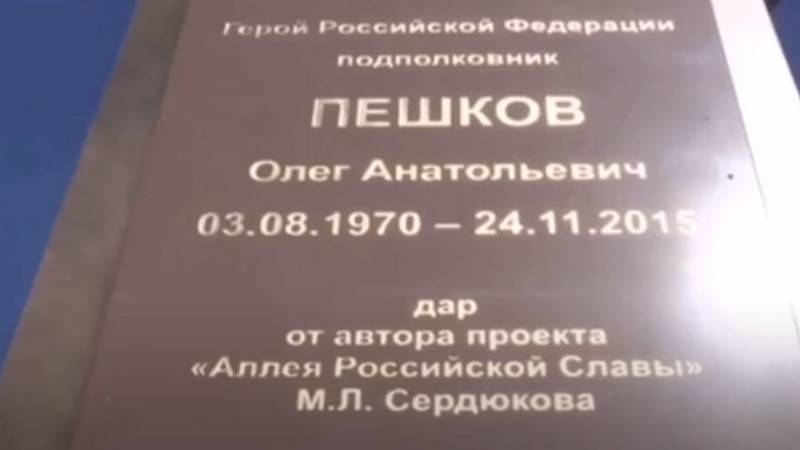 A monument to the Su-2015 pilot Oleg Peshkov, who died in 24, was erected at the Russian Khmeimim airbase in Syria. This was announced by Rear Admiral Igor Kurochkin, Deputy Commander of the Russian Armed Forces Grouping in Syria for Military-Political Work.
The opening of the monument to the pilot of the front-line bomber Su-24 Oleg Peshkov was timed to coincide with the holiday on February 23. It was installed next to the already standing monuments to the helicopter pilot Ryafagat Khabibulin, who died in 2016 during the liberation of Palmyra, and to the pilot of the Su-25SM attack aircraft, Roman Filipov, who was shot down over Idlib.
This is the third monument on the Alley of Heroes here, and of course, its opening was timed to the Defender of the Fatherland Day. The current generation of defenders of the Fatherland will have the opportunity to visit here, remember their colleagues and honor their memory
- said Kurochkin.
On November 24, 2015, a front-line bomber Su-24 by Lieutenant Colonel Oleg Peshkov was shot down in northern Syria by a Turkish fighter. The pilot and navigator managed to eject, but when the Russian pilot landed, they were shot by militants of one of the terrorist groups. Navigator Konstantin Murakhtin was rescued during the rescue operation.
Oleg Peshkov was awarded the title of Hero of Russia posthumously; in the fall of 2020, a memorial sign was opened at the Khmeimim airbase opposite the hangar where the lieutenant colonel's plane was stationed.