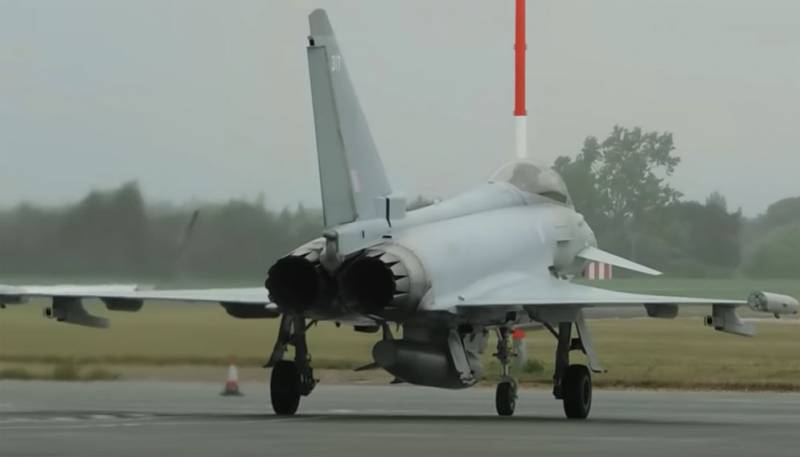 The British press highlighted the first systematic work of the newly created Space Military Command. Recall that in this regard, Britain decided to follow the path of the United States of America, where not so long ago the 45th President Donald Trump made the decision to create the Space Command.
The Daily Express announces plans for the first "important training missions." In particular, it is noted that the most experienced pilots of the British Air Force are being selected for them.
From material in the British press:
Experienced pilots on Typhoon fighters will conduct training in the conditional destruction of enemy satellites. They have to learn skills in case of an armed conflict. In particular, the pilots of the British Royal Air Force will learn how to deal with Russian and Chinese military satellites.
In this case, the author of the material refers to representatives of the British Department of Defense. Thus, London does not even hide the fact that the training of pilots as part of the Space Command exercise program is directed against the satellite constellation of two countries - the Russian Federation and the PRC, which are designated as "main opponents" in the doctrine of the British department.
British press reports say that the Typhoon fighters will first rise to an altitude of 40 thousand feet (about 12,2 km), then make a vertical climb, reaching 60 thousand feet (18,3 km).
At this point, they will have to target enemy satellites and use anti-satellite missiles against them in simulation mode.
What specific missiles are in question is not reported in the media.
From the material:
After the attack, they will return to base.
It is noteworthy that against the background of such plans of the Space Command, the British Ministry of Defense continues to say that it stands for the protection of security in outer space.
The plans for the anti-satellite attack were commented by experts in Russia:
One can imagine London's reaction if such exercises were conducted by the Russian Aerospace Forces against British satellites.
It's good that the British media have covered everything. Now it is possible to conduct an operation against their Typhoon fighters at designated heights and follow the reaction.