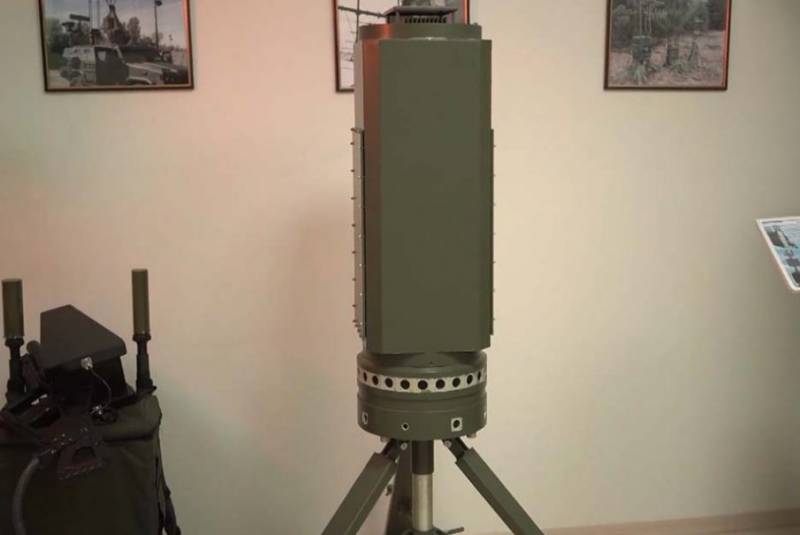 The private holding company Ukrspetstechnika, a member of the League of Defense Enterprises of Ukraine, has created an experimental model of its new automated radar station Snov. At the moment, the Air Force of the Armed Forces of Ukraine does not have equipment of this class.
For the first time in Ukraine, a small-sized radar "Snov" was presented to detect drones during the shooting of the Security Talks channel program, which took place on the territory of the enterprise.
The presentation of the new station was made by Mikhail Prokhorenko, deputy head of the management board of HC "Ukrspetstekhnika". He said that the Snov small-sized automated radar station with remote control is capable of detecting air, ground and surface targets at a distance of up to 60 kilometers and an altitude of up to 6 kilometers. Most importantly, this technique can detect small targets, such as UAVs, at a considerable distance and at low altitudes.
It is designed to detect air targets with a small effective dispersion area (ESR), that is, unmanned aerial vehicles.
- said the representative of the enterprise.
The need for such means was also noted in their report by representatives of the Central Research Institute of Arms and Military Equipment of the Armed Forces of Ukraine. They note that for the Air Force of the Armed Forces of Ukraine, the task of controlling airspace at low and borderline low altitudes along the state border and around important strategic facilities remains unresolved in full.