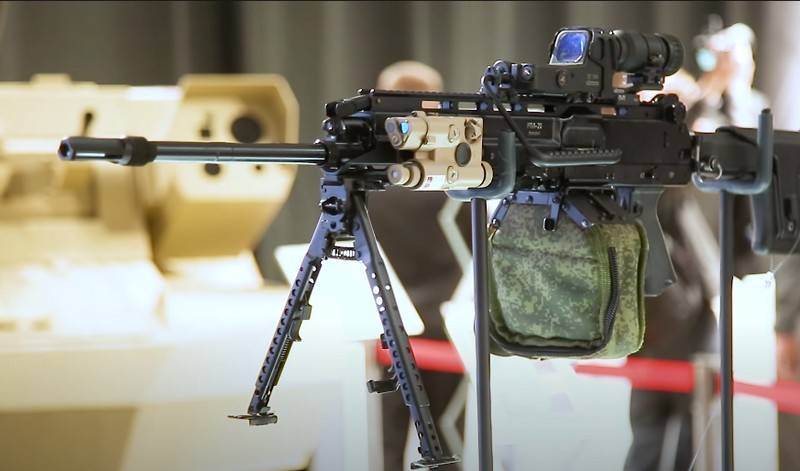 Serial production of the new RPL-20 light machine gun will begin after trial operation in the troops and adoption, the machine gun may become part of the promising Sotnik equipment. This was announced by Dmitry Tarasov, general director of the Kalashnikov concern.
According to the general director, today the RPL is at the stage of a technical project, a prototype of a machine gun has been created, which was demonstrated at Army-2020. Terms of completion of the project are determined, but they are not subject to disclosure.
Serial production of the machine gun will be deployed after the adoption of RPL-20 into service, after successful trial operation
- said Tarasov.
The concern explained that the RPL-20 (belt light machine gun) was created as part of the development of the RPK-16 light machine gun project with the introduction of certain changes based on the results of experimental military operation. It is emphasized that the machine gun will be powered exclusively by belt, the use of stores is not provided for by the terms of reference received from the Ministry of Defense. The machine gun can be part of the promising equipment of the next generation "Sotnik". In addition, the option of a machine gun chambered for 5,56x45 mm NATO is not excluded.
Earlier, Kalashnikov's experts reported that the RPL-20 was created for the 5,45X39 mm cartridge, the machine gun was powered by a belt, the belt was also developed in the concern. Cartridge box for 100 rounds. There is a possibility of changing the barrel, a double-sided fuse, a folding stock with an adjustable cheek. Weight depending on the length of the barrel: with a short barrel - 5,2 kg, with a long barrel - 5,5 kg. The machine gun is equipped with a Picatinny rail for attaching sights and other devices. All types of optical and collimator sights are installed on the machine gun.