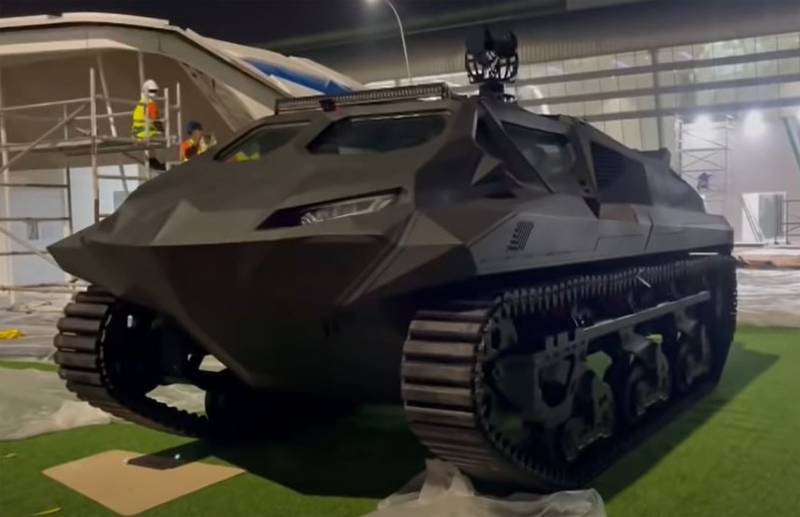 Ukrainian designers announced the creation of "the world's first hybrid armored car." We are talking about the Storm armored vehicle presented at the IDEX-2021 arms exhibition in the United Arab Emirates.
The Ukrainian press reports that the development was carried out under the supervision of the candidate of technical sciences Alexander Kuznetsov.
From the report:
Ukrainian developers have created the world's first hybrid multifunctional car. He is able to swim. It runs on an electric motor.
The Ukrainian developer claims that the armored vehicle is capable of speeds up to 140 km / h even on a sandy surface, to overcome a water obstacle at a wave height of up to 1,5 meters. The armored vehicle, called a hybrid, can work in autonomous mode for up to 36 hours.
At the same time, it becomes known that there is not so much Ukrainian on the armored "hybrid" "Storm". For example, armor from Finland, shock absorbers from Australia, electric batteries are made in China, rubber tracks were produced by a company in the UAE, where the product is presented.
At the same time, the designer emphasizes that at the Chinese enterprise "the electric battery was produced according to Ukrainian drawings." And at the same time, the representative of the design group noted that, unfortunately, it was not possible to produce everything necessary for this armored vehicle in Ukraine - they had to enter into wide cooperation with foreign companies.
Aleksandr Kuznetsov:
We were unable to do all this in Kiev. Our idea was perceived as a curiosity. There was no support or finance. The economic and administrative conditions in the Emirates are much better. We quickly found partners who provided us with premises and technical support, while at the same time did not interfere with the process at all.
It is noteworthy that so far a single copy has been created - a prototype. Even if there were no Ukrainian capacities (even premises) for its creation, then what can we say about serial production ...