Immediately, right off the bat, I will warn all readers, especially those who read, as it is now accepted, through a paragraph. This study is just an attempt to comprehend what happened in those ancient times and with
historical
, and from a logical point of view.
I would absolutely not want to offend someone's patriotic feelings, especially since the conclusion will be, though unexpected, but quite natural.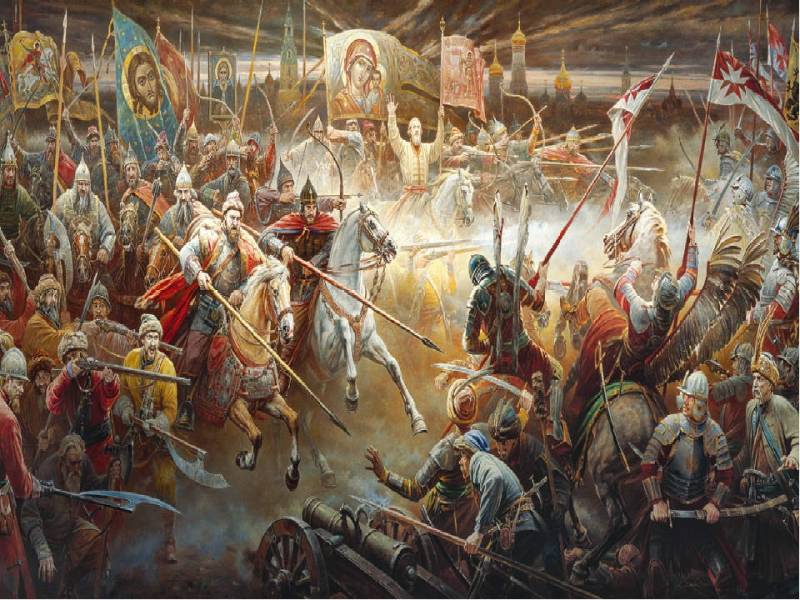 In general, after reading several materials (Rybakov and Azbeleva) I immediately came to the conclusion that patriotic propaganda is an ancient and unshakable thing. And - effective. But this will be discussed at the very end.
There are still a lot of questions about the battle on the Kulikovskoye field, ranging from location to results. But - we are interested in its very beginning. The duel of the heroes.
The fact that it could have taken place - I will not argue here, since ancient times the fashion for fights before the battle has gone. And the essence of these fights was quite intelligible: it was necessary to find out on whose side the gods were. Therefore, sacrifices were made, and the priests plowed like the damned, and they prepared the fighter from the heart. The sandals are new to him, otherwise he will stumble if the old strap breaks and loses, for example.
The grace of the gods in those days was a thing that had to be reckoned with. And mountains of testimonies remained in history, when everything happened as the priests predicted. For example, in the battle of Cannes, where the Romans did not shine. And so it happened, although we, of course, do not discount the military genius of Hannibal either. As well as the ambitious stupidity of Varro.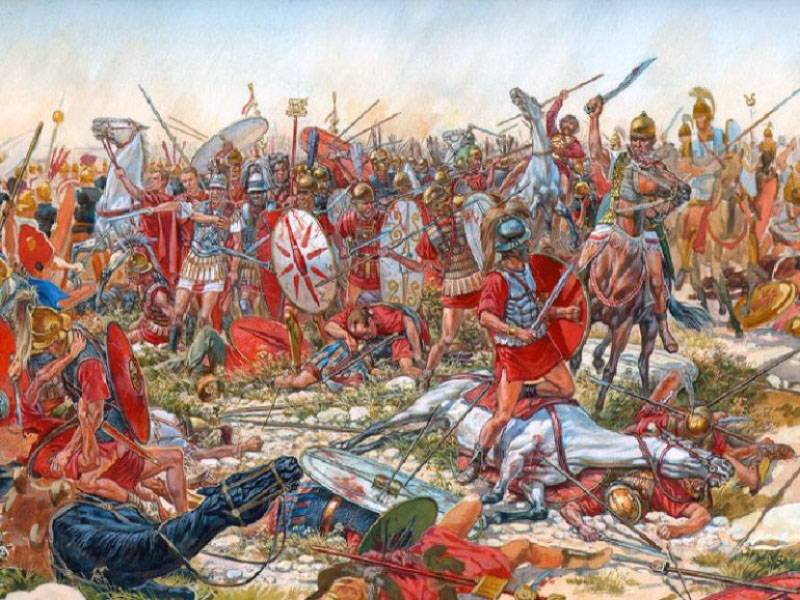 So, the fight. What impact could she have? In theory, I could. However, in ancient times, commanders thought exactly the same as in our times. That is, as long as the soldier does not think, everything is fine. But how I started - as they say, drain the water.
Therefore, I think the Tatars attacked first. They saw that the end had come to Chelubey, and immediately, until it came to everyone (and from the back rows you can't really look at how it was there), gave the signal to attack. And reflections in a soldier's head on the topic for the gods or against exactly until the moment of the first clash with the enemy. And then completely different thoughts, absolutely not divine. For whoever thinks about God in battle does not live long, as is typical.
And so we have two fighters gathered. Chelubey, sort of like a Pecheneg (inaccurate) in origin, and Peresvet. Regarding both issues, it is simply darkness, because "in front of everyone boasting of valor, his appearance is similar to the ancient Goliath: five fathoms its height and three fathoms its width."
Even if you take the dimensions of the smallest fathom, this is a small fathom, 142 cm, draw conclusions. Godzilla would have thought about it before stepping on such a monster. It's even funny to talk about little things like the Terminator. Whether then it is worth believing researchers like Ahmad ibn Fadlan, who described the Pechenegs as short people, I do not know.
Our Peresvet ... our Peresvet was no less. Because the chronicles preserved his words that "This man is looking for someone like himself, I want to transfer with him!"
And they were translated. So that even the Russian chronicles disagree. Literary monument of the 15th century, "The Legend of the Mamayev Massacre" says that the combatants hit each other with spears, knocked them out of their saddles and died on the spot.
A rare but normal outcome of the fight. Especially if the opponents are of the same class. Chelubey, according to testimony, was a notable fighter. Peresvet is also not quite a servant of God, since he is from boyars and liable for military service. That is, he could.
But in our modern history, for some reason, the legend that came out of the walls of the Kirillo-Belozersky monastery is being exaggerated. There was compiled a chronicle list, in which this story looks somewhat different.
Here, of course, the question arises as to how much the monastery located in the Vologda region was aware of the details that took place far enough.
And so the monks of the Belozersk Monastery gave the following picture of the battle: Peresvet saw that Chelubey's spear was very long and heavy, larger than the usual spear of that time. Well, yes, a fellow seven meters in height could afford any shaft ... In general, Chelubey was followed by the glory of a tough fighter, who did not suffer defeat at all. Perhaps also because of the spear.
And Peresvet then (as in the List) makes such a decision: to take off the armor, so that if the Pecheneg spear pierces it, he would ride over the spear with his whole body and strike back.
It is clear that there are few chroniclers among the soldiers, and few among the chroniclers. And written in the List is fierce nonsense, and, from whatever side it is not considered, from the military or medical.
So, according to monastic memoirs, Peresvet swooped down on Chelubey's spear, but was able to inflict a fatal blow on him. And then another and leisurely drive to their own and die there.
It is somewhat unclear, however, whether Peresvet's plan to drive the body over the spear worked. I think not, because pierced by such a shaft, he could hardly have done such a thing.
And here the questions begin.
How to take off your armor? Yes, there are many sites and channels of reenactors who can explain all this much better than me. But in general it gives off such masochism. To give such gifts to the enemy ...
It looks more than strange, especially since Chelubey was not going to do that. One in armor, the other without - it is immediately clear on whom the bookmakers would start accepting bets.
In general, Peresvet's idea looks not only illogical, I would say very strange. Medically. I found a picture of how it should look. Yes, Peresvet is here exactly without a shield, armor, helmet. Very heroic, but weird.
And here is just the second question. Okay, let's put it down, how Peresvet, pierced by such a spear, could leave somewhere, this is unrealistic. In general, as it were, a horse spear fight provides for just such a thing - after being hit by a spear, if it hits somewhere (horse, body, enemy's shield), it must be thrown urgently. Physics has not been canceled, all the more so for two combatants rushing at each other on two horses. Let me remind you if anyone has forgotten. P = m * V, where the weight of his horse must be added to the rider's weight.
If this is not done, then you yourself will find yourself on the ground, thrown out of the saddle. Or worse, the prospect of bumping into your own spear is not very bright.
Well, the last thing in this matter.
The spear enters a body unprotected by armor. Tissues are torn, bones are broken, crushed into small fragments, various organs bursting in the path of the tip. It depends on where the spear goes. Okay in the chest, and if in the side? In the stomach?
Moreover, all this on an impulse from the speed of two horses, each, say, up to 30 km / h took acceleration ...
It is clear that you will not die immediately. You will, of course, live for a couple of seconds. Until the primary pain shock takes its toll, or until the entire body lifts its legs to the top, as it usually happened in such cases.
And it's not worth talking about fortitude, wonderful prayer and other fantastic things. The idea of ​​being pierced by a wooden drill with a steel tip does not look real, making at least some blow. Simply because the brain usually shuts down with such lesions.
The only thing that could be - yes, a mutual defeat of the opponents. And then death is on the spot. Quite a normal alignment.
It seems to me that unserviceable monks came up with this for the sake of brilliance. Not really thinking about how believable it will look later.
Yes, if someone wants to, they can check, but there is another literary analogue that came out 100 years after the Kulikov battle. Someone Thomas Malory wrote a cycle about King Arthur. The cycle was very popular in Europe, they were read to them.
Malorie did not invent anything like that, they just took and cooked a brew from the romantic knightly literature of France everything that he could reach. He could not reach much, he generally became interested in writing in prison. But the former knight did it, still not a layman ...
So, remember how Arthur died? He got to grips with nephew / son Mordred, who usurped the crown. And pierced him in battle with a spear. Mordred also slid across the spear with the whole carcass and ended up chopping Arthur's head off. In general, both died.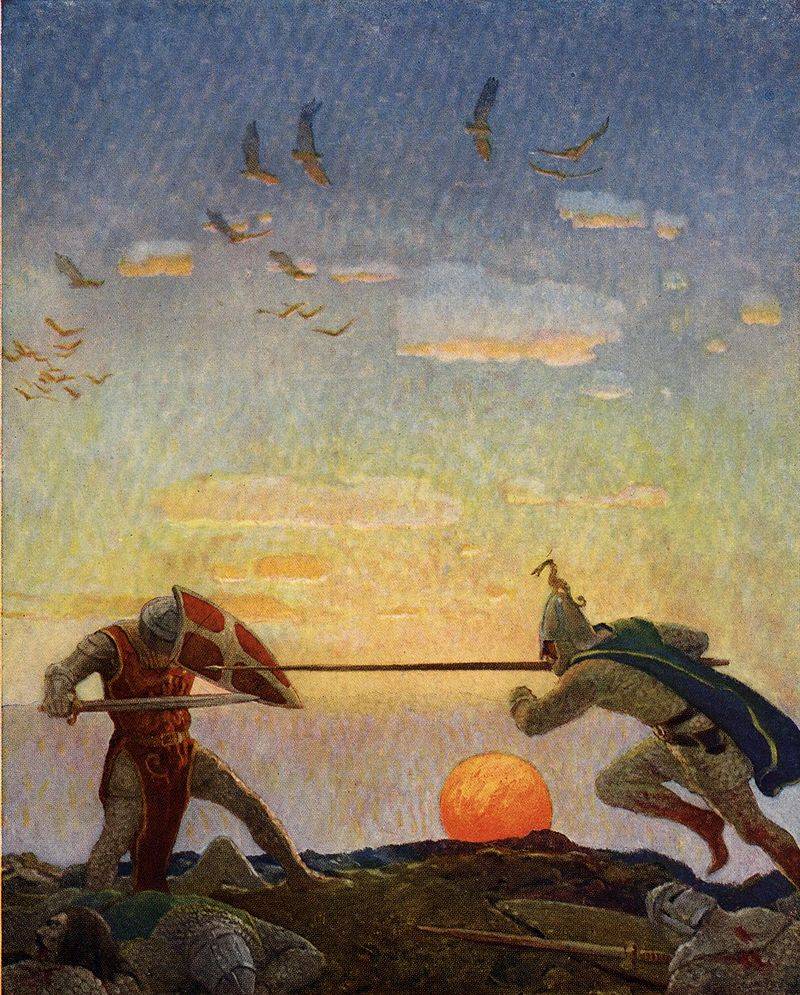 These knightly legends went around the world in batches, as I understand it. From Britain to India. In general, a huge array of these knightly novels was created in France, it was a sin not to use it.
Could they know in Russia? Yes, easily. In general, in the folklore of many peoples there are stories how both died in the battle of two invincible hitherto heroes.
And in this light, the duel between Peresvet and Chelubey is just a very well-worked propaganda myth. Handsome and heroic, although a little ridiculous looking in the eyes of people who know a lot about military affairs.
In reality, such a picture could well have been. The combatants rushed towards each other, struck with their spears and both fell dead.
How could it be. The fight took place. Warlords rushed at each other with spears at the ready. Collided - and both fell dead. Effective, tragic, flawlessly beautiful. Morally and aesthetically - flawless.
However, not all so simple. And this story is not propaganda at all. Well, maybe so. Little. A little bit.
And here you need to look closely at Peresvet. This is not just an interesting character, there the question sits on the question and drives me around.
Monk, otherwise Monk Peresvet. If you collect everything that is about him in the annals, and there is very little there, seriously, you get this kind of alignment. Originally from Bryansk. From the boyars. Warrior, participated in the campaigns. Apparently, after one of such campaigns, he decided to retire from the world, since he did it already in Rostov. In the Borisoglebsk Monastery. I will note that from Rostov to Bryansk there are more than half a thousand kilometers. Let's just say, boyar Alexander took a good walk, good.
And within the walls of the Borisoglebsk monastery, the former warrior became a monk. A monk is the first stage of monasticism. So let's say, introductory, before tonsure into the "minor schema", that is, before taking the first package of vows and renunciation. Therefore, the name of Peresvet remained worldly, monks are not supposed to be spiritual.
What about a monk who, as it were, has no right to take
weapon
into hands, except for the protection of his monastery, ended up in the army? The case itself is unique. More in the annals you will not find a case for the monks to find themselves in the troops, although they did take part in the battles.
As an example, I will cite the year 1671, the month of April, when a certain Frol Timofeevich Razin, unable to take the town of Korotoyak, decided to stay at the Divnogorsk monastery. Food, treasury and all that. And he received such a slap in the face from the monks, who perfectly mastered the "fiery battle" and dragged the cannons to the belfry that he was eventually taken prisoner and was executed a little later than his older brother.
So, according to the Life of St. Sergius of Radonezh, before the Battle of Kulikovo, Prince Dmitry went to Sergius in the monastery for a blessing. Sergiy of Radonezh was, so to speak, "in trend" and the rumor about him thundered all over Russia, if not further. The blessing of such a righteous man and miracle worker was supposed to inspire all Russians to fight the Tatars.
Later, "The Legend of the Mamayev Massacre," Sergius blessed Dmitry and sent with him two former military men, Alexander Peresvet and Andrei Oslyabya.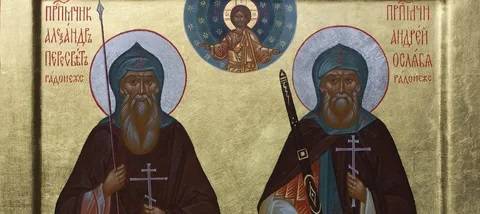 With Dmitry's blessing, disputes are still going on now, since the conversation has been rewritten so many times, at which, in addition to Sergius and Dmitry, the biographer of Sergius Epiphanius was present, that nothing remained of the original text.
But the detachment of Peresvet and Oslyabi at the disposal of Dmitry is really nonsense. The monks had no right to do this under the threat of the most terrible punishment - excommunication. But, nevertheless, they did. Very strange, but true.
By the way, in the very first legend from 1380, "About the massacre of others like the Don," not a word is said about the participation of Sergius of Radonezh and his blessing. And this is also interesting, since in those days the church still played a huge role in people's lives. Some researchers generally believe that this episode was invented later, by those who wrote the chronicles ...
It is generally believed that those who wrote this episode after the battle were quite familiar with the history of the Crusades. But there were plenty of knight-monks, more than enough military orders. In general, there was someone to take a role model from.
Indeed, unlike the Vatican, which actually led the Crusades, the Russian Church was much more peaceful.
With Chelubey it is still more difficult. So many options for name, origin, position - you will grab your head against your will. And a noble Murza, and of khan blood, and a mercenary-combatant ... Mongol, Tatar, Pecheneg and even ours, Rusich-deserter. For seven centuries, what has not been composed.
There is just an interesting point. Neither the Tatars nor the Pechenegs had such a name as "Chelu". "Bey" is a normal ending, Turkic. It means the head, no matter, clan, tribe. Military and administrative rank in general. There is a similar one, "Chelebi". So in the best case it turns out "Chelebi-Bey". But in seven centuries even something like that could have been distorted, so the transformation of "Chelebi-Bey" into "Chelubey" can be allowed.
But from the other side, there was no evidence at all of the existence of such a khan-murza-mercenary-defector. And as the Russian chronicles claimed, he was a very famous fighter.
But definitely not a khan. It is clear that it is not the khan, the khan that should not fight in front of the troops. It was not a khan's case.
It turns out interesting. A very strange monk warrior on one side, a very strange combatant on the other ... And both died. Or they didn't die, because in one of the texts of Zadonshchina, the monk Peresvet is very much alive during the battle and continues to fight "when some have already been beaten".
And Oslyabya, the second monk, is not easy with him either. Either he hides the "stunned", that is, shell-shocked prince Dmitry behind a felled birch and dies, covering him;
What is the conclusion?
And the result is very interesting. Most likely, there was no fight. And if it was, it was performed by completely different personalities, not Peresvet and Chelubey.
We are dealing with the first case in Russian history of a literary creation of a propaganda nature. In the genre of heroic-patriotic, but not historical.
Nice and logical.
With Chelubey everything is clear. This is the personification of all the forces opposing Russia. But Peresvet and Oslyabya are more interesting.
Peresvet - everything is clear, it is a symbol of the unity of Russia. Warrior and monk at the same time. Secular and ecclesiastical power united against a common enemy. Russian Idea and Vera merged into one. A strong fighter and a wise monk. Ready to lay down his life on the altar of serving Russia.
A beautiful and strong symbol.
And Oslyabya? And Andrei Oslyabya is also a symbol! No less significant than Alexander Peresvet. Oslyabya shows that Peresvet is not alone, that other, no less strong and courageous fighters will come for him (in the event of Alexander's death).
For "The Russian land is great and abundant in people and Faith," as it was written in the same "Zadonshchina". That is, Peresvet and Oslyabya are symbols of the struggle of Russia to the bitter end.
A beautiful fairy tale was written by monks in a distant monastery. Beautiful and smart, because the next seven centuries have shown that times are changing, personalities are changing, but the essence of Peresvet, going to battle with the enemy and Oslyabi, standing behind him, they are practically eternal in our realities.
Suvorov and Kutuzov, Ushakov and Nakhimov, Samsonov and Brusilov, Matrosov and Gastello, Zhukov and Rokossovsky, Romanov and Rokhlin, and the list goes on and on.
Today it is practically not important whether Peresvet and Oslyabya actually existed. The principle laid down by unknown monks for the most part is important. Which today it would be nice to adopt for those who write history textbooks and determine in which direction the development of society will go further.
Still, it even becomes a shame when you see that the efforts of the statesmen of our time on the basis of spiritual and patriotic education are nothing compared to what the clergy did 640 years ago.