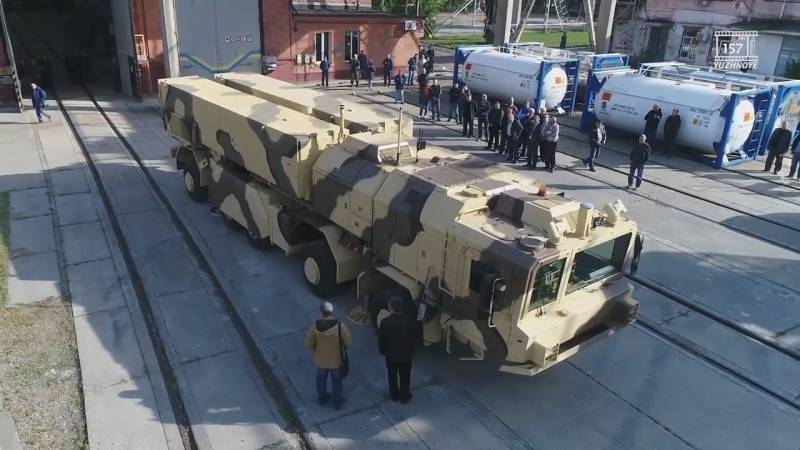 In Kiev, the completion of the development of the Ukrainian operational-tactical missile system "Sapsan" was announced, the country's Ministry of Defense intends to return to the project. This was reported by the press service of the military department.
In 2021, the Ministry of Defense of Ukraine plans to sign a contract for the creation of the first experimental division of the Sapsan OTRK. The decision on the planned allocation of funds was made after the commission of the military department visited the Yuzhnoye design bureau in Dnipro (Dnipropetrovsk), which was engaged in the development of the complex until 2018.
(...) The development of a domestic operational-tactical missile system from the Yuzhnoye design bureau has the highest priority, commensurate with the same Neptune missile system
- stated in the Ministry of Defense of Ukraine.
According to the Deputy Minister of Defense of Ukraine Oleksandr Mironyuk, in order to speed up the process of creating the complex and conducting tests, the first battery will be produced in a reduced composition. It will include two launchers and loaders and two control vehicles. The deputy minister noted that the decision made will allow carrying out all the necessary tests and accelerating the adoption of the OTRK into service.
At the same time, it is emphasized that the complex will be placed on the Tatra chassis, which should become a unified platform for all weapons of the missile forces and artillery of the Armed Forces of Ukraine.
Earlier, Mironyuk said that in the final version, the Ukrainian Sapsan will surpass the Russian Iskander-M.
Recall that the development of the Ukrainian OTRK "Sapsan" ("Thunder-2") was carried out from 2013 to 2018. The development reached the stage of creating a prototype, which appeared in all photographs of that time. In 2017, Saudi Arabia, for which the complex was allegedly created, stopped funding the project and in 2018 it was frozen, since Ukraine did not have its own funds for development.