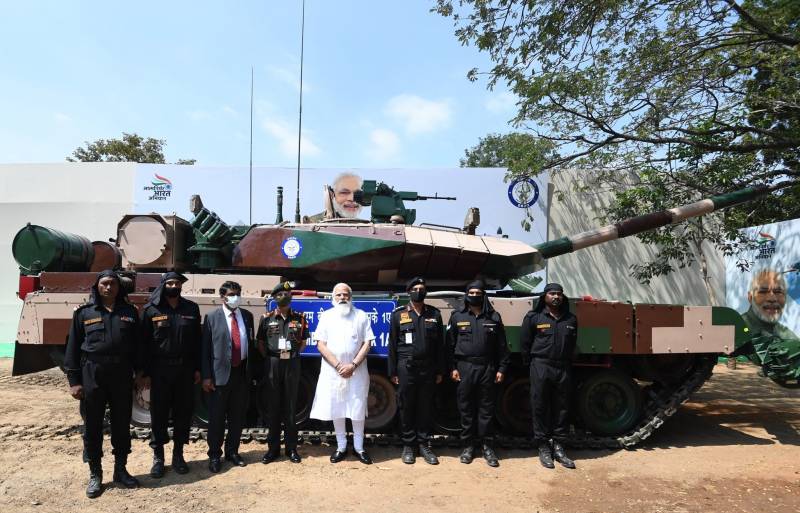 The Indian press released a material that tells about the fate
tank
"Arjun". The author of the material is the columnist for The Week, R. Prasannan, an expert in the field of defense and military equipment.
The material indicates that in India, from the first days of the creation of the Arjun main battle tank, "there was a lobby that promoted imported tanks, including the Russian T-72 and T-90."
R. Prasannan writes that at the first stage of serial production of the MBT "Arjun", claims were constantly made against the tank:
High-ranking officials almost immediately turned their backs to the tank, after which they began to hear statements about the inaccuracy of the gun, then about the engine overheating during tests in the desert, or about the unstable operation of the fire control system. They also talked about poor suspension, unreliable gunner's sight, etc. And while "Arjun" was criticized, orders for imported T-72 and T-90 were in the hundreds.
According to the Indian observer, so many claims were made against the Arjun tank, including from the generals, that the creator of the MBT M. Natarajan "even burst into tears at the ministry meeting."
The Week points out that the creators of the Arjun tank even tried to install sensors that would allow to objectively record the behavior of the tank in the troops in order to detect whether the military is sabotaging Indian military equipment.
R. Prasannan:
But over time, everything ended well for "Arjun". I hope that today Natarajan is no longer crying, but smiles, since combat vehicles are actively supplied to the troops, and there are no special complaints from the military about them.
Recall that earlier, the Indian armed forces sent Russian-made T-72 and T-90 tanks to the highland region of Ladakh, noting that the Arjun MBT engines cannot cope with operation at altitudes of 4 thousand meters.