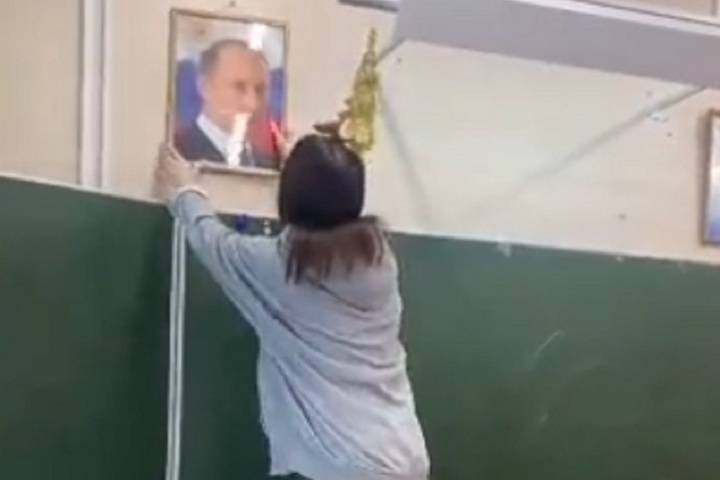 A new fashion at TikTok - schoolchildren are posting a video of them filming portraits of Putin from the wall. And not only schoolchildren, deputies also lit up.
Individual videos are a success, it is clear that whoever started earlier got more views. Some schoolchildren immediately start having problems with school administrators and even the police.
The reason is simple. Some take portraits of Putin. Someone thought of hanging up Navalny's portrait. In general, the movement turned out to be the same. So that even the Kremlin reacted
This is not regulated. This should be addressed to each specific school. On the other hand, schoolchildren should know the leaders of the state by sight. As for flash mobs, there are different flash mobs, pleasant or not. But they come and they go
- said the press secretary of the head of state Dmitry Peskov.
So presidents all over the world come and go. This is normal practice. I don't know how normal the practice is to hang portraits of the current president everywhere.
Of course, if you take the same Turkmenistan, where Turkmenbashi with his parents stood / hung everywhere, and now Arkadag, then it is still very decent here. But if you look at the THAT world that calls itself civilized ... For some reason there is no such practice.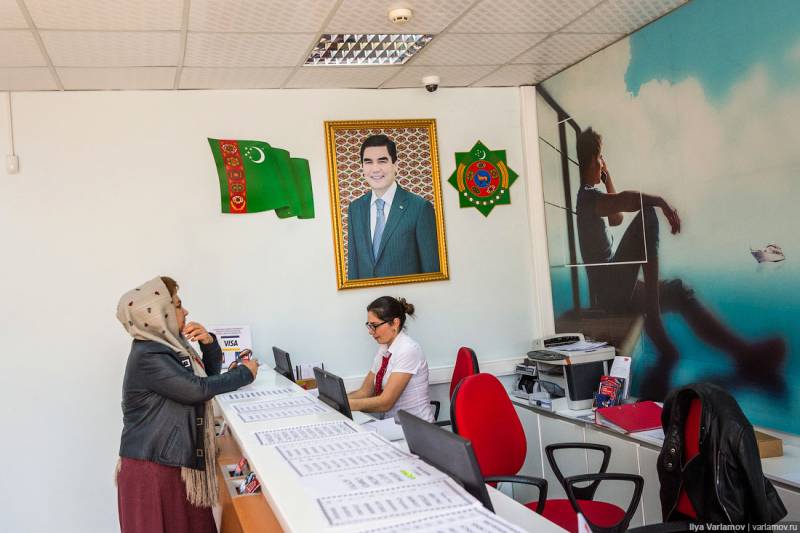 Perhaps because the leaders there change much more often than in totalitarian states.
One can already ask the question: what does the author have against the portrait of Putin in the office or classroom?
Basically nothing. In addition, according to the law, he has absolutely nothing to do there. According to the law on state symbols, symbols are the coat of arms and the flag. And it is the coat of arms that should be placed according to the law where many have portraits today.
I'm talking about the administrative premises. It is about those where, according to the law, only the coat of arms of Russia is appropriate, but in fact, these premises often turn into art galleries from portraits of officials of all levels, from the mayor and governor to the president.
Yes, the president of Russia is an official. Top-notch, but an official. The question of the appropriateness of the portrait of Putin in offices that could be called "powerful" is a question. And even more so the question of the appropriateness of the portrait in schools.
One gets the not-so-beautiful impression that the portrait of Putin or the governor is like a certain mark of loyalty. "I clean myself according to Putin ..." - paraphrasing Mayakovsky.
In general, it looks so-so ... Provincial vassal oath to the overlord, nothing more. Yes, in Europe and overseas, you can easily see a bust or a portrait on the table of an official. But what ... For the Germans, this is traditionally Bismarck. For the Americans, this is Lincoln. For many of the British commonwealth, this is the queen. But there is a thread, right?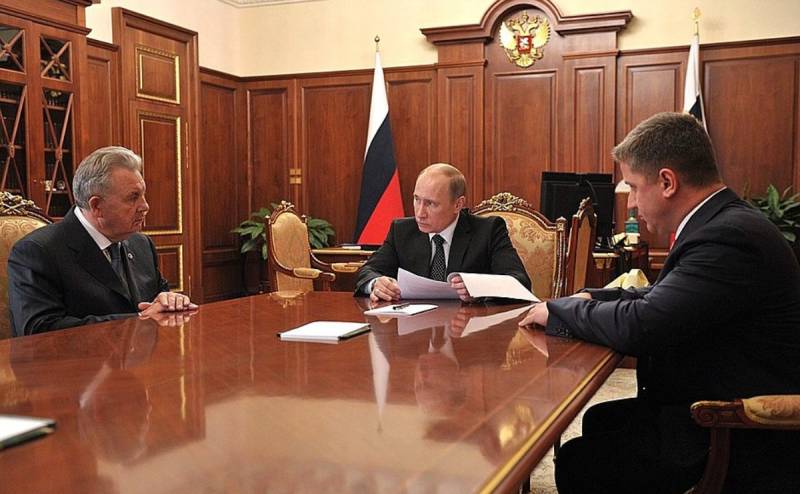 By the way, here is an example of a normal office of an official. No kinks.
We have a problem with this in general. Earlier, under the USSR, everything or almost everything was clear and understandable. The officials had a portrait of Lenin as the founder of the Soviet state. Is it logical? It is logical. The KGB officers had a portrait of the founder of the Cheka Felix Dzerzhinsky. Is it logical? It is logical.
What today?
To be completely corrosive, it turns out that the declarants of modern Russia, that is, almost the founders, are Yeltsin and Burbulis. Those who signed the Belovezhskaya Agreements, after which, in fact, the modern Russian Federation appeared. And before that, if you remember, there was the RSFSR. Within the same approximately borders, but the state is somewhat different in essence.
And if we talk about THAT Russia, there is generally complete confusion and vacillation.
In fact, everything is simple. Russia-Russia has always been, and nothing can be invented here. Nobody founded it, managed, yes, there was a case.
So in terms of hanging the image of the "founding father" following the model and likeness of the Germans, alas, it does not work. Well, in fact, it is not Yeltsin and Burbulis who should be sculpted on the wall ...
Let's return to our realities.
In fact, Putin's portrait is not at all to blame. Unlike the same Berdymukhammedov, who makes the population of his country hang all around with his images, Putin is more modest. And by the way, I am 100% sure that all this is done without informing him.
What for? It is just that bureaucrats of all levels demonstrate their loyalty to higher officials. Yes, "loyalty tag".
"I'm under Putin" ...
Perhaps we just have no other way. You need to be under someone, demonstrate your loyalty, in every possible way expressing loyalty to the one above.
But it's nice, probably, when you are shown and expressed ...
Even a man who is usually admired, extolling his modesty, Joseph Vissarionovich Stalin, was not against the massive installation of monuments to himself. It is difficult to say whether he knew it or not, but he knew about his intentions to immortalize himself on state awards. He himself approved them, these awards. And he removed his image from the Order of Glory. And left on the medals. "For the victory over Germany" and "For the victory over Japan".
There is nothing to argue here again, Iosif Vissarionovich is worthy of this. But there are thousands of monuments, which later with such pleasure were spread by the "grateful Soviet people" - this does not fit into the concept. Or fits, but not in a way that seems more likely to me.
Let's look at the schools where the portrait turmoil began.
Each school has a corner of the state. Flag, coat of arms, words of the anthem.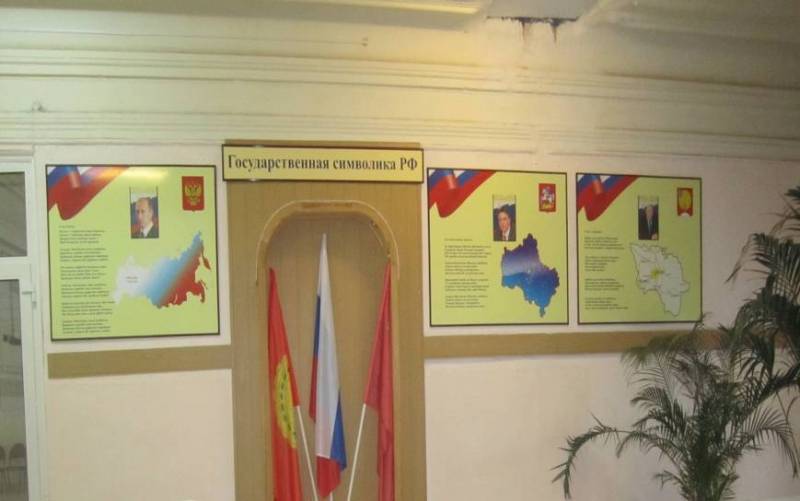 The portrait of the current president is also appropriate there. To know, as they say. But hanging out in offices is stupid. Putin is a politician. Politics has no place in school. So they say, so they declare, but unfortunately, politics is creeping into school more and more actively.
And this must be stopped.
Navalny and his agents have nothing to do in schools, neither in the form of portraits, nor in live or online form. But Putin should not appear in every office, either on orders from above or on the initiative of the local authorities.
Equilibrium. There must be balance. Reasonable and balanced. But we usually can't find this thing even for currency.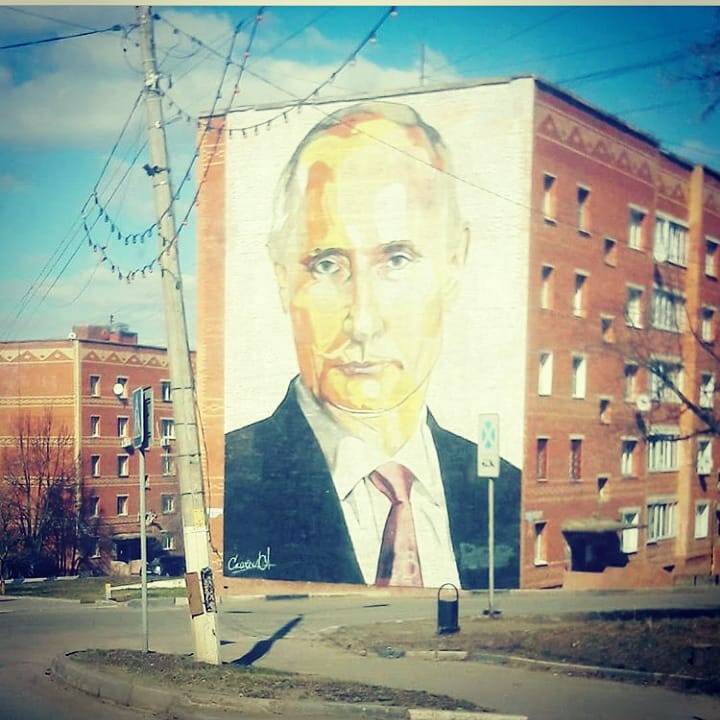 Not Tmutarakan. Yegoryevsk, Moscow region.
It is relatively clear with the population. Adults, grabbing at full speed at the dawn of Russia, reason in the bulk like this: "Come on, let him rule, so long as it doesn't get worse." Although, it's worth noting that it gets worse. Not "like in Ukraine." But it becomes.
And children are children. They sense lies and falsehoods, they do not want to love Putin, because "if only it weren't worse", because "there is nobody else" and so on. They naively believe that they can change something.
I sincerely hope so that they can.
Portraits are just another Russian nonsense. A servile creation of an idol for oneself and admiration for it. And this is with the current rampant corruption and constant arrests and detentions.
You don't have to go far for examples, my Voronezh is enough. Vice-Mayor for Urban Development Levtsev - arrested for a bribe of 1,5 million rubles. His successor, Bavykin, not having had time to work in office for six months, was also arrested for fraudulent electoral fraud. 0,4 million rubles The head of the department of the state agricultural academy was caught on a bribe of 0,5 million rubles. Director of the Voronezh branch of the State University of Marine and River
fleet
named Admiral Makarov and her deputy for educational work were caught, taking a total of 1 million.
"I am under Putin ..."
And surely they were sitting under the portrait of "himself".
And we are surprised that the younger generations look towards the authorities without reverence, do not attend rallies to support Putin, or complain when they are lured there by deception. And, most importantly, they do not vote and support Navalny.
Yes, they do not support Navalny, they are against Putin. Including through the war with his portraits.
Unfortunately, the current government is completely unaware of how unimportant it looks in the eyes of those who literally in a few years will form the basis of the voting electorate.
I am translating: it will be very interesting to observe the figures of 50 and more percent of those who came to the polling stations and empty premises. However, the cameras can be removed. Democracy and honesty must be dosed.
However, there is another option. To listen and take a closer look at the opinion of the people not through the "honestly elected" deputies of the State Duma, but in a different way. And try to earn credibility and respect through deeds, and not on a leftover principle. It is ugly all the same, when there is no one else in such a country to appoint to power.
The topic, in general. A portrait taken from the wall today is completely different thoughts and deeds tomorrow. And on fake "love" not a single leader went far. Examples in
stories
enough. And monuments are destroyed, and portraits are burning ...
In general, there is something to think about. And the portraits are really not to blame. They are hung on the topic and people without it. Ordinary people in general. Only overzealous in their demonstration of loyalty and loyalty.
Which is again commonplace for Russia. Unfortunately.