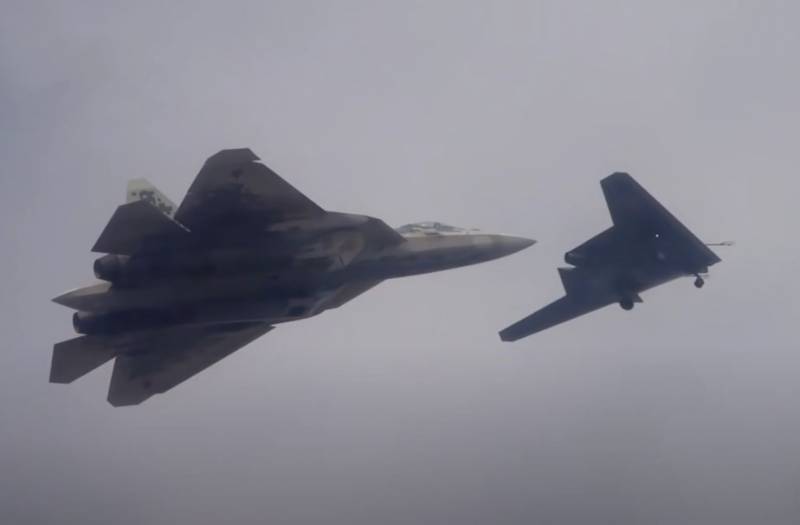 Chinese military experts continue to make efforts to assess the effectiveness of the Russian new generation Su-57 fighter. Noteworthy is the fact that quite recently the Chinese press expressed much more skepticism about the Su-57 than today. It got to the point that some Chinese experts refused to recognize the Russian fighter as belonging to a new generation. Now estimates in China regarding the Su-57 are changing.
So, in the Chinese edition of Sohu material appeared, which literally says the following:
If not long ago the Russian Su-57 lagged significantly behind the American F-22, including in terms of maneuverability and specific thrust of engines, now the situation is changing. The Russians are using various "plugins" and innovations to gain the superiority of their fighter.
In particular, it points to the ability of the Su-57 to actively interact with a heavy attack drone (we are talking about the Hunter), to test a Russian fighter with intra-fuselage hypersonic missiles. Recall that the tests with hypersonic weapons became known a few days ago.
Sohu:
This suggests that the Russian Su-57 was able to attack with hypersonic missiles, while remaining almost invisible to radars.
The Chinese resource indicates that with such weapons, interaction with the Okhotnik strike drones may turn out to be even more effective, since these heavy UAVs themselves can eventually receive intra-fuselage hypersonic missiles.
From the material:
If the Russians placed hypersonic missiles inside the fuselage of the Su-57, then they will soon do this for their Hunter UAV, which has already passed tests for interaction with a fighter.