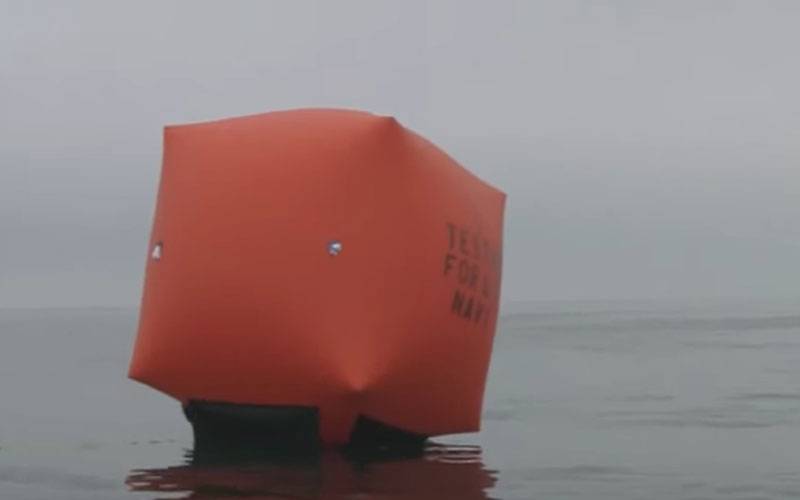 Several days ago it became known that several inflatable boats were delivered to Ukraine from the United States under the program of rendering military-technical assistance. Moreover, the batch of inflatable boats was received by the Commander of the Armed Forces of the Armed Forces of Ukraine Alexei Neizhpapa. And the ceremony was such as if it was not rubber boats that were accepted, but at least a couple of frigates.
Now there are reports that the Ukrainian naval forces have decided to increase the number of rubber products in their composition.
In particular, it is reported about the plans of the command of the Ukrainian Navy to receive inflatable targets - after the appearance in the Navy of the mentioned American inflatable boats. These targets are going to be used in the implementation of shooting training with the use of standard weapons of boats and ships of the Ukrainian Navy.
It is known that the first batch of inflatable targets, which according to the NATO classification are designated as Killer Tomatoes, will arrive in the first half of this year (2021). And these inflatable targets will be sent to military unit A2238, located in Odessa, where the western naval base of Ukraine is located.
According to data published on the ProZorro procurement site, the Ukrainian Navy is going to spend about UAH 160 on inflatable targets. (up to 0,5 million rubles). These funds will be used to purchase 25 inflatable targets, including one large and 24 small ones. Large dimensions - a cube with an edge of 4,2 m, small dimensions - a cube with an edge of 1,5 m.
We are talking about American-made targets. They are often used by the US Navy and US Coast Guard when firing Mk 38 Bushmaster artillery mounts. Such installations in the United States are part of the "Island" class boat weapons system. Let us remind you that earlier a pair of such boats were delivered to Ukraine, but without weapons. Ukraine had to arm the boats independently.
Ukrainian users were skeptical about the plans to purchase American targets. In particular, the question arose: firing practice at which objects of the Armed Forces of the Armed Forces are going to be carried out using a cube target with a linear size of 1,5 m - at smugglers' boats?
An example of the use of this type of inflatable target in the USA: