So as reported
news
According to the media, the first single-engine turboprop light reconnaissance aircraft Beechcraft AT-6E "Wolverine" was adopted by the US Air Force and, one might say, took up a combat post.
What can be said here?
The decision to put into service the "Wolverine" (this is how the name of the airplane is translated) was made within the framework of the AEROnet program, or Airborne Extensible Relay Over-Horizon Network. That is, initially, the AT-6 was supposed to be a kind of communications aircraft, which in modern conditions could coordinate the actions of American soldiers with coalition allies on the battlefield.
However, the appetite comes with eating. And it played out in Afghanistan, where the use of "Warthogs" A-10 was, to put it mildly, ruinous. Chasing Taliban bombing raids and assaults with AK-47s and machine guns - it went well on budget.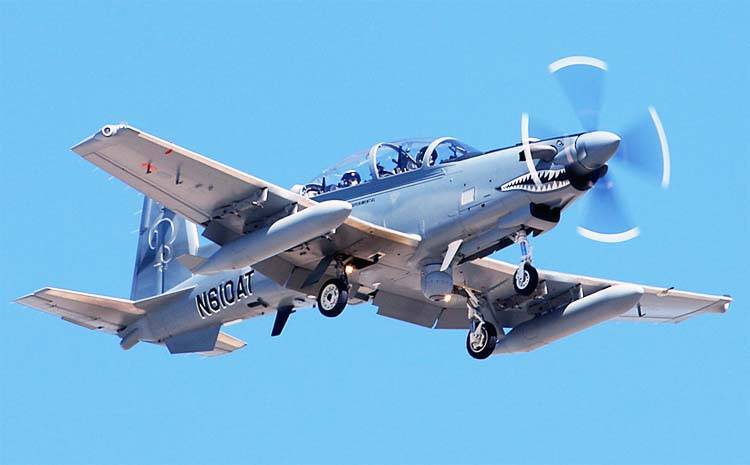 And an experiment was carried out with the Brazilian aircraft Sierra Nevada-Embraer A-29 "Super Tucano". Afghan pilots, trained in the United States, sat at the controls of these planes and successfully worked on the Taliban. Naturally, where it was not associated with increased danger. For example, the use of anti-aircraft missile systems.
"Super toucans" did it. Indeed, having a 20-mm cannon in a container under the fuselage, containers with two 12,7-mm machine guns and 2-4 7,62-mm miniguns under the wings, it was possible to get things done. And if you consider that it would still be possible to hang about 70 NURSs - then in general, beauty. Or bombs instead of missiles.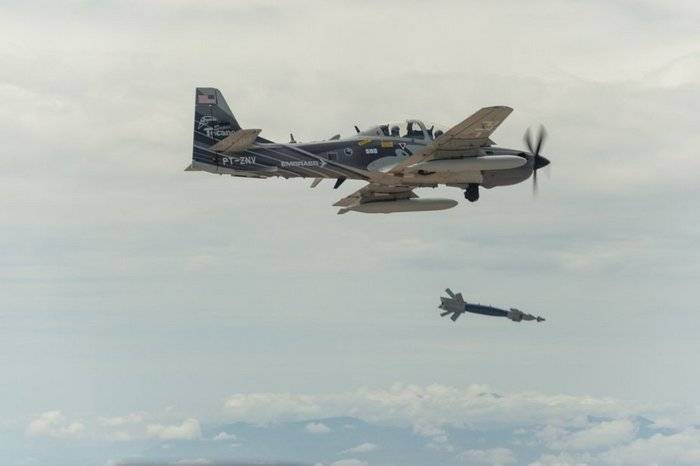 But this is Afghanistan. A Brazilian plane serving in the US Air Force is somehow not very patriotic. We must cut our own.
And on the basis of the Beechcraft T-6 Texan II training aircraft, the AT-6E light attack aircraft, aka "Wolverine", was built.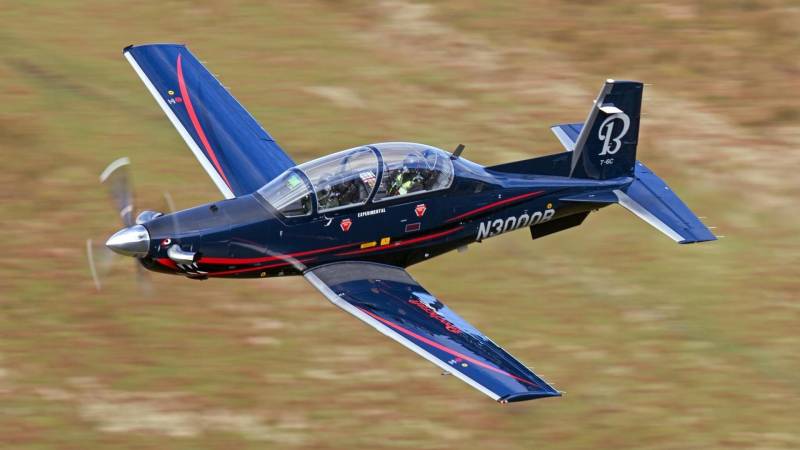 T-6
The aircraft is supposed to be used as a light attack aircraft, reconnaissance aircraft and observer aircraft (spotter). There are absolutely no problems with the flight crew for him, the T-6 has long been used as a training and air force, and
fleet
, and KMP.
The AT-6E is equipped with a PTA-68F turboprop engine, an upgraded Cockpit 4000 cockpit, an A-US aircraft combat system and an MX-15i / Di day and night vision container.
There is a system of protection against infrared and laser seeker UR of the "surface-to-air" and "air-to-air" classes of the enemy, which can include an AN / AAR-47 irradiation warning system and an ALE-47 infrared trap firing machine.
There is armor protection for the engine and cockpit, but it is rather anti-fragmentation and against small arms bullets
weapons
... The crew is additionally protected by US16LA ejection seats from Martin-Baker (Great Britain).
The main difference between the AT-6E and the T-6 is "full stuffing" in terms of radio electronics. And for such a small "bird" everything is really luxurious here:
- control system for electronic warfare ALQ-213;
- radio communication system ARC-210;
- equipment for air-to-air and air-to-ground data transmission lines for missile and bomb control.
- a set of satellite communications and navigation;
- target designation and lighting systems EPLRS and JTIDS.
By the way, it's beautiful with EPLRS. This system assumes operational-tactical exchange of target designations with F-16 and A-10 aircraft with direct
aviation
support of ground troops. And besides, it can replace, if necessary, "Navstar", if it works out the electronic warfare of an advanced enemy. But we are already quite ahead of ourselves.
The avionics kit includes an optoelectronic unit of the MX-15i station (manufactured by the Canadian company L3 Wescam), placed on the ventral pylon. The unit is mounted on a gyro-stabilized platform and can be equipped with devices for various purposes, for example, high-definition cameras, IR cameras, and a laser for target illumination.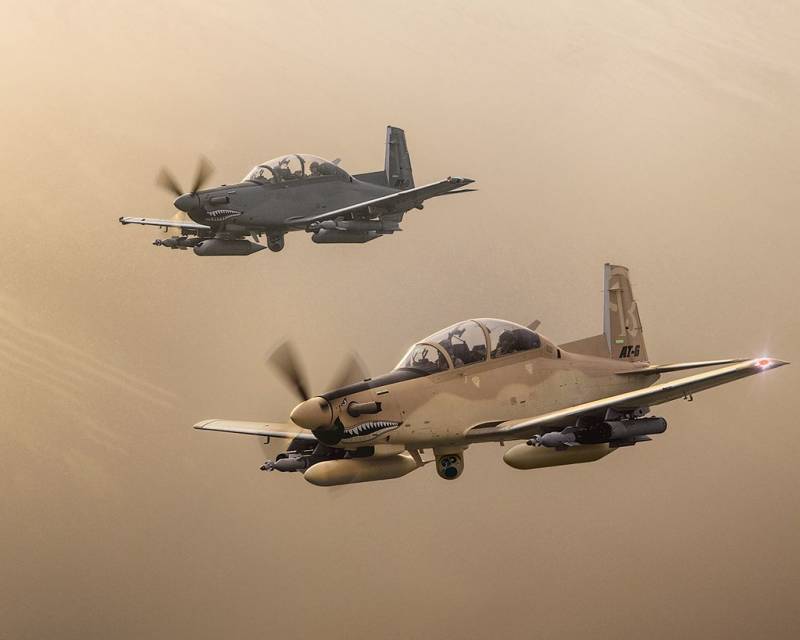 LTH AT-6E
Wingspan, m: 10,10
Length, m: 10,30
Height, m: 3,30
Wing area, м2: 16,30
Weight, kg
- empty aircraft: 2 100
- maximum take-off: 2 948
Engine: 1 x Pratt Whitney Canada PT6A-68F x 1 HP
Maximum speed km / h: 585
Cruising speed, km / h: 500
Practical range, km: 1 575
Practical ceiling, m: 7 620
Crew, prs: 2
Armament:
- two 12,7 mm machine guns
on the nodes of the external suspension (6 pcs):
- 6 x BDU-33 133, or
- 2 x BDU-33, 2 x LAU-68 or
- 2 x Mk.82 caliber 226 kg.
The armament may include the AIM-9X air-to-air class, the Pave way-2 / Pave way-4 UAB, JDAM, and SDB. Suspension of two PTBs of 220 liters is possible.
In general, it is worth noting that the set is very ... Much higher than that of any heavy attack drone, but less than that of an attack helicopter. But comparisons are a little later, while a few words about
stories
the project.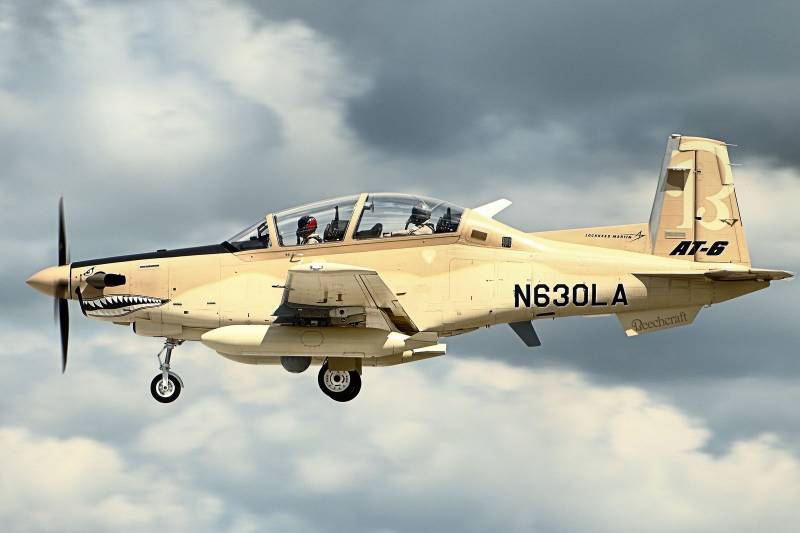 In general, the idea of ​​a propeller-driven attack aircraft has long been in the minds of the American military. And they have been experimenting with the T-6 / AT-6 for a long time. In 2017, a program for the purchase of almost several hundred of these aircraft was buried, the purpose of which was to replace normal strike aircraft where it could be done.
After all, the cost of AT-6 is incomparable with the ancient A-10. Instead of one "Warthog" you can build a dozen AT-6. And if we talk about the Su-25, and in general, it's scary to think about what kind of air fleet could be created.
The question is where to use such aircraft. The answer is already in the text. These are third world countries where there are no normal air defense systems. The same Afghanistan, the African region, and in the Middle East there is where and against whom to deploy such attack aircraft.
So the AEROnet program is not bad, yes, operational and tactical formation and exchange of information in real time on the battlefield is great. But against the same Taliban or Kurds it is absolutely unnecessary.
But such an aircraft as the AT-6 in the role of a cheap attack aircraft will do and will be useful.
Let's take a look at its strengths.
1. Price. This is not even discussed. Cheap to build, cheap to operate, you can refuel even at a gas station in case of dire need.
2. Lightweight, unobtrusive, maneuverable. It is difficult to cope with MANPADS, because the heat trail is not as hot as that of a jet plane. And even smeared. As for the DShK and ZSU-23-2, then the aircraft's maneuverability comes into play. The helicopter has a hard time against MZA, but such a plane will go away. Plus it is quite quiet compared to the jet analogue.
3. The plane has quite modern electronics. Heat traps are gorgeous, the possibility of suspending the jamming module is also not superfluous.
4. A variety of weapons, which makes it possible to use the aircraft in the widest range of tasks.
The disadvantages are, perhaps, only an easy booking. But then again, speed and maneuver solve this problem.
Again, I emphasize boldly that this is for countries where Stinger and Strela-2M are still viewed as a panacea. For third world countries. Or fourth.
A reconnaissance attack aircraft who can "hang" over the area, as did the "Rama" from "Focke-Wulf" and control the situation with the possibility of striking the enemy - this is very, very useful.
Considering that AEROnet is just the beginning, given the policy of Biden, who is not Trump at all, one might think that in the near future the US Air Force will actually begin to receive such light attack aircraft for solving problems in countries where the A-10 or F -16 would just be economically disadvantageous.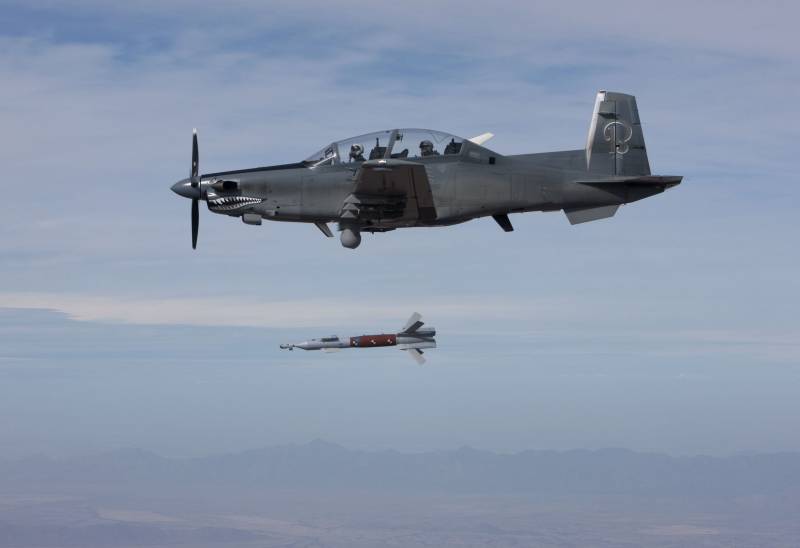 In general, our Yak-130 came to my mind, which, in principle, is capable of solving the same problems. It's just that we don't seem to be fighting on the territory of countries where an AT-6E type aircraft is needed, because we have a Yak-130. But for the Americans, who are constantly solving the problem of bringing true democracy to the countries of the third and fourth worlds, such an aircraft will be very useful for them.
They got it. Let's see how everything will develop, because the concept is very interesting, and so is the plane.