From the central part of Syria, there are reports on the use of Russian military
aviation
against the infrastructure of the militants of the terrorist organization ISIS, banned in Russia. The reports say that Russian bombers are striking one of the largest zones of control of ISIS, which is located on the territory of two provinces at once - Hama and Raqqa.
If you believe the reports coming from Syria, then Russian planes in the last few hours alone have inflicted at least three dozen strikes on the accumulation of terrorists and their infrastructure in the mentioned region. Earlier, it was from these territories, as well as from the zone of activity in the Al-Sukhna region in the province of Homs, that ISIS fighters tried to attack the positions of the Syrian troops in the Palmyra region. Recall that once the militants have already managed to recapture positions from the SAA near Palmyra. It was only thanks to the actions of the Russian military that Palmyra was again taken under full control.
Now the bomber aviation of the Russian Aerospace Forces is making every effort to put an end to the ISIS activity in the central and eastern parts of the SAR - as part of the ongoing operation.
The Ministry of Defense of the Russian Federation has not yet commented on this data.
Earlier in the Western media, after news of the tests of the Su-57 with hypersonic missiles on board, it was suggested that Russian fifth-generation fighters could reappear in Syria - for the next phase of testing against real targets, including against fortified areas of ISIS ...
Against this background, there are reports that pro-Turkish armed groups, for the first time in a long time, used artillery against the country's government forces. According to the latest reports, the militants are using artillery when striking the positions of the SAA in the area of ​​the city of Maarat al-Naasan, north of Seraqib.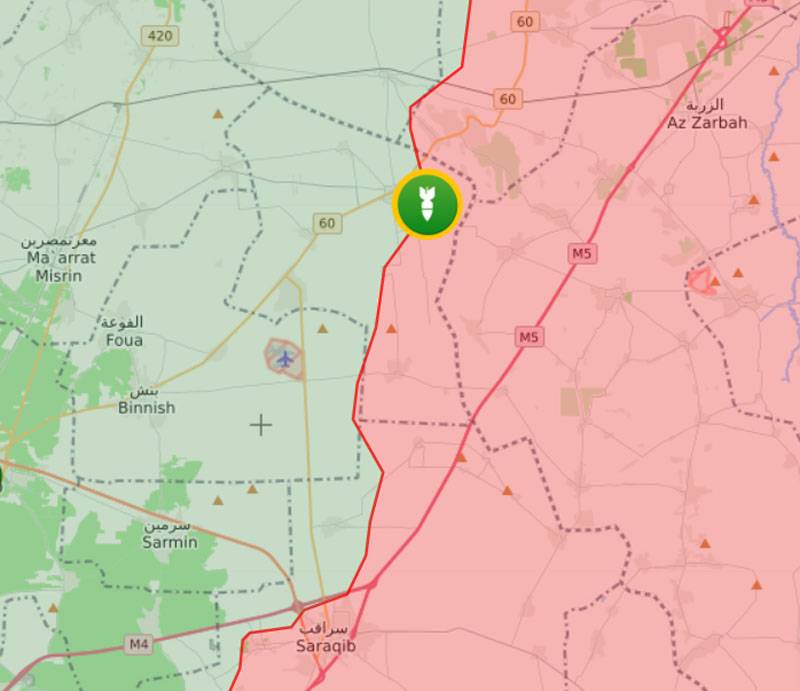 Armed groups are trying to take control of Highway 60, which connects Idlib and Aleppo. An oil pipeline runs along this road, the main part of which is currently controlled by the Syrian government army.