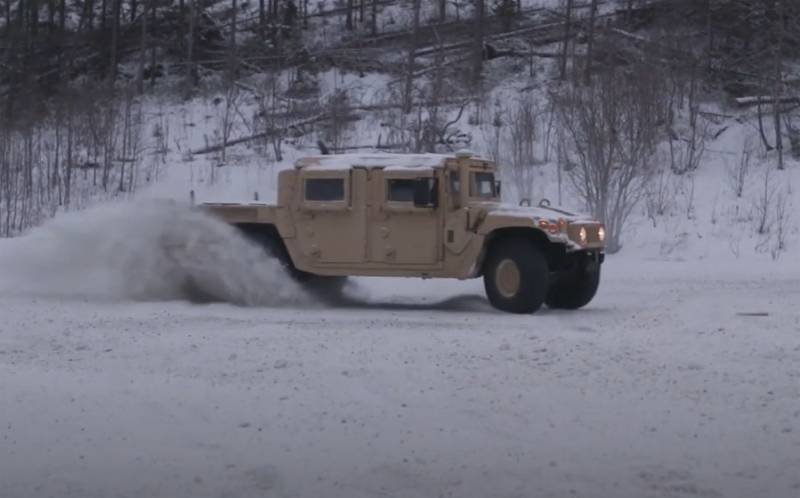 The US military command of the Marine Corps spoke about the maneuvers in the Arctic. We are talking about military exercises in the north of Norway, in which American troops were involved. One of the components of the maneuvers was the training of army drivers. These trainings took place a few days ago in the area of ​​the Norwegian town of Setermoen. It is about 380 km from the Russian borders.
The maneuvers reportedly involved US Marines from the Rotary Force in Europe (MRF-E). They were engaged in tactical training in driving army vehicles in arctic conditions.
Among other exercises for American drivers from the Marine Corps units, overcoming snow and ice on selected routes.
One of the Marines participating in the exercise in northern Norway:
Often, the ride turned into drift. Heavy armored vehicles skidded around corners, if there was even a slight excess of speed. Driving a Humvee in such terrain is extremely difficult. We need special skills, which we trained together with NATO partners.
Among the training exercises - the passage of army pickups through the line of obstacles, including the so-called "snake".
In total, over 1 US Marines were involved in the exercise in northern Norway, including up to two companies from the US ILC Second Expeditionary Force.
One of the stages of the exercises in the arctic region:
What prevented the American Marines from conducting such exercises at home - for example, in Alaska, is not reported.
Earlier, the Norwegian press published materials in which the authors noted that American exercises in northern Norway could cause a deterioration in Norwegian-Russian relations. Pragmatic Norwegian authors note that it is extremely important for Oslo to maintain good-neighborly relations with Moscow, and not to go to confrontation.