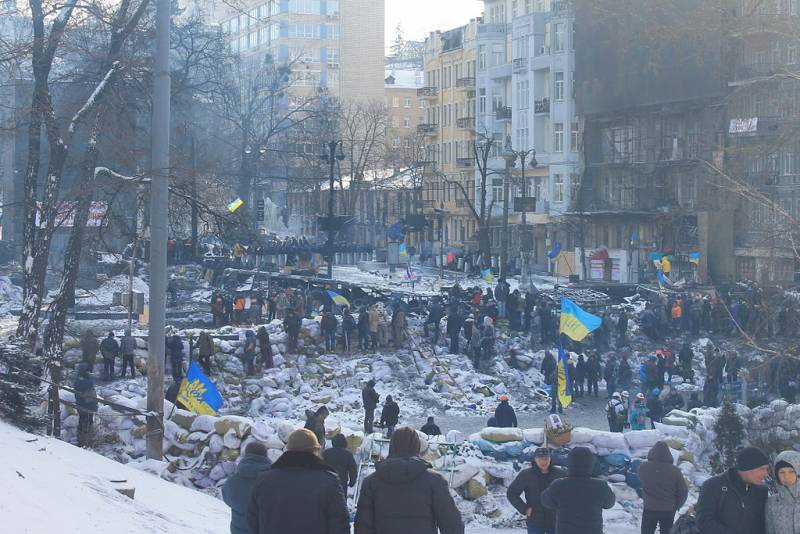 The Verkhovna Rada of Ukraine adopted a document that was submitted for consideration a year ago, dedicated to the sixth anniversary of Euromaidan, also called the "Revolution of Dignity". 295 deputies voted for him, of which 200 are members of the ruling Servant of the People party. The HLE faction in its entirety, numbering 17 people, voted against.
The draft resolution is aimed at drawing the attention of the Ukrainian society and the international community to the Euromaidan and the Revolution of Dignity.
- noted in the explanatory note to the document.
It says that from now on, the "Revolution of Dignity" is becoming one of the main key points on the way to the formation of an independent Ukrainian state.
What independence consists of is not reported. After all, if we concretize, then we have to touch upon the topic of total dependence on the United States and the IMF.
The document also calls on Ukrainian officials not to hesitate in investigating the crimes committed on the Maidan.
At the same time, Andriy Parubiy, Petro Poroshenko and other "revolutionaries" guilty of bloodshed are excluded from the list of persons involved in the investigation, and instead it is proposed to bring to justice the soldiers of the Berkut police unit and ex-President of Ukraine Viktor Yanukovych.
The deputies not only assessed Yanukovych's actions during the coup in 2014, but also accused him of "usurpation of power" in 2010-2014. It should be noted that the organizers of the Euromaidan, who committed the anti-constitutional coup, were not included in the number of "usurpers".
Even before the document was put to a vote, a number of Ukrainian politicians spoke out against it, most of whom belong to the Opposition Platform - For Life movement. But among the opponents of the adoption of the resolution were representatives of the Servant of the People party, in particular, People's Deputy Maxim Buzhansky.
This is a political decision, but I will just remind my colleagues from the Servant of the People that, having supported it, it is difficult in the future to count on the votes of voters with a different position. And to vote for this means simply to tell these people that the "Servant of the people" does not need them.
- he said.