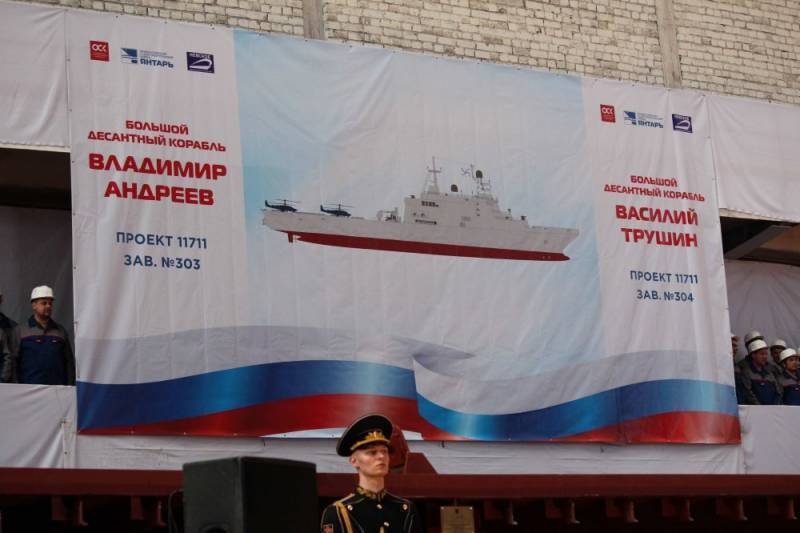 The second pair of Project 11711 BDK, which is being built at the Yantar shipyard in Kaliningrad, will have a larger displacement and landing capacity. This was stated by the general director of Yantar Ilya Samarin.
The second pair of the large landing craft "Vladimir Andreev" and "Vasily Trushin" was laid down on the "Yantar" according to the modernized project 11711. Compared to the first ships of the project, the new large landing ships have an approximately 40% increased displacement, which in turn implies a greater landing capacity of these ships ... The transfer to the Navy is scheduled for 2023-2024.
The third and fourth ships of this project are now under construction, the deadline is 2023-2024
- leads
"RIA News"
Samarin's words
He explained that in the course of changing the project, the displacement of the new large landing ships was increased by 30-40%, they have a slightly different layout and superstructure, a larger helicopter deck, there are two hangars for the simultaneous basing of two helicopters. He did not give other details of the modernized project 11711.
Currently, the Russian Navy has two Project 11711 BDKs - the head Ivan Gren and the first serial Pyotr Morgunov. Both ships became part of the Northern
fleet
... They have a displacement of 5 thousand tons and a landing capacity of 13
tanks
or 300 marines.
Earlier it was reported that the third and fourth large landing ships will have a displacement of 6-7 thousand tons.