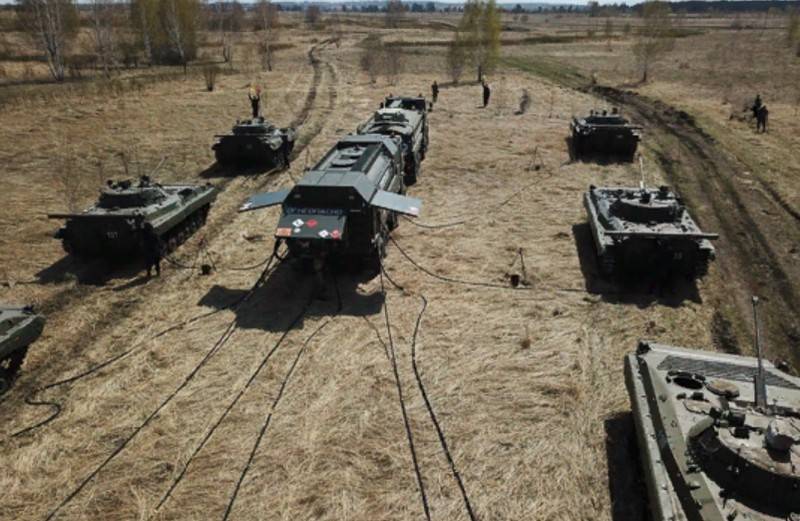 The Russian army received fuel tankers capable of withstanding a direct hit from a Kalashnikov assault rifle. Russian Deputy Defense Minister Dmitry Bulgakov spoke about this in an interview with the Krasnaya Zvezda newspaper.
According to the General of the Army, the new ATs-14-63501 fuel tanker was created using a special self-tightening polymer material that can withstand the hit of a 7,62mm Kalashnikov assault rifle bullet. The tank passed state tests and was accepted to supply the Russian army.
The tank truck is located on the KAMAZ-63501 8 × 8 chassis and can be operated at temperatures from -40 ° C to + 50 ° C.
The main purpose of the tanker is the transportation and short-term storage of fuel. In addition, it can refuel equipment. The filling mechanism provides simultaneous filling of four units of equipment at a speed of 600 liters per minute. The total volume of the tank is 14 m3.
Also, for the supply of the Fuel Service, a mass-produced refueling station was adopted, which allows refueling ten units of equipment at the same time.
The sample was developed in such a way that when working in tandem with the ATs-14-63501 tanker, refueling
tank
a company of 10 tanks in the area of ​​mass refueling of equipment will take only 10 minutes
- said the general.
Bulgakov added that the Ministry of Defense is currently continuing to test promising technical equipment that will soon be supplied to equip the Russian army.