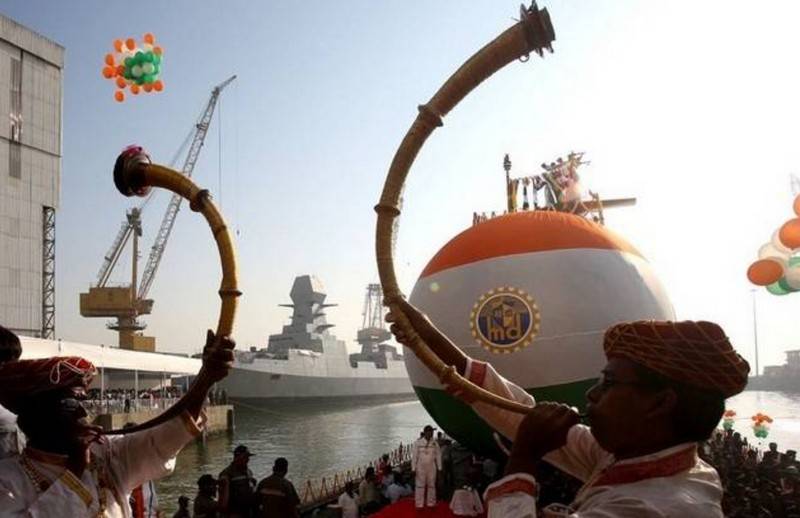 The Indian Navy received the third Scorpene-class Karanj submarine (S-23). The acceptance certificate was signed on February 15, 2021 at Mazagon Dock Shipbuilders Ltd, located in Mumbai.
The submarine was launched on January 31, 2018, after which it was completed afloat. The launch of sea trials took place at the end of 2019, according to plans, it was supposed to become part of the Indian Navy in 2020, but the transfer was shifted to the right due to the coronavirus pandemic.
INS Karanj (S-23) is the third Scorpene submarine after the lead INS Kalvari (S-21) and the second INS Khanderi (S-22). Three more submarines are at various stages of completion. The fourth Vela submarine (S-24) was launched on May 6, 2019, the fifth Vagir was also launched on November 23, 2020, and the sixth Vagsheer is in the equipment installation phase.
A contract worth $ 3 billion for the licensed construction of six non-nuclear submarines of the Scorpene class was signed by India with the French shipbuilding association DCN (now DCNS) in 2005. Under the terms of the agreement, six boats, which were to be built at the MDL factories with the assistance of DCNS, were planned for delivery to the Indian Navy in 2012-2018. However, the construction program was significantly delayed due to the technological problems of the Indian side, as well as disagreements with the French regarding the amount of assistance provided.
The Indian Navy is planning to order another series of non-nuclear submarines, but they have not decided on the winner of the tender, in which, in addition to the two Indian companies Mazagon Dock Shipbuilders and Larsen & Toubro, five foreign companies participate: CDB MT Rubin (Russia), Naval Group (France), ThyssenKrupp Marine Systems (Germany), Navantia (Spain) and Daewoo Shipbuilding & Marine Engineering (South Korea).