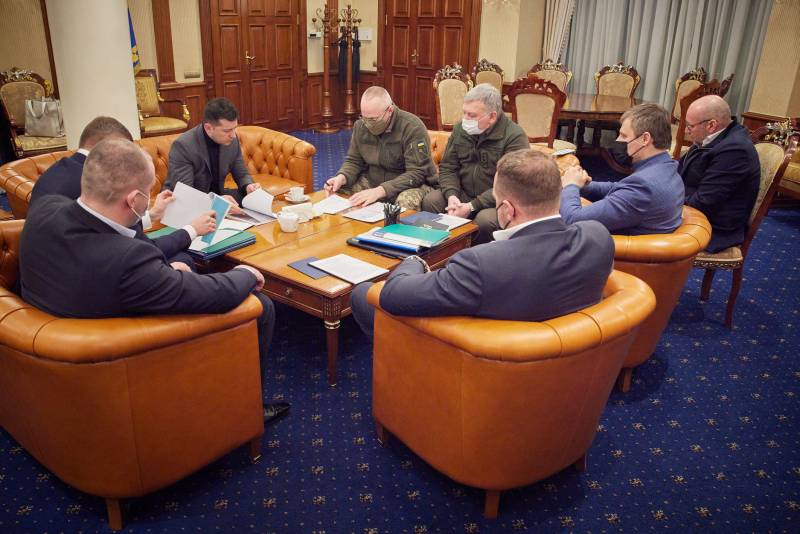 President of Ukraine Volodymyr Zelenskyy met with high-ranking officials of law enforcement agencies and discussed the issue of losses of the Armed Forces of Ukraine in Donbass.
First of all, we are talking about the situation that took place on the line of contact on February 14. On this day, the Ukrainian media announced the loss of three military personnel. Later it became known that they were blown up by mines.
During the meeting of Zelensky with Defense Minister Andrei Taran, Commander-in-Chief of the Armed Forces of Ukraine Ruslan Khomchak, member of the Verkhovna Rada Committee on National Security, Defense and Intelligence Igor Gerasimenko, it was announced that the Ukrainian military was blown up in their zone of responsibility. Anti-tank mines TM-62 went off on the territory of their movement.
Zelensky:
The guys were blown up by five TM-62 mines, installed in a checkerboard pattern. At about 9:20 a.m. on February 14, our military moved to serve in the positions of the platoon squad. As they moved along the road along the route, an explosion occurred at about 9:30. An ambulance arrived at the scene, but could not save them.
At the same time, the President of Ukraine declares that there are three versions of the reasons for undermining the military personnel of the Armed Forces of Ukraine. The first version: violation of the rules for handling ammunition and explosive devices. The second is the negligent attitude of the military towards service, expressed in moving to unverified terrain while performing combat missions. The third is a terrorist act.
For obvious reasons, it is easier for Ukrainian security officials to blame everything on unknown "terrorists" than to admit the obvious - a number of Ukrainian units simply do not have maps of minefields created by their predecessors at certain positions near the demarcation line. Earlier, information was repeatedly heard from the Ukrainian military and volunteers that certain officers of the Armed Forces of Ukraine and the National Guard allowed themselves to trade maps of minefields in the zone of responsibility.
Now Zelensky instructed the command of the Armed Forces of Ukraine to check all minefields in the area of ​​responsibility of the units and find out when, by whom and under what circumstances mines were planted.
Zelensky:
I instruct to remove obsolete and inappropriate mines by the end of the month, indicating this in the relevant documents.