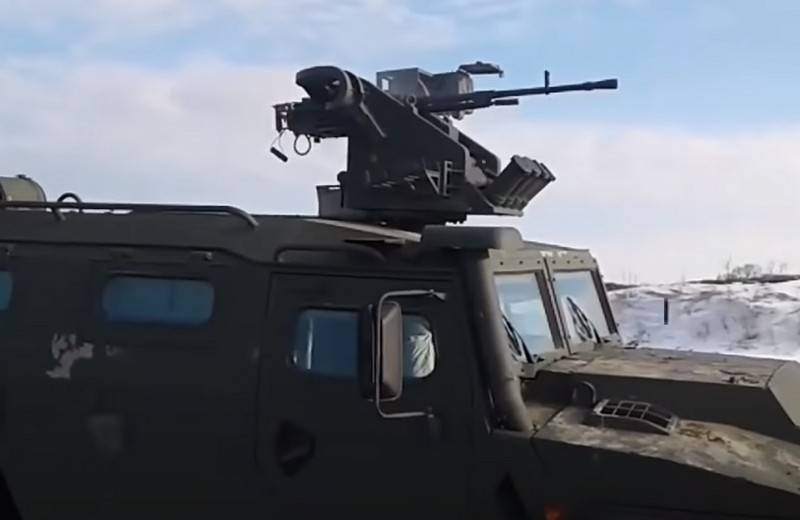 The army special forces will be armed with the Tiger-M armored vehicle with the Arbalet-DM combat module capable of shooting down drones. As reported
"News"
with reference to the Ministry of Defense, armored vehicles have already been tested.
"Tiger-M" with BM "Arbalet-DM" were tested by units of the army special forces in the south of the country. The tests were recognized as successful; as a result, the Ministry of Defense decided to equip special forces in other military districts with armored vehicles. It is reported that in 2021 armored cars with the Arbalet-DM combat module will receive army special forces and reconnaissance of the Western and Central military districts.
It is noted that the combat module "Arbalet-DM" with a large-caliber 12,7 mm machine gun, thanks to full stabilization and software, perfectly knocks drones down not only from a place, but also in motion. The software installed on the BM allows you to automatically capture and track aerial targets, including small drones, and a 12,7 mm bullet, when it hits, almost completely destroys the drone.
On tests carried out in 2020 in the Krasnodar Territory during exercises, a special forces group using the Arbalet-DM BM detected and destroyed the drones of a conventional enemy at a distance of 1,5 km. After the reconnaissance units used the Tiger-M armored vehicles with the Crossbow at the Kavkaz-2020 exercises, it was decided to supply additional batches of armored cars to the troops.
It is noted that a large-caliber machine gun with auto-tracking and good optics is the most practical option for dealing with small drones, which are too small a target for anti-aircraft missile systems, including portable ones and are too far away to be hit by small arms.
weapons
and "anti-drone" guns.