The enemy did not know, you fool - the one to whom he entrusted everything,
He was a Chekist, intelligence major and a wonderful family man.
(Parody of a bad detective. V. Vysotsky)
Paradoxes stories.
VO has already published material related to
the complexity of historical knowledge
... Today we return to this topic again and develop it. So, what is the difficulty in acquiring knowledge and what is the problem of incomplete knowledge? Let's start with the simplest.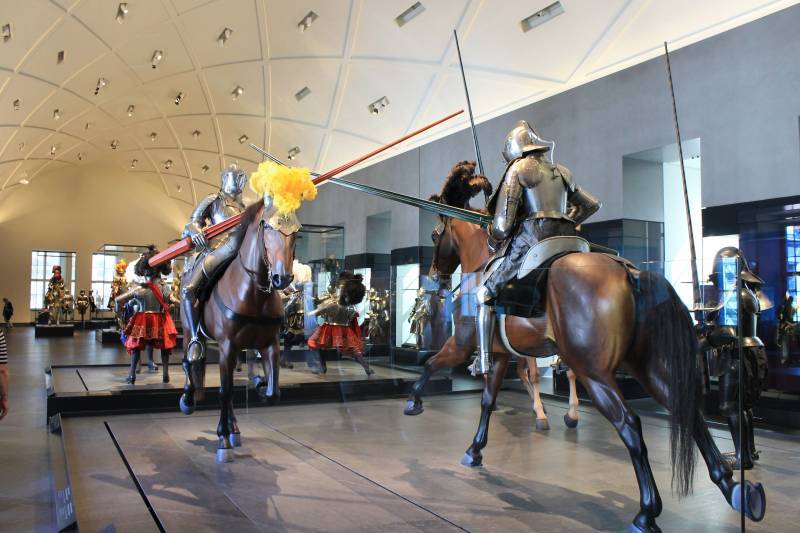 Participants of the "field tournament" in "Saxon tournament armor". They differed from all others in their simple polishing and lack of decorations, as well as the characteristic fastening of the salade helmet to the back of the cuirass. But without knowing all this, one can easily say that this is ... knightly combat armor! (Armory Dresden Chamber)
In the textbook of Agibalov and Donskoy on the history of the Middle Ages for the sixth grade, it was written that if a knight fell from a horse, he could not get up on his own. This was taught by the students. As a student majoring in history and English, I received more detailed information on this topic. The weight of the armor was already indicated - 80 kg. It is enough to imagine oneself in this "hardware" to understand - "it is all true"! However, I am personally very lucky. In 1975, the magazine "Vokrug Sveta" published a series of articles by M. Gorelik on the history of medieval armor and weapons, which began with the article "About Balmung, Durendal and their masters", where everything was written in detail about the armor and their weight was indicated - about 25 kg. But what about the 80th? So it was the weight ... of a knight's headset, which included, in addition to the armor for the rider, also the armor for his horse! It is unlikely that the person who wrote about this in the textbook had as his goal to "discredit chivalry" and show it worse than it is. No, most likely, he just ... never saw knightly armor "live", did not visit the Hermitage, the Hovburg Castle in Vienna, the Arsenal in Graz, the Army Museum in Paris, and he simply did not read the book of Vendalen Beheim, because in Russia, not in the USSR , it was published in 1995.
I remember that Gorelik's articles became a discovery for me. And when at the exam on the history of the Middle Ages I just got the ticket "about knights", I answered it for 40 minutes (everyone who wanted to write off the spurs was written off for a long time!), And the teacher kept interrupting me with the question: you took it all, and by whom and where is it written? " The only thing that saved me from being accused of being "unhistorical" was that at that time Gorelik was already a candidate for art history, and this reference to "a fellow in the shop" made my "teacher" sober a little.
And then, after 1991, I got the opportunity to read books "from there" and found out that it was all known there for a long time, moreover, I even found a book from where Gorelik copied it all. It was published in French and was in the funds ... of the All-Russian Library. Lenin in Moscow. For 90 rubles, a French teacher made a translation from it and for me, I added something to it from the books of the Osprey publishing house, and this is how my first history book was born, published by the Prosveshchenie publishing house in 1998. Then with a bottle of champagne I went to Gorelik as ... a grateful student to a mentor and teacher, and we talked for a long time about how much we lacked in terms of education and knowledge! Well, today I know about all this ten times more, and I touched a lot, say, a number of unique effigies with my own hands. What the same Gorelik at that time could only envy. Although the knights are, in general, a trifle, from which most people are neither hot nor cold.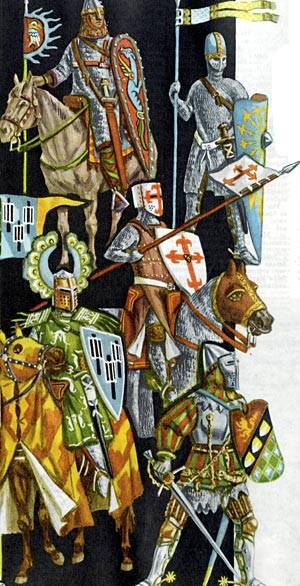 Illustration by M. Gorelik from the article "About Balmung, Durendal and their masters"
Consider this illustration (bottom row, left to right).
Knight in heraldic attire of the late XIII - early XIV centuries. Armed with an early Gothic sword, spear. Protected by a "pot-shaped" helmet, "hauberk", chain mail stockings, a wooden triangular shield. Over the chain mail - a caftan-mantle with shoulder straps. The horse is wearing a cloth blanket. (Reconstruction based on German miniatures and material monuments).
The outfit of a knight of the middle of the XIII century, a member of the spiritual knightly order: it consists of a late Romanesque sword, a spear, a "pot-shaped" helmet, a "hauberk", over which a cloth caftan is worn with metal plates attached to the inside, chain mail stockings with leather knee pads on metal lining. The shield is wooden, small, triangular. The horse is protected by a chain mail blanket and a metal headband. (Reconstruction based on miniatures and sculptures).
Armament of a knight in the middle of the second half of the XIV century. Armor - helmet - "baskinet" with a movable visor and chain mail barmy, chain mail, cuirass, iron bracers and gloves, on the legs over chain mail stockings - leggings and knee pads made of large metal and leather parts. A collar and jacket are quilted over the aventail and chain mail. The shield is small, wooden or metal, rectangular in shape, with a cutout for a spear. A Gothic sword and dagger attached by chains to the hilt to the breastplate of the cuirass, their scabbard hanging from a luxuriously trimmed belt. (Reconstruction based on German and Swiss gravestones and material monuments).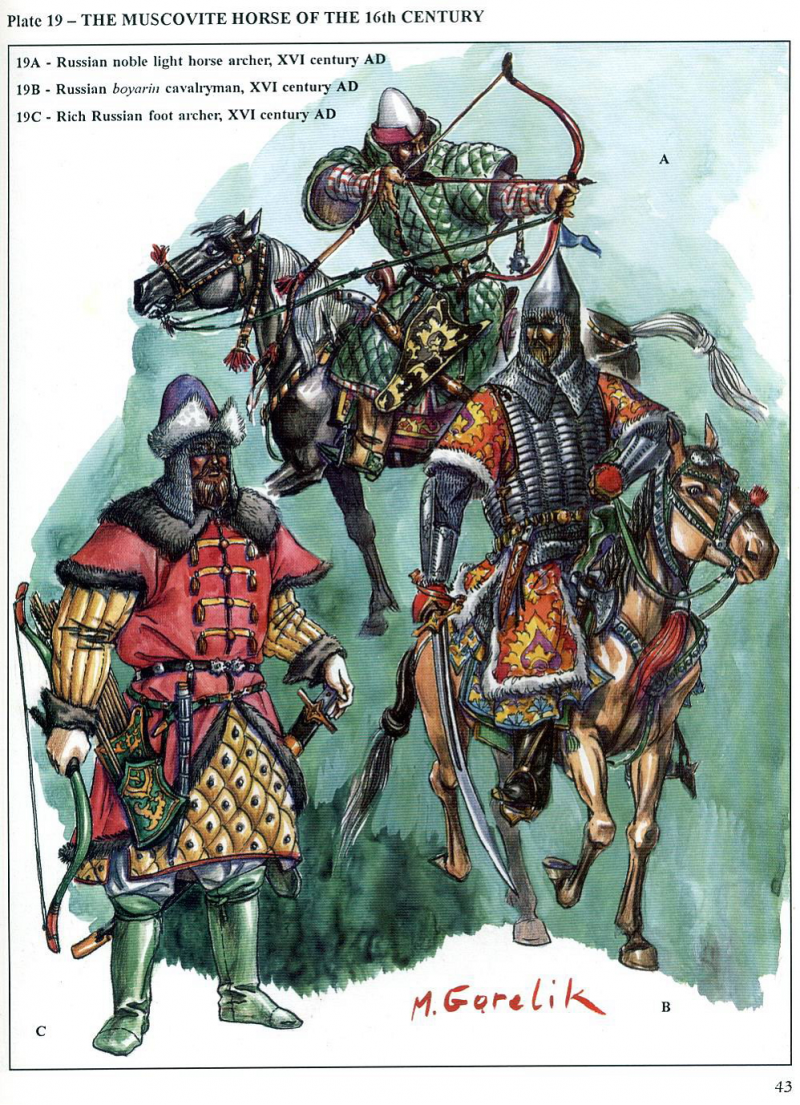 It is interesting that one of the most worthy of his books "Warriors of Eurasia" was published in English in England by the publishing house "Montvert", and today it is used by English students of the relevant specialties in colleges and ... read in Sandhurst
But, as they say, without knights, especially Western ones, a Russian can live. It is somewhat more difficult to live without knowing the history of your own state.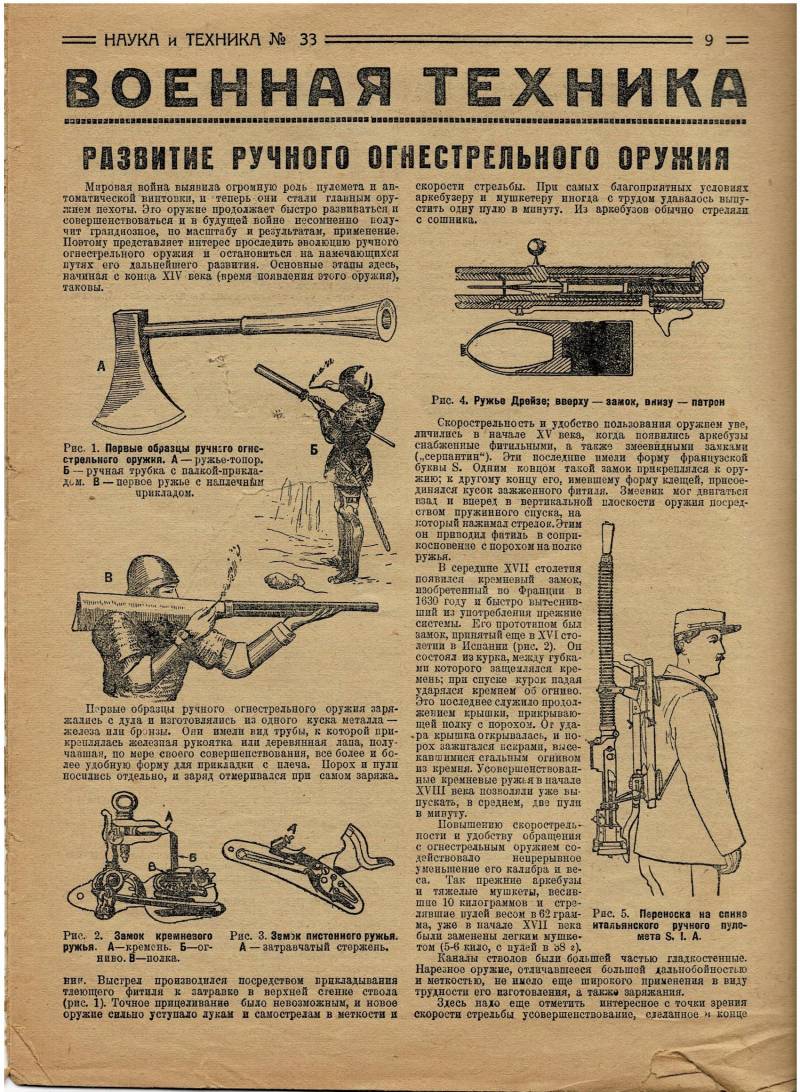 Incidentally, I was very lucky that even as a child I could read the magazines "Science and Technology" for 1929 kept at home. And they contained, for example, and such articles on the history of weapons ... Who would have thought that they would be very useful to me today, in 2021!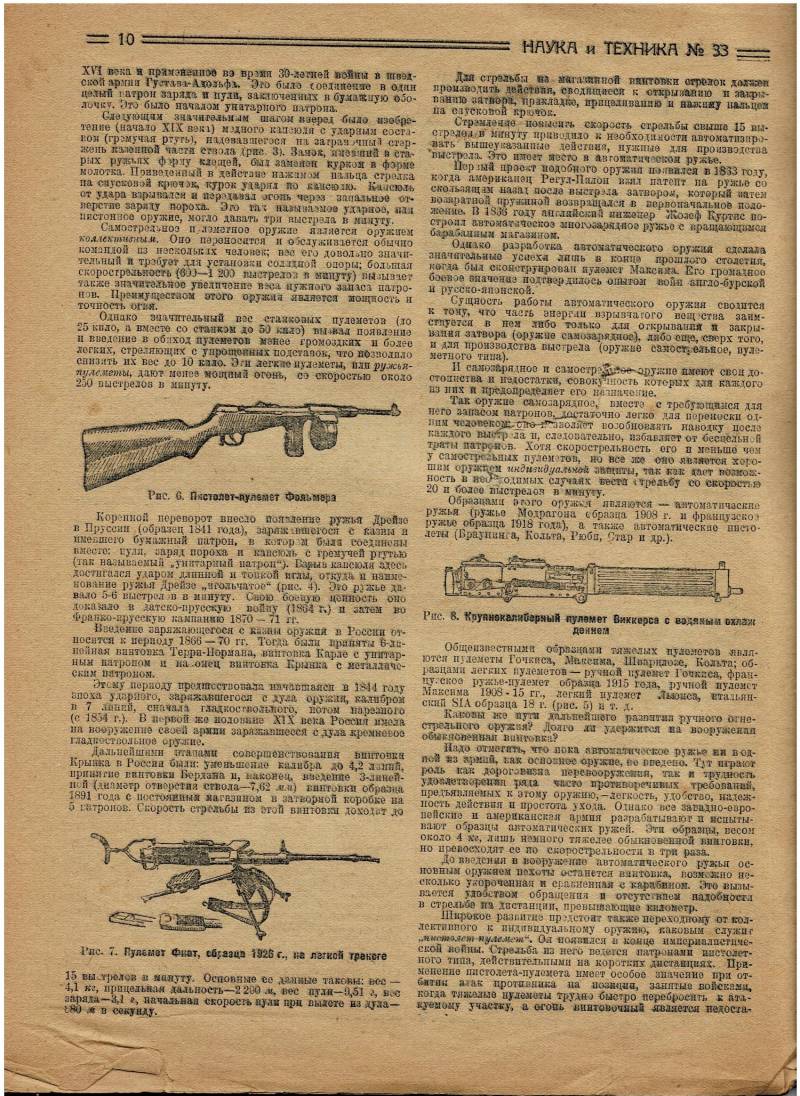 Not so long ago, one of the readers of VO, in a commentary to one of my articles on the history of firearms, posted his drawings of some samples. And very high quality. But it is clear that he drew them from something. And there was this Volmer submachine gun there. That is, "knowledge" (including in pictures) wanders from one publication to another for many ... decades. No wonder it is said that books do not burn. However, the magazines, apparently, too!
But how did we study it, this very "native history", and then teach - ha-ha? The history of the USSR - in sufficient detail, up to the articles of "Russian Truth", but now further ... We open the famous "Short Course in the History of the CPSU (b)" from 1945, for one doubt about the truth of which it was quite possible to thunder on the bunk, and we read, for example - this is: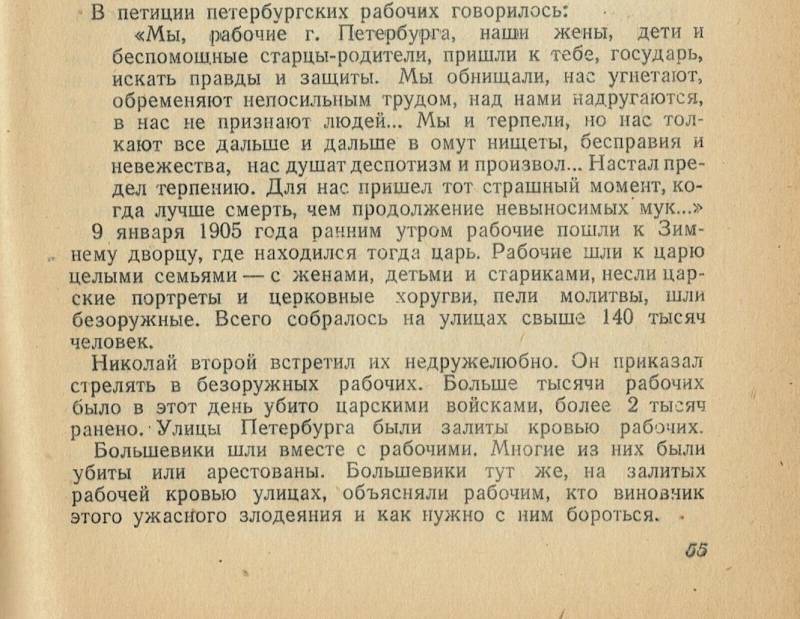 That is, it is written here in black and white that the tsar was in the Winter Palace on January 9, 1905.
However, it is well known that the priest Gapon gave the tsar a letter with which on the evening of January 8, Minister PD Svyatopolk-Mirsky and Director of the Police Department A. A. Lopukhin went to ... Tsarskoe Selo to see Nicholas II. And there the minister not only introduced the tsar to Gapon's letter and a petition from the workers, but also characterized him as a "socialist priest" and told the sovereign about the measures taken. And the king wrote about all this in his diary, that is, he was not in the Winter Palace either on the eve of the dramatic events of January 9, or on their very day.
And here is what Nicholas II wrote in his diary:
"Tough day! In St. Petersburg, there were serious riots as a result of the desire of the workers to reach the Winter Palace. The troops had to shoot in different parts of the city, there were many killed and wounded. Lord, how painful and hard it is! "
It turns out that the textbook of party history and ... ethics reported false information. And here's what to do if at that time there were people who already knew how everything was in reality, and they, of course, were and read Nikolai's diaries. Could they tell about it? Of course not! Their fate would have been obvious. But this is how Soviet society received inaccurate knowledge, and from the very "top". And how did people feel when they learned that they had been deceived even in such trifles as the presence of the Tsar in the Winter Palace? That is, yes, the king was certainly to blame. But where? That at such a crucial moment, in fact, he removed himself from power and entrusted everything to his ministers. But he did not give the order to shoot the people!
And here's even cooler: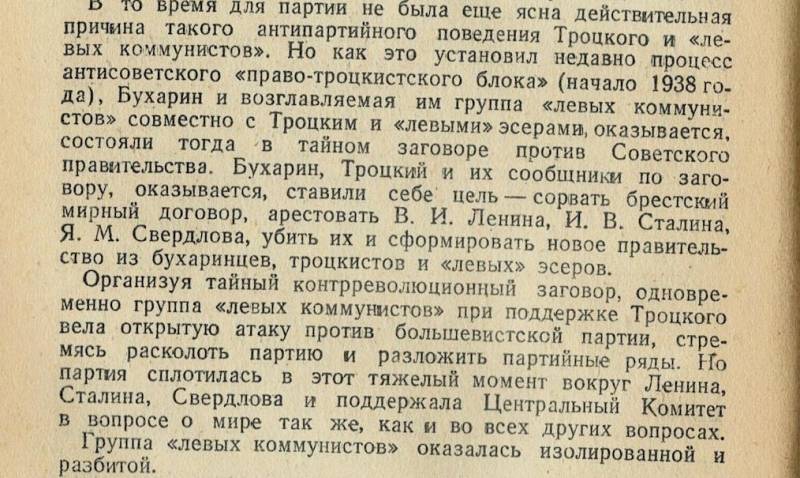 But then why kill Stalin? He was one of so many functionaries and did not play any special role. This is evidenced at least by the fact that it was not him, but Trotsky, who was sent to Brest-Litovsk for peace talks with the Germans. Whereas in April 1918, Stalin, together with Kh. G. Rakovsky and DZ Manuilsky, was sent to Kursk to negotiate with the Ukrainian Central Rada to conclude a peace treaty with it. Then, in May 1918, the Council of People's Commissars of the RSFSR seconded Stalin as an extraordinary authorized representative of the All-Russian Central Executive Committee to procure and export grain from the North Caucasus to the central regions of the country. That is, everyone could be in his place then. On June 6, 1918, he arrived in Tsaritsyn, took power in the city into his own hands and, after the betrayal of a number of military experts, arrested them there almost without exception and shot almost all of them. As a result, at the VIII Congress on March 21, 1919, Lenin sharply criticized Stalin for the mass executions of military experts in Tsaritsyn. On August 30, 1918, an attempt was made on Lenin's life, but again - why kill Stalin? Moreover, Trotsky, in whose hands, in fact, was, in fact, unlimited military power, as well as his own command propaganda train, which Stalin visited him repeatedly, and where he could easily be killed without any problems. But ... then he was too small a fry for Trotsky to get his hands dirty on him. Further, when the Southern Front was created on September 11, 1918, P.P. Sytin again became the commander, and Stalin was just a member of his Revolutionary Military Council. But we look at the "Short Course ..." There, the first name everywhere is the name of Lenin, then Stalin, then Sverdlov ... well, it was more convenient for our leader ...
Well, after 1956 "Short Course ..." was removed from the libraries. As before, they seized the memories of the defector Raskolnikov, or like John Reed's book "Ten Days That Shook the World." Why? After all, a communist also wrote an eyewitness ...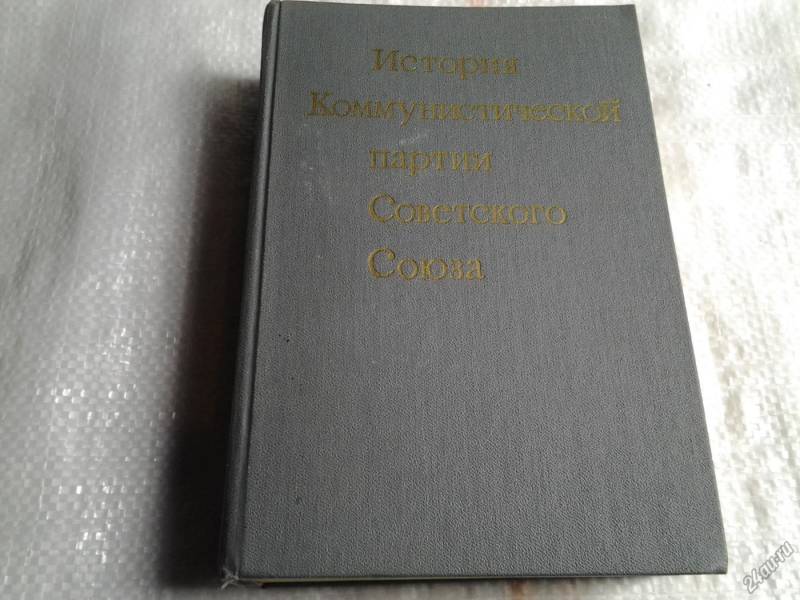 History of the Communist Party of the Soviet Union. B. N. Ponomarev, M. S. Volin, V. S. Zaitsev, I. I. Mints, V. I. Popov and others. M .: Gospolitizdat, 1982. From such books I first studied myself, then nine years he taught his students. Today I would not recommend anyone to read it. After all that we know today, its content is perceived ... not very well
I was lucky to read "10 Days" as a child, as it was in our family library. After that, I looked at the films "October" and "Lenin in October" with completely different eyes. And the book surprised me a lot. In it, Reed gave the floor not only to the Bolsheviks, but also to their opponents, that is, for "freedom of speech" he was engaged in journalism, and not ... propaganda. And there is practically nothing about Stalin in it. Well, John Reed did not notice him next to the figure of Ilyich ... did not notice! By the way, it was published in Soviet Russia back in 1919, and it even received a laudatory review from Lenin, who wrote:
"Having read with tremendous interest and unflagging attention the book of John Reed, Ten Days That Shook the Whole World, I heartily recommend this essay to the workers of all countries. I would like to see this book circulated in millions of copies and translated into all languages, since it gives a truthful and unusually vividly written account of events so important for understanding what the proletarian revolution is, what the dictatorship of the proletariat is. "
Stalin declared in 1924 that Reed allegedly overestimated the role of Leon Trotsky in the revolution, since he portrayed him as one of the main leaders of the revolution, along with Lenin. That is why the book was imprisoned in special custody and, although it was clearly not prohibited, it was not reprinted in the USSR while Stalin was alive. Its next major edition appeared only in 1957 in Politizdat, with prefaces written by Lenin and Krupskaya.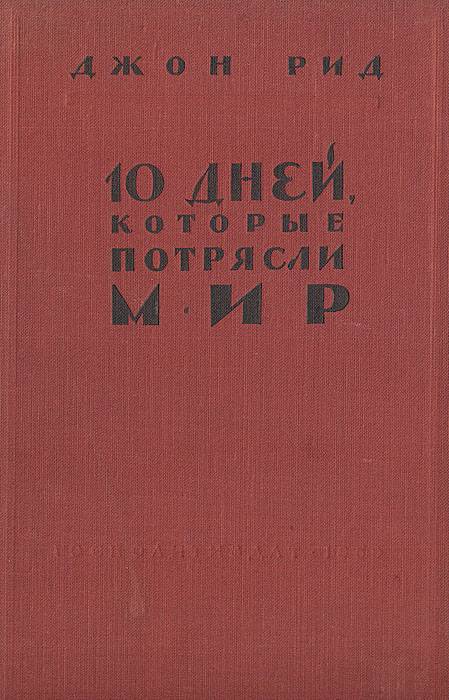 My book is a 1959 edition. Already at the age of 10 he became interested in the name, began to read and ... got carried away. Then I couldn't watch Lenin in October without laughing ...
In the same way, in none of the books of memoirs of Soviet military leaders, starting with the two-volume "Marshal of Victory" Zhukov "Memories and Reflections" and ending with "Soldiers' Duty" by Rokossovsky, did I find references to the "Message of the Soviet Government of June 11, 1944 on the supply of Lend-Lease ". Not a single word even where Zhukov mentioned Lend-Lease. Nor was it in the books of the aircraft designer Yakovlev "Stories of the Aircraft Designer" and "The Purpose of Life". And it was completely strange and incomprehensible why the head of the State Planning Committee Voznesensky, who was shot in the famous "Leningrad case", had not written a word about this. But he wrote a book more than a serious one: "The military economy of the USSR during the Patriotic War." However, there is not a single word about Lend-Lease. Well, at least banal numbers for
tanks
, aircraft and artillery would have mentioned - no. His book is generally something: numbers are compared with times, percentages and numbers, so that it is simply impossible to understand anything there. But, of course, you have to read everything yourself ...

This is what I still like, although similar passages in the "Short Course ..." are found at every step. The center headed by Stalin was chosen, and the head himself was in exile at that time. And how did he then "dominate"? And you can't write "except" if the person is really absent ... But they did. Just to prove with every word that "he is great, he is powerful, higher than the sun, more than a cloud!"
By the way, after his execution, this book was withdrawn from the libraries, like Raskolnikov's memoirs, and all of Trotsky's books were locked in the special storage of the same Leninka. And so, for example, with my second form of admission, I could not read them there in the special storage, since they were outside the topic of my scientific work, like, in fact, the books on tanks by the Squadron-Signal publishing house. But I was still able to get to know them at the request of the DOSAAF publishing house, since I wrote for them the book "The Tank Unfolding on the Table" (not published due to the events of 91). But no one would have given me a petition to read Trotsky's books ...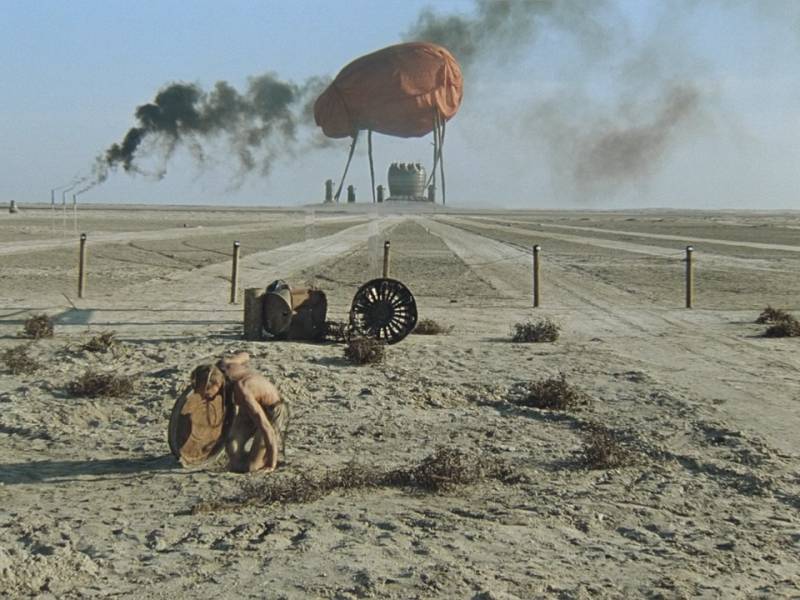 However, everyone loves to flatter themselves to power. For example, what is this? And this is "the last breath of Mr. Pezhe" ... A still from the film "Kin-dza-dza" ("I love Mr. Pezhe very much!", "And I am even more ku!")
So it turns out that our vaunted Soviet education was scanty to the point, neither Bernays's books, nor Lippmann's books, nor Orwell's books, nor Pareto's books we could read, not to mention Chayanov's books, and even such a seemingly harmless book by Bukharin, as "The ABC of Communism". But in the 1920s it was used as a teaching aid in party schools, so God himself told the teacher of the history of the CPSU to read it, but ... no - it was "no way"!
Even today, when all the books of these authors can be read freely on the Internet, and many have even been published by typographic method, the reluctance to look for information and be content with its "stubs" persists. Not long before I retire, I sit at an open lecture ... of one woman. The lecture is about advertising, and it broadcasts without hesitation about the terrible "25th frame". I came up after the lecture, I said: "Do you know that the author of this ... horror story has been in prison for a long time (if he hasn't been released at the end of his term), that he invented all this, and that in the West, in PR and advertising magazines back in 2000 laughed at the fact that the Russians still believe in it. And now it's 2017 ... "How do you know this? - she answers me with a challenge, - I took it from this book ... "I open the necessary site ..." Here read! " And she told me with joy: "But I don't know English so well!" Well, what can you say to that ...
Recommended reading for self-study:
1. Bukharin N. The ABC of Communism. M .: Terra, 1994 ISBN: 5-85255-589-4 (can be read online)
2. Reed D. "Ten days that shook the world" (online edition) or M .: Politizdat, 1957
3. Trotsky L. Revolution Betrayed: What Is The USSR And Where Is It Going? M .: Direct-Media, 2015 ISBN: 978-5-4475-5613-6 (or online edition)
4. History of the All-Union Communist Party (Bolsheviks). Short course. Edited by the Commission of the Central Committee of the CPSU (b). Approved by the Central Committee of the All-Union Communist Party (b), 1938 M .: OGIZ-Gospolitizdat, 1945
5. Voznesensky N. The military economy of the USSR during the Patriotic War. Moscow: Gospolitizdat, 1948