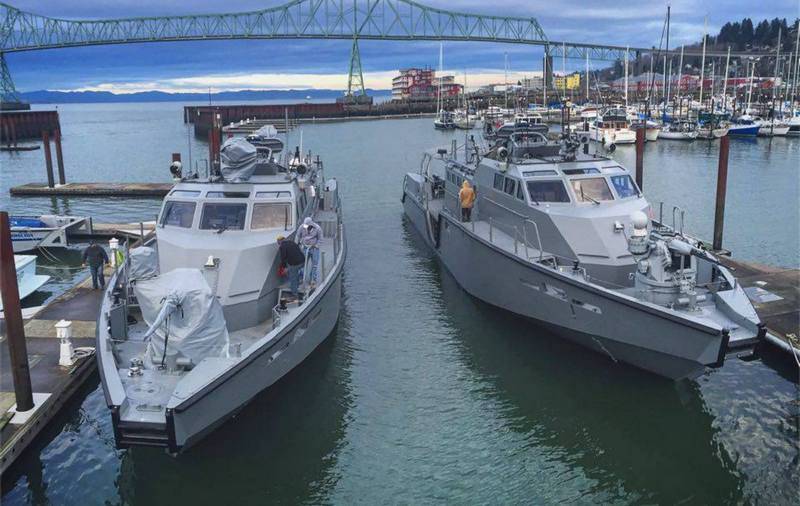 The US Navy intends to completely get rid of the Mk VI patrol boats, despite their short service life. According to The Drive, all 12 in service
fleet
boats will be decommissioned by the end of this year.
According to the newspaper, the Navy plans to get rid of the boats by September 30 or by the end of the year with the start of withdrawal in March. The reason for the "retirement" of the Mk VI patrol boats, the oldest of which is only six years old, is called their inadequacy to modern tasks, as well as expensive maintenance.
In scenarios of modern wars against equal countries such as China or Russia, Mk VIs were considered not very useful. These boats are very expensive to maintain.
- said Major General of the Marine Corps Tracy King.
It is noted that despite the plans of the US Navy to purchase a total of 48 Mk VIs, the fleet purchased only 12 patrol boats at an average price of $ 7 to 8 million each.
However, the American boat building company SAFE Boats International will not stop producing these boats. The thing is that the Mk VI patrol boats will go into service with the Ukrainian Navy. On December 31, 2020, the US Department of Defense issued the first contract to prepare for the start of construction of the first two Mk VI boats for subsequent delivery to Ukraine under the American Foreign Military Sales (FMS) program of intergovernmental foreign military sales.
In total, the Pentagon plans to sell 16 Mk VI boats to Ukraine, totaling $ 600 million, including crew training and technical support. The first six US boats will be handed over to the Ukrainian Navy as assistance, the remaining ten will be bought by Kiev at its own expense. At the same time, it is specified that the delivery of the first two boats will be financed within the framework of the military aid allocated to Ukraine.
In addition to 16 boats, the United States will supply them with weapons: 32 MSI Seahawk A2 remote-controlled artillery mounts (two per boat) with 30-mm Mk 44 Bushmaster II automatic cannons and other equipment.
The total displacement of the boat is 72 tons, length 25,8 m, width 6,2 m and draft 1,2 m. Max. speed - 45 knots. The cruising range is 690 miles at a speed of 30 knots. The crew of the boat is 10-11 people + a possible landing of 7-8 people.
In the standard version, the boat is armed with two 25-mm automatic remote-controlled Mk 38 Mod 2 mounts and six 12,7-mm M2 machine guns on turret mounts.