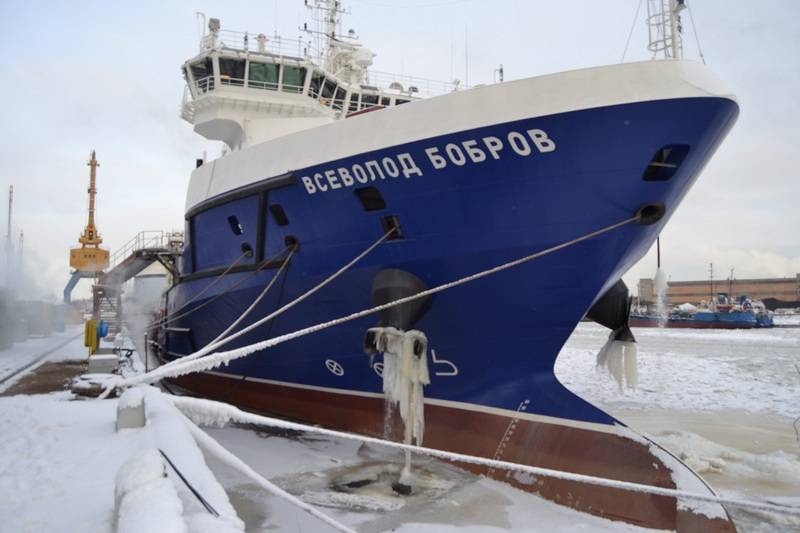 Project 23120 support vessel Vsevolod Bobrov, built at Severnaya Verf, is preparing to enter the factory sea trials. This was reported by the press service of the Shipbuilding Enterprise.
According to the report, the shipbuilders of Severnaya Verf will complete mooring trials by the end of February, after which Vsevolod Bobrov will enter the stage of factory sea trials, which will take place in the Baltic Sea during March. State tests are planned for April this year.
As previously announced by the Ministry of Defense, the ship will enter the Russian Navy in the first half of 2021.
"Vsevolod Bobrov" is the second ice-class logistics support vessel. Laid down in 2013 and launched in 2016. There are some changes in the design based on the operational experience of the lead Elbrus.
The vessel is multifunctional, designed for the carriage of goods, towing, carrying out hydrographic research, providing assistance to ships in distress. The dynamic positioning system allows you to keep the vessel at a given point in all weather conditions. The vessel is equipped with two electro-hydraulic cranes with a lifting capacity of 50 tons, towing winches with a pulling force of 120 and 25 tons, there is a cargo deck with an area of ​​more than 700 sq. m.
The ship's hull with ice class ARC4 will allow it to navigate in arctic latitudes, overcoming the ice thickness of 0,6 m.
Length - 95 m, width - 22 m, draft - 9 m, speed - 18 knots, displacement - 9 tons, cruising range - 500 nautical miles, autonomy - about 5 days.